'Los Producers' Returns With Latin GRAMMY Winners & Noms in Great Night of Music for a Great Cause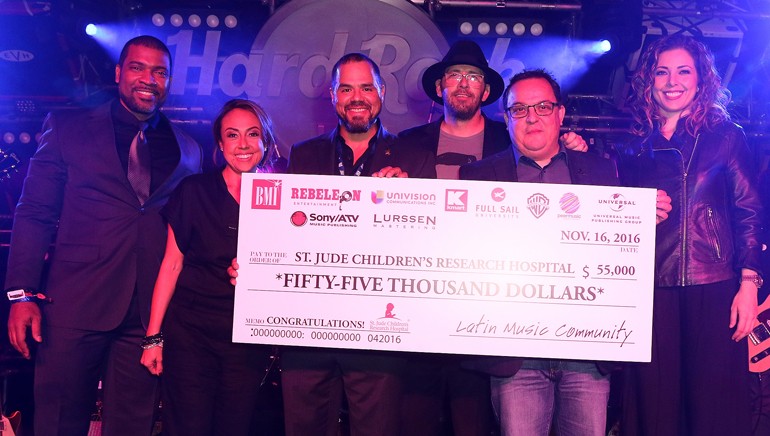 BMI and Rebeleon Entertainment reconvened for the sixth annual 'Los Producers' charity event at the Las Vegas' Hard Rock Café on Wednesday, November 16. Held for the benefit of St. Jude Children's Research Hospital, an institution devoted to advancing cures and preventing catastrophic pediatric diseases through research and treatment, this year's edition of 'Los Producers' brought together over 15 Latin GRAMMY winners and nominees – singers, songwriters, producers, composers and engineers – for a star-studded evening of music.
Among the featured performers were Los Producers (feat. Sebastian Krys, Andres Torres, Pete Wallance, Adam Zimmon, John Falcone and Miguel "Oso" Ramirez), Luis Enrique, Noel Schajris from Sin Bandera, La Santa Cecilia, Alex Andwandter, Dani Martin, Francisca Valenzuela, Gian Marco, Esteman, Morat, Las Chamanas, Ile, Mauricio Rengifo from Cali & Dandee, Luciano Pereyra, Jotdog, Pambo, Sebastian Yatra, Mon Laferte, and Gaby Moreno. Special guest musicians included Dan Warner, Lee Levin, Doug Emery, Kim Fanlo, Andres Castro, Andres Saavedra, Ettore Grenci, Juan De Dios Martin, Gustavo Menendez, Jorge Mejia, and Alex Gallardo.
The Latin music industry at large came together during this celebration to raise money for the hospital. BMI, Rebeleon Entertainment and other sponsors including Univision Communications, Kmart, Lurssen Mastering, Sony/ATV Music Publishing, Universal Music Latin Entertainment, Full Sail University, Warner-Chappell Music, Peer Music, Gibson, Primera Fila Entertainment Group and L Festival helped raise $55,000 for the cause.
Hosted by entertainment correspondent Carlos Alvarez, the show featured the Latin GRAMMY winners and nominees performing a rich variety of cover songs throughout the evening, among them Luis Enrique's take on the salsa classic "El Cantante," eclectic Colombian singer Esteman's rendition of Michael Jackson's "Rock With You," Alex Andwandter's reimagining of the Backstreet Boys' "I Want It That Way," Francisca Valenzuela and Mon Laferte's duet of Selena's "Amor Prohibido," Noel Schajris' homage to Prince's "Purple Rain" and Las Chamanas' tribute to the late Juan Gabriel.