'Levi's Pioneer Sessions: The Revival Recordings' features BMI Trendsetters
The Levi's brand is a cultural bridge, connecting chic urbanites with working cowboys, and 19th-century pragmatism with vintage cool and contemporary edge. Subsequently, Levi's inaugural "Levi's® Pioneer Sessions: The Revival Recordings" carries the penchant for connection into music. For the series, a selection of today's trendsetters in pop, rock, soul and folk have rerecorded classics, subscribing to the mantra that in the face of evolving trends, "the song is everything."
A cross-section of BMI legends and new musical leaders have been tapped to participate. For the series' debut, BMI hip-hop pacesetter Nas has recorded BMI pioneer Slick Rick's game-changing original "Hey Young World." Both homage and reinterpretation, Nas' version is available for download now at levispioneersessions.com.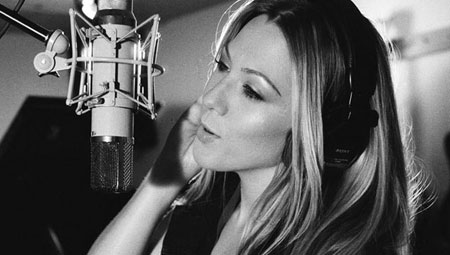 Colbie Caillat records "Maria" for the "Levi's® Pioneer Sessions: The Revival Recordings."
Two more singles will be released each week. The upcoming Revival Recordings will include past BMI Song of the Year winner Colbie Caillat's rendition of Blondie's "Maria"; BMI indie-pop players The Shins' version of "Goodbye Girl" by Squeeze; a new version of BMI soulsters The Spinners' "It's A Shame," recorded by Raphael Saadiq; a recording of BMI great Norman Greenbaum's "Spirit in the Sky" by Jason Mraz; and BMI neo-soul torch-bearers John Legend and the Roots performing "Our Generation," originally recorded by BMI crooner Ernie Hines.
In addition to the new original remakes, the Levi's® brand will also release exclusive photos, interviews with the artists, and behind-the-scenes footage from their studio recording session, all available for download at levispioneersessions.com.
For more information, please visit levis.com.