Jimmie Rodgers Earns Inaugural Star on New Mississippi Walk of Fame
In an effort to celebrate Mississippi natives' substantial contributions to the arts, the state recently revealed plans for the official Mississippi Arts and Entertainment Center (MAEC) Walk of Fame, which will line the streets of downtown Meridian. BMI legend and Meridian native Jimmie Rodgers earned the first star, unveiled Sunday, February 15, just outside Mississippi State University's Riley Center. Esteemed singer, instrumentalist, music historian and BMI songwriter Marty Stuart provided insightful retrospective remarks to honor Rodgers, proclaiming, "All of us who play and sing country music from our hearts stand in his shadow, and those who have gone before us – like Gene Autry, Ernest Tubb – acknowledge him."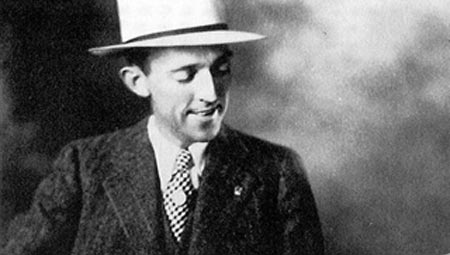 Jimmie Rodgers
Dubbed the "Father of Country Music," Jimmie Rodgers was the first performer inducted into the Country Music Hall of Fame in 1961. His distinct yodeling punctuated his original combination of African American blues, Southern story-telling, folk, and jazz, profoundly influencing later generations of American music performers.
Mayor John Robert Smith thanked the MAEC for locating the Walk of Fame in downtown Meridian.
"Last April 25, [BMI Senior Vice President] Fred Cannon, a board member, asked the board, and they agreed, to create a Walk of Fame to put Mississippi's wealth of artistic genius in the forefront," Smith said. "I want to thank the board for the absolutely right decision to put that Walk of Fame in downtown Meridian – beginning here at the MSU Riley Center and winding its way through the streets of downtown Meridian."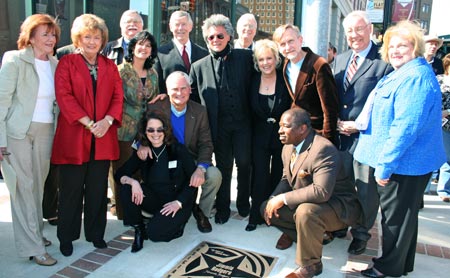 Joining Marty Stuart (center, dressed in black) following the star's unveiling are, left, Mississippi entertainer and MAEC board member Paul Ott, and right, Mr. Stuart's wife, Connie Smith Stuart, and Honorable Mayor of Meridian John Robert Smith. They are surrounded by other members of the MAEC Board of Directors.