Jeffrey Steele Announces 2011 Songwriting Boot Camp
2011 camp slated for December 1 in Nashville
Award-winning singer-songwriter Jeffrey Steele is gearing up for his fifth Songwriting Boot Camp, scheduled for December 1 in Music City. Sponsored by BMI and 3 Ring Circus Music, the camp will feature coaching from Steele, industry networking opportunities, and much more. Boot camp alumni have gone on to score publishing deals, compose songs recorded by key artists, and write no. 1 singles, such as Blake Shelton's "She Wouldn't Be Gone," co-written by boot camper Jennifer Adan.
Applications are available on www.jeffreysteele.net/bootcamp and are due by October 28.
Thirty people will be selected to attend this year's one-day intensive music industry experience with one of the most successful music creators in the country. Attendees will be selected based on his or her application and one-song submittal, so Jeffrey encourages hopefuls to send their best!  The cost to attend is $250.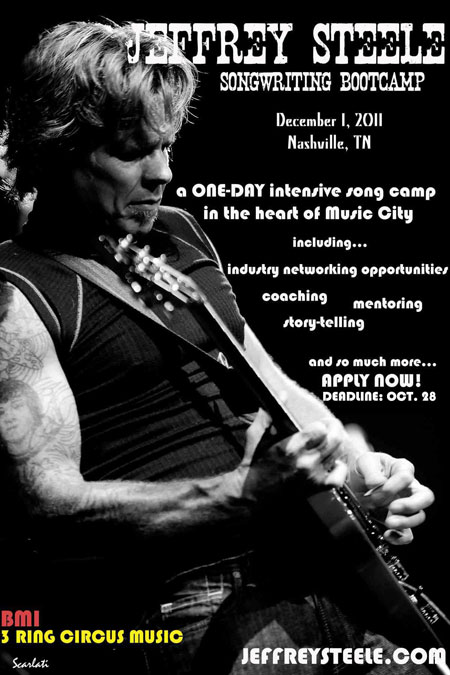 "We hope these writers leave challenged with a new perspective on the craft and more knowledge on the industry itself," said Steele.
About Jeffrey Steele
Golden Globe and Grammy-nominated, the three-time NSAI Songwriter of the Year and two-time BMI Songwriter of the Year recently enjoyed no. 1 song success with his tenth chart topper, "Knee Deep," by Zac Brown Band. Other hits include "Here" by Rascal Flatts, which followed the success of "My Wish" and "What Hurts The Most." Both songs hit the top ten of the A/C pop chart, with "What Hurts The Most" going no. 1 and staying in the top ten for an unprecedented 9 weeks. Among his other no. 1s are "The Cowboy in Me," "Help Somebody," and "These Days." Steele, who performs frequently across the country, has also been in the producer's chair for projects by Keith Anderson, Montgomery Gentry, and LoCash Cowboys.
For more information on Jeffrey Steele and 3 Ring Circus Music, please visit jeffreysteele.net.