IAJE Conference Spotlights BMI's Rich Jazz History
BMI continued its long and rich history in both jazz music and music education as a major sponsor of the 34th Annual International Association for Jazz Education (IAJE) Conference, held Jan. 10-13 in New York City.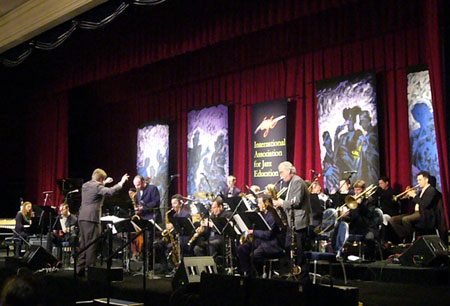 Workshop member Bryan Knox conducts his composition entitled "Seasick."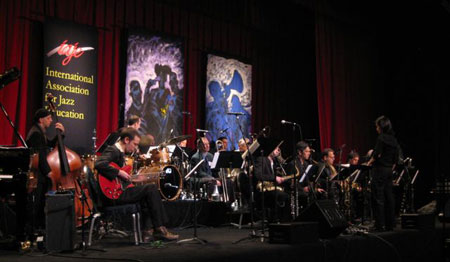 BMI's 2006 Charlie Parker Prize winner Asuka Kakitani conducts her award-winning composition, "Dance 1," during a special BMI Jazz Composers Workshop concert at the IAJE Convention. Kakitani's piece was one of six presented in the hour-long concert by the BMI/New York Jazz Orchestra.
In addition to BMI's presence as a first-time IAJE exhibitor, a highlight of the company's participation at this year's four-day gathering included a special performance by members of the esteemed BMI Jazz Composers Workshop. The Jan. 12 concert featured award-winning works and some of the best compositions from the BMI/New York Jazz Orchestra, a 16-piece modern repertory ensemble made up of leading Workshop members.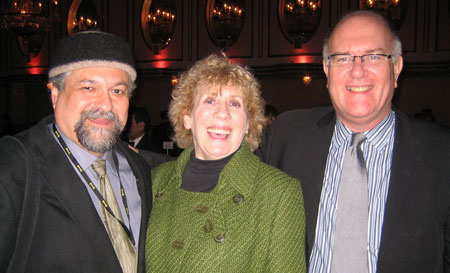 BMI's Jean Banks (center) with jazz virtuoso Joe Lovano and Workshop Musical Director Jim McNeeley, both 2007 Grammy nominees 
BMI also sponsored IAJE's 7th Annual Gala Dinner on Jan. 10, honoring Dr. David Baker with the Lawrence Berk Leadership Award and composer Michel Legrand with the IAJE Presidents Award.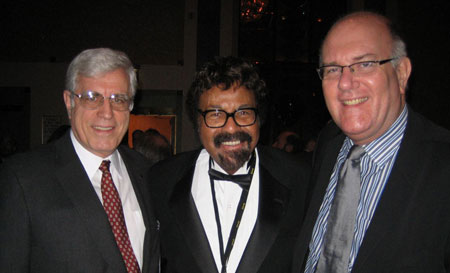 Gala honoree Dr. David Baker (center) is congratulated by BMI's Robbin Ahrold and Workshop Musical Director Jim McNeeley 
Now in its second decade, the BMI Jazz Composers Workshop is led by internationally renowned composers Jim McNeely and Michael Abene, and offers a unique collaborative environment for professional jazz musicians with an emphasis on composition for the large jazz/big band ensemble. The Workshop—a well-known forum for creative excellence-provides an environment where composers are free to explore new avenues in the creative process, while at the same time honing their skills.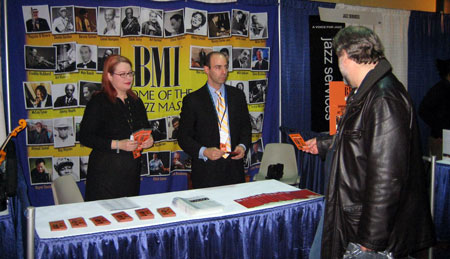 BMI's Leslie Morgan and Mark Barron greet an IAJE Conference attendee at the BMI booth 
BMI is a long-time supporter of IAJE, whose mission is to ensure the continued worldwide growth and development of jazz and jazz education through research, financial assistance and advocating for jazz in all appropriate forums. The association's role as the leading voice for the global jazz community is reflected in the 2007 IAJE Conference with programming for educators, musicians, students and industry executives, providing professional development and training for all segments of its membership.