Harris Scores 'Hottest' Movie Soundtrack
The Society of Composers and Lyricists (SCL), in conjunction with BMI, held coast-to-coast screenings of The Hottest State, held at the Directors Guild both in Los Angeles (July 31) and New York (August 7). The film written and directed by Ethan Hawke, features a soundtrack composed by Grammy-winning BMI singer/songwriter Jesse Harris. A Q&A on the process of creating the songs, featuring Harris, Argentinean singer Rocha and SCL President Dan Foliart, followed both screenings.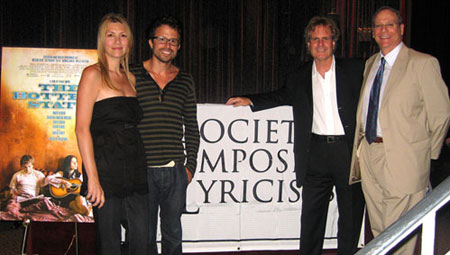 Pictured at the New York screening are (l-r): BMI's Samantha Cox, Jesse Harris, Dan Foliart and BMI's Charlie Feldman.
Harris and Hawke assembled a group of artists including Norah Jones, Cat Power and Willie Nelson to record Harris's songs for the soundtrack, performed in both English and Spanish. The soundtrack will be released through Hickory Records.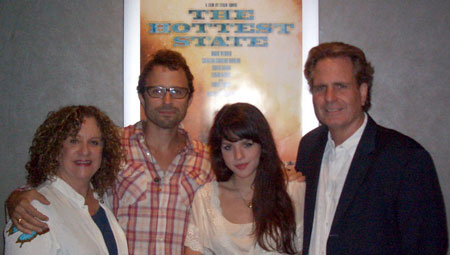 Shown in Los Angeles are (l-r): BMI's Linda Livingston, Jessie Harris, Rocha and Dan Foliart.
Harris, who appears in the movie, has known Hawke since the early 1990s and has released six albums as a solo artist. His songs have been recorded by Madeleine Peyroux, Pat Metheny, and Lizz Wright, and, in 2003, he won a Song of the Year Grammy, for writing Norah Jones's "Don't Know Why." The Hottest State is an adaptation from Hawke's own novel of the same name, which centers on the high and lows of first love.