Guy Moon and Butch Hartman: Sassy Sounds for Quick-Cut Capers
If you have kids – or perhaps a childlike penchant for animated shows – the zany musicality of composer/musician Guy Moon matched with the maniacal lyrics of wordsmith/animator and director Butch Hartman might already be embedded in your cerebellum.
The creator of hit shows for the Nickelodeon network including Danny Phantom and Johnny Bravo, Hartman, producer of The Fairly Oddparents, also creates lyrics as a part of the plotlines. These words are then sent to one of animation's busiest composers, Guy Moon. "Butch will say, 'We need a Beach Boys thing or something heavy metal," Moon says.
These songs provide a more long-form vehicle, since Moon says the show's quick-cut musical cues might last a mere five seconds. In the spotting sessions, Hartman and Moon watch the shows in real time while Hartman makes what Moon classifies as '"musical noises." He qualifies, "All classic things in his mind that mean something to him dramatically - he might throw out names like Jerry Goldsmith or James Horner, or band names from the late Seventies or early Eighties." Moon then takes these concepts back to his home studio to create the music.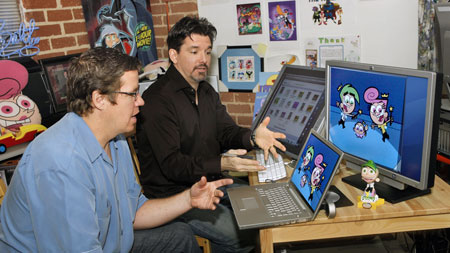 Pictured are Guy Moon (left) and Butch Hartman (right) hard at work
Moon says that modern animation music often references Carl Stalling and Raymond Scott, cartoon composers from the twenties and thirties. "I take that and today's biting samples and sounds and metallic wackiness and blend it in. It has to be something from today's musical culture or the kids will have trouble relating." His jazz background is a huge asset. "With the scales in jazz, you can have something very organized and very pleasant all the way through to obnoxious, nonsensical or confusing."
"Whose breath smells like a dog's behind? Who's as cuddly as a porcupine?" To illuminate these endearing lyrics from the song "Icky Vicky" for Fairly Oddparents, Moon enlisted his kids to provide background vocals. While he won't reveal if he paid them double scale, he does note proudly that it earned them their SAG cards.
Moon says his future vocation could have been predicated back when he was voted class clown and received the John Philip Sousa band award in high school. "I was always in the band room. I played tuba in the marching band and piano for the swing choir. I'd mix it together. I never had to think about it: Being silly with music came really easy for me."