Global Leaders Meet in Cannes for midem 2012
International leaders in music, technology, brands and education came together for midem 2012, January 27-30 in Cannes. Panels led by experts in copyright, delivery platforms, music publishing and so much more filled the schedule of the summit, a must-attend event where current issues are debated and key business deals are reached.
Richard Conlon, Senior Vice President, Corporate Strategy, Communications & New Media for BMI, served as an advocate for copyright holders in a discussion about the future of cloud music. Called "The Cloud… Is It Just a Licensing Issue?," the panel covered the exciting breadth of new issues and opportunities being created by cloud technology. Conlon was joined by moderator Emmanuel Legrand, a journalist and consultant; Scott Bagby, head of strategic partnerships at Rdio; SACEM VP Thierry Desurmont; Merlin head of business affairs/general counsel Charlie Lexton; Ben McEwen, director of online licensing at PRS for Music; Mitch Rubin, head of music publishing business affairs at Nokia; and Jens-Markus Wegener, managing director at AMV Talpa GmbH. Billboard.biz offers a helpful at-a-glance recap of the debate.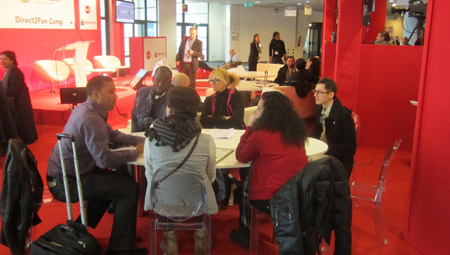 Marcus Johnson leads a session during CISAC's new writers' workshop, entitled "Tips on Rights Management: What Are Your Rights as an Artist?"
Other events included the new writers' workshop, co-presented by CISAC, which outlined the importance of the rights management offered by BMI and sister societies around the world, especially as independent artists connect with fans and oversee business themselves. Jazz composer and publishing executive Marcus Johnson represented the U.S. in the international panel of mentors, who sat down for 30-minute sessions with up to seven aspiring creators.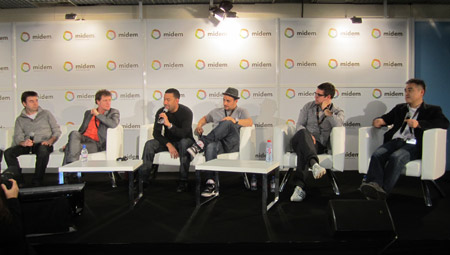 Music publishers and experts come together for the "Publishers as an Early Ally in an Artist's Career" panel at midem.
Johnson also contributed to a panel entitled "Publishers as an Early Ally in an Artist's Career." He was joined by representatives from leading music publishers and trade organizations, including peermusic, the Canadian Music Publishers Association, Avex Music Publishing Inc. and the Henley Business School.
For videos, photos, interviews and more from midem 2012, visit www.midem.com.