Dan Visconti Wins Boudleaux Bryant Commission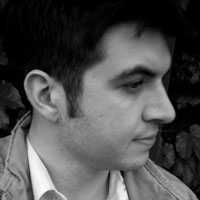 Dan Visconti has been named the winner of the BMI Foundation's 2008 Boudleaux Bryant Commission Award. Visconti was selected for the honor from a pool of recent winners of the BMI Student Composer Awards by members of the Janaki String Trio, who will premiere the work, "Lawless Airs," at Symphony Space in New York City on May 15, 2008. Established by family and friends to honor the memory of the legendary songwriter Boudleaux Bryant, the commission is given in cooperation with the Concert Artists Guild (CAG), a non-profit organization whose mission is to discover, nurture and promote young musicians.
Much of Dan Visconti's musical output has been informed by his background as an active jazz and rock guitarist. Inspired by both the directness of expression and maverick spirit of the American vernacular, his works often explore gritty timbres, complex textures, and propulsive rhythms — elements that tend to collide in unexpected ways with Visconti's experience as a classically-trained violinist, resulting in a musical stance one reviewer describes as "both mature and youthful, bristling with exhilarating musical ideas and a powerfully crafted lyricism." Visconti studied composition at the Cleveland Institute of Music and the Yale School of Music, primarily with Margaret Brouwer, Aaron Jay Kernis, Ezra Laderman, and Zhou Long.
The Janaki String Trio, winner of the 2006 Concert Artists Guild International Competition, is the first ensemble of this type to capture the award in the nearly 60-year history of the competition. The Trio's New York debut on the CAG Series at Weill Recital Hall at Carnegie Hall was praised by The New York Times as "magnificently polished" and exhibiting "an irresistible electricity." Founded at the Colburn School of Music in Los Angeles in early 2005, the ensemble won the 59th Annual Coleman Chamber Music Competition in the same year. The ensemble takes its name from the Sanskrit word Janaki (YAHN-uh-kye), which symbolizes self-realization — the underpinning artistic and spiritual ideal entwining composer, musician and listener.
Concert Artists Guild is a non-profit organization founded in 1951 whose mission is to discover, nurture and promote young musicians. CAG's annual international competition identifies gifted artists and presents the winners at its New York concert series. CAG also provides management services that include booking engagements, marketing and publicity support, and recording opportunities. CAG also commissions several new works each year and actively seeks non-traditional venues for classical music performances.
The BMI Foundation, Inc. is a not-for-profit corporation founded in 1985 to support the creation, performance, and study of music through awards, scholarships, commissions and grants. Tax-deductible donations to the Foundation come primarily from songwriters, composers and publishers, BMI employees and members of the public with a special interest in music. Because both the Foundation staff and the distinguished members of the Advisory Panel serve without compensation, over 95% of all donations and income are used for charitable grants.