'Coffee Talk' Gets a Jolt at 2007 Los Angeles Film Festival
BMI presented its sixth annual "Coffee Talk" panel at the Los Angeles Independent Film Festival (LAIFF) on Sunday, June 24. Moderated by BMI's Doreen Ringer Ross, Vice President of Film/TV Relations, and featuring composers John Ottman (The Usual Suspects, X-Men 2), Alex Wurman (March of The Penguins, Talladega Nights: The Legend of Ricky Bobby), Theodore Shapiro (The Devil Wears Prada) and Brian Reitzell (Stranger Than Fiction and Marie Antoinette), discussion centered around the creative process in scoring a film, music usage, creative control and budgetary issues.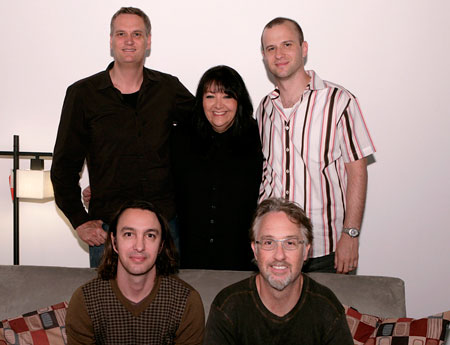 Shown at the "Coffee Talk" (back row, l-r) are BMI composers John Ottman, BMI's Doreen Ringer Ross, Teddy Shapiro. (front row, l-r) Brian Reitzell and Alex Wurman.
Photo: Randall Michaelson