Charlie Daniels and Friends Celebrate 50 Years of Making Music
The legendary Charlie Daniels gathered with friends and family in a special reception at BMI's Music Row offices Wednesday, March 19 to celebrate Daniels' fifty year milestone in the music industry. Attendees enjoyed fellowship and cocktails in BMI's main lobby, transformed into a gallery of Charlie Daniels' photos and memorabilia documenting his prolific career.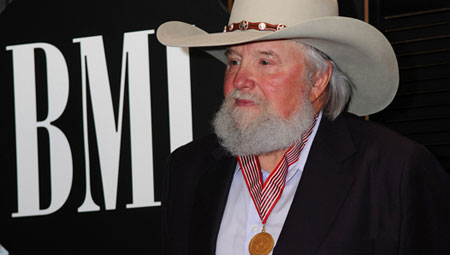 Charlie Daniels received multiple honors.
The event, hosted by BMI Vice-President of Writer/Publisher Relations Jody Williams, included presentations from Williams; Adjutant of Tennessee Major General Gus Hargett; Nashville Mayor Karl Dean; Gaylord Entertainment's Senior Vice-President of Media and Entertainment Steve Buchanan, on behalf of the Grand Ole Opry; Steve Hauser from the William Morris Agency; President of Richards & Southern Merchandising Terry Calonge; National Liaison for The Spirit of America Cathy Gurley; and Charlie's longtime manager and President of Blue Hat Records, David Corlew. Presenters recognized Charlie's considerable achievements, both musical and humanitarian: His dedication to the men and women of the United States Armed Forces, the historical and cultural impact of his Volunteer Jam Sessions and his legacy as both a musician and songwriter were among the points of praise.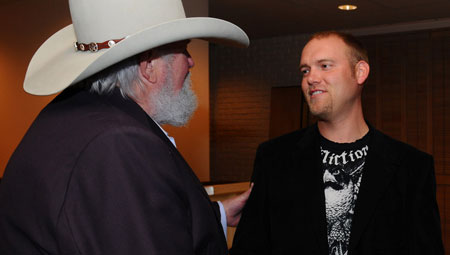 Charlie Daniels (left) chats with NFL Titans' kicker Rob Bironas (right).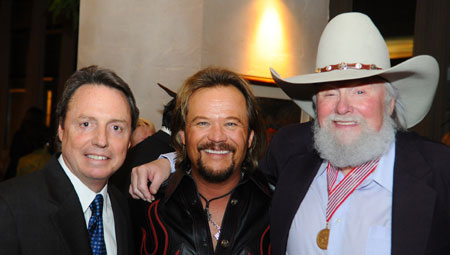 Pictured are (l to r): BMI's Jody Williams, Travis Tritt and Charlie Daniels.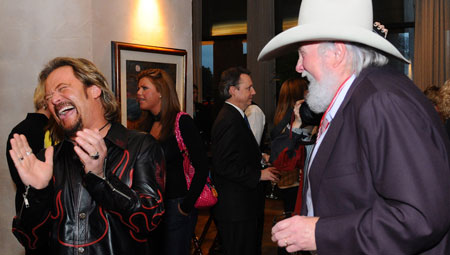 Charlie Daniels (right) cracks up longtime friend Travis Tritt (left).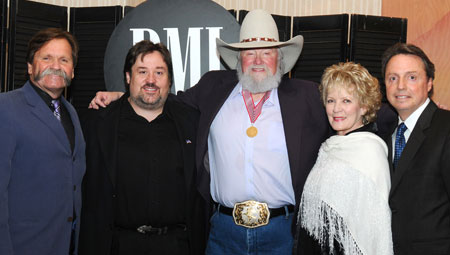 Pictured (L-R): David Corlew, Daniels' longtime manager and Pres. Blue Hat Records; Charlie Daniels Jr., Charlie and Hazel Daniels, and Jody Williams, VP Writer/Publisher Relations BMI.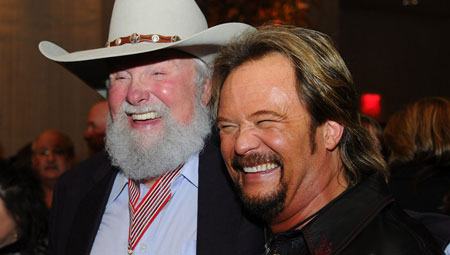 Charlie Daniels (left) and Travis Tritt (right) smile for the cameras.
Photos by Steve Lowry