Charles Fox and Friends Present The Songs of Our Lives, Benefitting Fulfillment Fund
Venerable BMI composer and songwriter Charles Fox is bringing a handful of his distinguished songwriting friends together for an equally distinguished cause: The Songs of Our Lives, Volume IV is slated for Monday, June 13 at the Wadsworth Theatre in Brentwood, CA, and will raise money and awareness for the LA-based Fulfillment Fund.
In addition to hosting live music from Fox and collaborator Norman Gimbel, the co-creators of gems including "Killing Me Softly," recorded by Roberta Flack and the Fugees, Jim Croce's "I Got a Name," Barry Manilow's "Ready to Take a Chance Again," and the themes for Happy Days and Laverne and Shirley, the evening will also feature performances by Jeff Barry (The Dixie Cups' "Chapel of Love," Shangri-Las' "Leader of the Pack," The Ronettes' "Be My Baby," and The Crystals' "Da Doo Ron Ron"; The Rascals' Felix Cavaliere ("Good Lovin'," "Groovin'," "A Beautiful Morning" and "People Got to Be Free"); Steve Dorff (Kenny Rogers' "Through the Years," Anne Murray's "I Just Fall in Love Again" and Eddie Rabbit's "Every Which Way But Loose"); Richard Marx's "Don't Mean Nothing," "Should've Known Better," "Hold on to the Nights," "Right Here Waiting," "Satisfied" and "Now and Forever"; Ambrosia's David Pack ("You're the Only Woman," "The Secret of Moving On" and "How Much I Feel"); and Allee Willis (Earth, Wind & Fire's "September" and "Boogie Wonderland," the Pointer Sisters' "Neutron Dance" and "I'll Be There for You," the theme from Friends performed by The Rembrandts).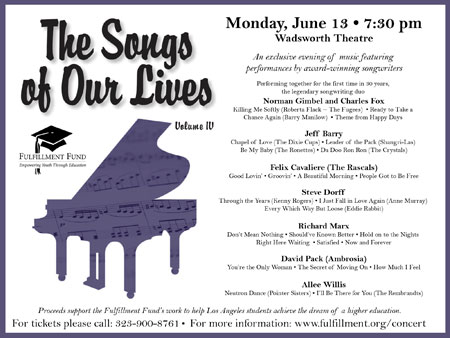 Additional performers will be announced soon.
The night's proceeds will benefit the Fulfillment Fund, which supports first-generation, low-income students as they push through high school and head to college.
To purchase tickets and learn more, visit fulfillment.org/concert.