BMI's Sponsors IFP Panel Focusing on the Importance of Music in Documentaries
BMI proudly partnered once again with the Independent Filmmaker Project (IFP) on September 20 to sponsor a panel discussion entitled "How Music Makes the Doc," featuring directors Rachel Boynton and Kristi Jacobson, and BMI composers T. Griffin and Nathan Larson. Moderated by BMI's Vice President of Film, TV & Visual Media Relations, Doreen Ringer-Ross, the panel provided powerful insights into the process of scoring for documentaries and the relationship between composer and director.
Founded in 1979, IFP is the largest and oldest not-for-profit organization dedicated to independent film. The Project supports the art of storytelling by connecting artists with essential resources at all stages of development and distribution of their works. Currently representing a growing network of 10,000 storytellers around the world, IFP plays a key role in developing 350 new feature and documentary works each year. For more information about this event, click here.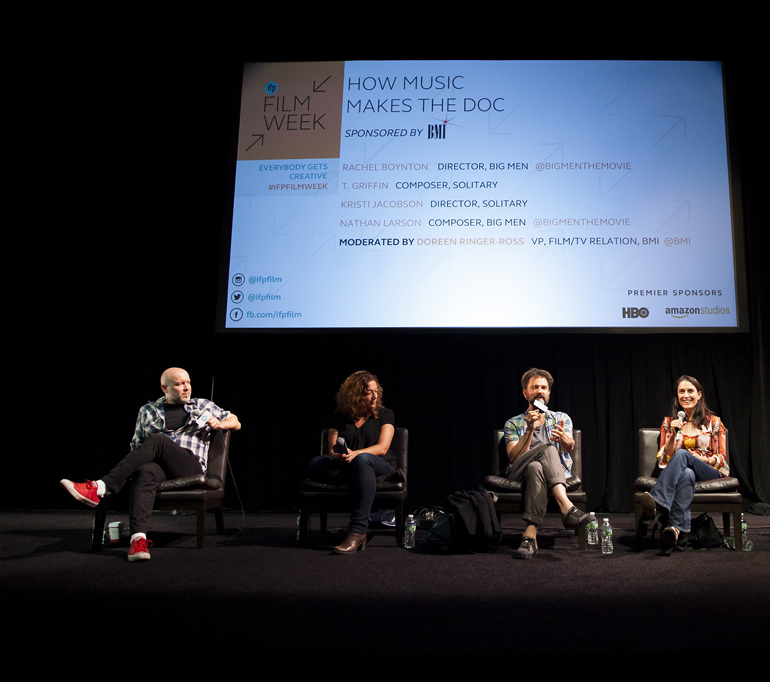 BMI composer T. Griffin, director Kristi Jacobson, BMI composer Nathan Larson and director Rachel Boynton dive into the panel discussion for an attentive audience. Photo courtesy of Adam Reichardt