BMI Sponsors Atlantis Songwriters Festival
BMI invaded paradise with a dazzling array of Nashville's finest songwriters in tow for the Atlantis Songwriters Festival in the Bahamas. From November 28 through December 3, the event celebrates Music City hitmakers through nightly acoustic performances, pool parties and beach picnics. Held exclusively at the Atlantis Resort, the live music attracted hundreds of tourists and locals.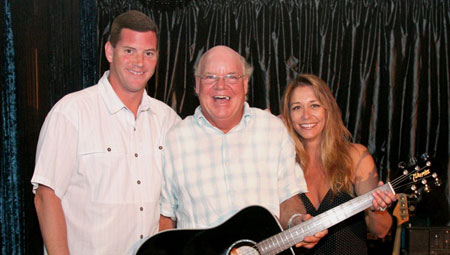 BMI presented Kerzner's Murray Bannon with a new guitar. Kerzner constructed and currently operates the Atlantis Resort, along with other destination hotspots worldwide. Pictured are (l to r): BMI's Mark Mason, Kerzner's Murray Bannon and BMI's Mary Loving.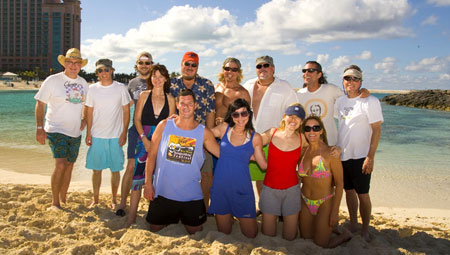 Pictured on the beach are (l to r): BMI's Phil Graham, Marv Green, Eric Church, Lari White, Steve Cropper, Jeffrey Steele, Bob DiPiero, Chuck Cannon and BMI's Jody Williams, with BMI's Mark Mason, Kylie Sackley, Sarah Buxton and BMI's Mary Loving, kneeling in front.