BMI Songwriters Monty Criswell, Wade Kirby & Rodney Clawson Celebrate 'I Saw God Today'
BMI songwriters Monty Criswell and Wade Kirby celebrated their first no. 1 hit Wednesday, June 4 amidst friends and family in the organization's Music Row lobby. The pair wrote George Strait's "I Saw God Today" with friend and fellow BMI hit-maker Rodney Clawson, whose résumé includes no. 1 hits "Why" by Jason Aldean and "Lost in this Moment" by Big & Rich.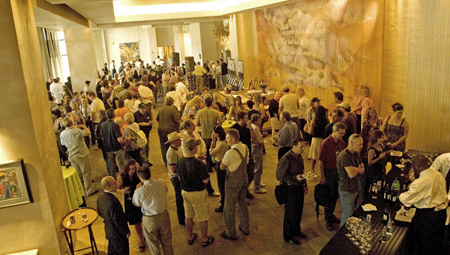 A crowd gathered in the BMI lobby to salute the writers of "I Saw God Today."
The song marked King George's record-breaking 56th chart-topper, making Strait the purveyor of more no. 1 singles than any other artist, regardless of genre, in history. Throughout the party, the songwriting trio constantly referred to the career and personal significance of penning a George Strait cut, let alone a no. 1 hit.
"I'm from Texas – and you have to understand, there's nobody bigger than George Strait in Texas," Rodney Clawson explained, smiling. "I never thought I'd have a George Strait cut. I grew up listening to him. This is just unreal."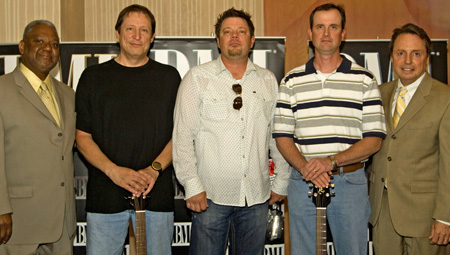 All of the co-writers are members of the BMI family. Pictured are (l to r): BMI's Thomas Cain, co-writers Wade Kirby, Rodney Clawson and Monty Criswell, with BMI's Jody Williams.
"We love the way George did the song," added Wade Kirby, the quietest of the group. "We heard it for the first time together, looked at each other and said, 'Man, that's perfect.'"
"When I met George, I told him, 'We don't know how to thank you enough for this,'" Monty Criswell remembered. "George just smiled at me at said, 'Well, write me another one like it.'"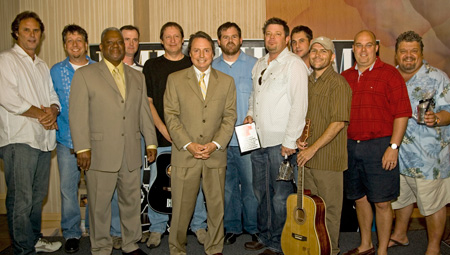 Pictured are (l to r): back row: Big Tractor's Scott Hendricks and Jason Krupek, songwriters Monty Criswell and Wade Kirby, MCA's Royce Risser, Extreme Music Group's Michael Martin, with Big Loud Shirt's Marc Driskill and Craig Wiseman; front row: BMI's Thomas Cain and Jody Williams, songwriter Rodney Clawson and Extreme Music Group's Jason Houser.
Photos by Eric England