BMI Shows 'Who's Next' at 'Writers on the Rise' Event in N.Y.
BMI's New York Writer/Publisher Relations department hosted its first "Who's Next: Writers on the Rise" event on Tuesday, Feb. 20 at the Redeye Grill in Manhattan. The packed media reception featured Josiah Bell, Dave Katz, Claude Kelly, Lady GaGa, Lanz, Matthew Mayfield, Curtis Richardson, Steven Sater, Duncan Sheik, Brent Smith of Shinedown and Frankie Storm, 11 of BMI's top up-and-coming songwriters and composers whose work is elevating them within the global music industry and community.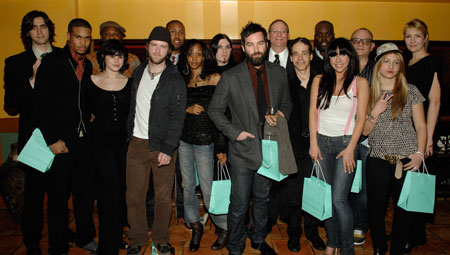 Shown are (front row): songwriter Josiah Bell; BMI's June Neira; songwriter/artists Matthew Mayfield, Frankie Storm and Duncan Sheik; composer Steven Sater; and songwriter/artists Lady GaGa and Lanz; (back row): BMI's Ben Tischker and Wardell Malloy; songwriter Claude Kelly; songwriter/artist Brent Smith of Shinedown; BMI's Charlie Feldman; songwriters Curtis Richardson and Dave Katz; and BMI's Samantha Cox.
Josiah Bell
Songwriter/producer/engineer; signed first production deal to M2 Entertainment at 14-years-old; produced and wrote six songs for Stellar Award and Grammy-nominated gospel artist Vickie Winans at age 15; produced and wrote two songs for gospel artist Smokie Norful, including the hit single, "Can't Nobody"; Smokie's CD went Gold and won a Grammy for Gospel Album of the Year. Josiah is currently working on a solo project.
Dave Katz
Prolific songwriter for bands like Coheed + Cambria, Gym Class Heroes, Boys Like Girls; wrote and produced "Bring It (Snakes on a Plane)" for the Snakes on a Plane soundtrack; worked with Roger Daltry on his 1992 release, Rocks in the Head.
Claude Kelly
Singer/songwriter/vocal arranger for artists like Carl Thomas, Trey Songz, DJ Clue, Ray J, Danity Kane, Brooke Hogan, Frankie J
Lady GaGa
Singer/songwriter and N.Y. native, GaGa was chosen by the Songwriter's Hall of Fame as one of nine performers in the 2006 New Songwriter's Showcase, and as result, was signed to a production deal with Sony's multi-platinum producer, Rob Fusari; since then GaGa has been in the midst of a label and industry frenzy!
Lanz
Songwriter/rapper; by 13, Lanz was already making an impression on New York's underground rap scene, performing at clubs around town. At 16, her razor sharp lyrics and delivery on tough issues caught the attention of Interscope/Geffen/A&M Chairman Jimmy Iovine, who signed her. Currently finishing up her debut CD.
Matthew Mayfield
Lead vocalist/guitarist for Moses Mayfield who was writing his own songs by 12. For him, songwriting is about connecting on a personal, emotional level, "dealing with my own demons and other peoples' demons, vicariously." Moses Mayfield has opened for Switchfoot, The Fray, My Morning Jacket and will be opening for Pete Yorn in early '07. Debut release on Columbia set for March 27.
Curtis Richardson
Has written for Jennifer Lopez and LL Cool J (No. 1 hit "All I Have"), Joss Stone, Rihanna, Sharissa. Coming up in '07, Curtis will be writing with Craig David, Kelly Clarkson, Carrie Underwood and Chaka Khan.
Steven Sater
A multiple threat with projects in theatre, film, music and television. Sater makes his Broadway debut with the book and lyrics to Spring Awakening. His partner, Duncan Sheik, wrote the music to the smash musical, which topped some of 2006's Ten Best lists from Time Magazine, USA Today, New York Magazine and both critics from Time-Out New York and The New York Times, placing Spring Awakening among the front-runners for this year. In just a matter of weeks, the CD is already No. 3 on the Billboard charts for Cast Albums and Virgin's No. 1 best seller for Cast Albums.
Duncan Sheik
Grammy-nominated singer/songwriter/recording artist who scored for film and the stage; produced Gold records for himself and his peers; year-long ride on the pop charts with "Barely Breathing"; new CD White Limousine. Broadway debut with writing partner Steve Sater of critically acclaimed Spring Awakening, the new musical based on Frank Wedekind's controversial 1891 play about a young person's sexual awakening.

Brent Smith
Lead singer and songwriter for Atlantic platinum recording artists, Shinedown. Brent currently co-wrote the album cut, "There and Back Again" with RCA chart-topping American Idol finalist Daughtry and is currently co-writing in all genres, including rock, pop and country.
Frankie Storm
Philly-based 24-year-old singer/songwriter currently working with production teams like Stargate, Soul Shock and Karlin and the Underdogs.