BMI Participates in the 2013 Comic-Con International Convention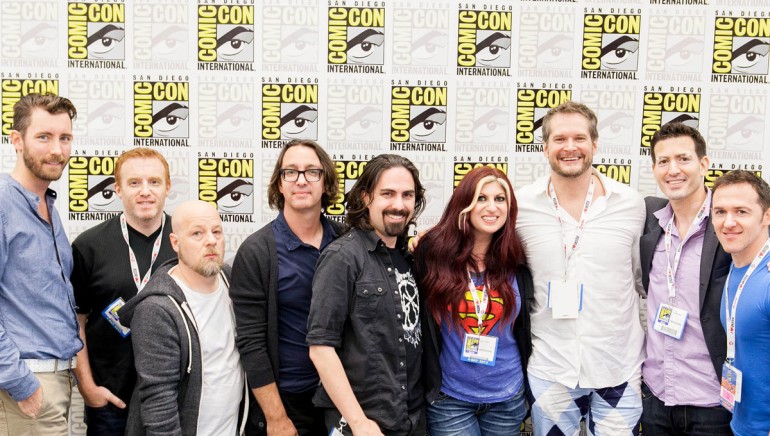 Black SailsB Jonathan Steinberg; executive producer/director of NBC's
Hannibal
David Slade; BMI composer Brian Reitzell (
Hannibal
); composer Bear McCreary (
Black Sails
); BMI Director, Film/TV Relations Anne Cecere; executive producer of
Hannibal
Bryan Fuller; BMI composer Dino Meneghin (MTV's
Teen Wolf
) and executive producer/creator of MTV's
Teen Wolf
Jeff Davis." class="img-roundedentry pinthis">
Broadcast Music, Inc. was in attendance at the 2013 Comic-Con International convention in San Diego, California. Taking place from July 18 through July 21 at the San Diego Convention Center, the four-day gathering showcased an array of exclusive film and television trailers and screenings, featured comic book memorabilia, displayed numerous exhibits, provided autograph signings and played host to numerous panels including BMI & White Bear PR's "The Character of Music" panel discussion on July 19.
The dynamic discussion elaborated on the working relationship between composer and executive producer. The panelist pairings included composer Bear McCreary and executive producer/creator Jonathan Steinberg (Starz' Black Sails), BMI composer Brian Reitzell and executive producers Bryan Fuller and David Slade (NBC's Hannibal) and BMI composer Dino Meneghin and executive producer/creator Jeff Davis (MTV's Teen Wolf). Other topics included the role of music as a character in the story and the intense process of scoring television projects. BMI Director, Film/TV Relations Anne Cecere and White Bear PR President Chandler Poling served as panel moderators.
Immediately following BMI & White Bear PR's "The Character of Music," panelists, additional BMI composers and guests were treated to a meal at Café Sevilla as they networked.
The previous evening, BMI composer Christopher Lennertz participated in the "Anatomy of Superhero Film Music" panel. Also on July 18, BMI composers Kevin Kiner and iZLER shared their scoring secrets on the "Behind the Music" panel.
On Saturday, July 20, BMI composer Shawn Clement, who also serves as co-executive producer for Live Forever: The Ray Bradbury Odyssey, provided an in-depth conversation that also featured the film's actors Joe Mantegna and Edward James Olmos, the film's production and post-production team, director/executive producer Michael O'Kelly, co-producer/picture editor Scott E. Smith, music editor James W. Speight and supervising sound editor Ugo Deroard.
Also on Saturday, BMI composers Jeremy Zuckerman and Ben Wynn and creators Michael Dante DiMartino and Bryan Konietzko signed copies of the highly anticipated soundtrack to Nickelodeon's The Legend of Korra. Fans of the show who had petitioned for the soundtrack for years attended the exclusive meet-and-greet and autograph session.