BMI Kicks Off Free Concert Series 'Summer Nights'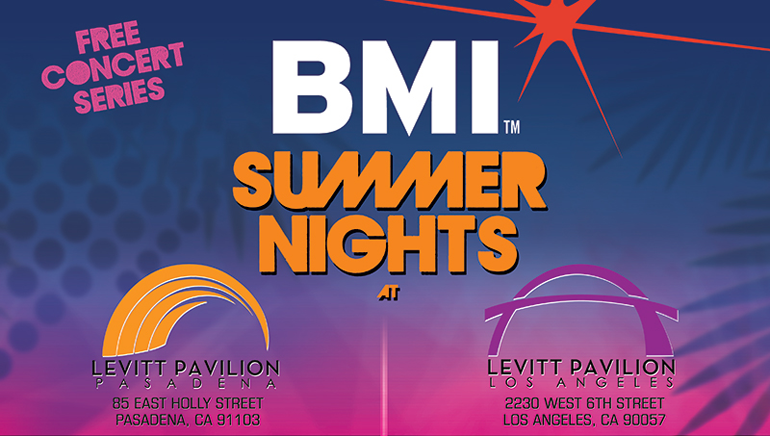 BMI is proud to once again join forces with the Levitt Pavilion for Performing Arts to kick off its free and open to the public summer concert series. "Summer Nights" will launch Friday, July 11, at the Levitt Pavilion Pasadena with performances by David Garza, an original Rock-Pop-Latin infusion artist, and Irene Diaz, the soulful sounding Latin singer/songwriter and pianist.
Friday, July 25, features performances including Nina Díaz, who NPR hailed as "one of the two or three most exciting, scary-good vocalists in rock today," and two-time GRAMMY award-nominee, Elsten Torres, at the Levitt Pavilion MacArthur Park in Los Angeles.
The third round will circle back to the Levitt Pavilion Pasadena on Friday, August 8. Rocking the mic will be Ceci Bastida, the breakout singer/songwriter who puts the Latin in L.A., and artist Raquel Sofia, who is stepping up to center stage after singing backup for Shakira and Juanes. The Summer Nights series will close out on Friday, August 15, with Master Blaster Sound System and Niña Dioz at the Levitt MacArthur Park in Los Angeles.
The combination of the cumbia crunk/roots norteño/deep club sound brought by the Master Blaster Sound System, followed by rap phenom Niña Dioz, whose energetic stage presence is often compared to M.I.A., will end this four-date concert series with another not-to-be missed show.
BMI SUMMER NIGHTS SCHEDULE
July 11 @ 8 pm
David Garza and Irene Diaz
Levitt Pavilion Pasadena
85 East Holly Street, Pasadena, CA 91103

July 25 @ 8 pm
Nina Díaz and Elsten Torres
Levitt Pavilion MacArthur Park
2230 West 6th Street, Los Angeles, CA 90057-3117

August 8 @ 8 pm
Ceci Bastida and Raquel Sofia
Levitt Pavilion Pasadena
85 East Holly Street, Pasadena, CA 91103

August 15 @ 8 pm
Master Blaster Sound System and Niña Dioz
Levitt Pavilion MacArthur Park
2230 West 6th Street, Los Angeles, CA 90057-3117