BMI IFP Panel Spotlights Movie Music
BMI sponsored a panel discussion, "Making Your First Feature: Music Makes the Movie," at the 3rd annual IFP Conference, held September 16-21 in New York. The panel which took place at the Puck Building was moderated by BMI's Doreen Ringer-Ross, VP of Film/TV Relations.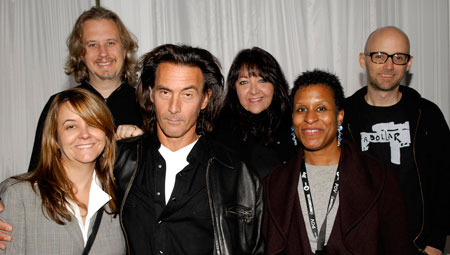 Pictured are (l-r): panelists Tracy McKnight, Anton Sanko, Tom Dicillo, BMI's Doreen Ringer-Ross, IFP Executive Director Michelle Byrd and Moby
Panelists included recording artist Moby, music supervisor Tracy McKnight,; Delirious director Tom Dicillo and film composer Anton Sanko. The topic was how to achieve the right sound on an independent movie budget.
BMI sponsors many film music panels at film festivals and markets throughout the U.S. each year. These panels are designed to promote greater understanding within the filmmaking community about the aesthetic and business aspects of music in film, as well as provide an opportunity for composers, songwriters and filmmakers to learn more about each other's role.