BMI Heads to New Orleans for 2011 French Quarter Festival
The 2011 French Quarter Festival will highlight New Orleans' signature music, food, and culture April 7-10 in the event's historic neighborhood namesake. For the second consecutive year, the BMI day stage will feature 16 of the region's finest up-and-comers on Saturday April 9 and Sunday, April 10, from 11 a.m. to 5 p.m. at the Historic New Orleans Collection.
Performers will include singer/songwriters Josh Charles, Erin Miley, Rosita, Jon Roniger, Jalan Crossland, Kourtney Heart, Andrew Duhon, Kristin Diable, Jim McCormick, Charlie Oxford, Olga, Armand St. Martin, Colin Lake, Luke Winslow-King, McAlister Drive, Amy Trail, and John Michael Rouchell.
The 2011 French Quarter Festival is the largest free music festival in the South. In addition to showcasing the finest music, food and culture that are uniquely New Orleans, this year's festival will feature over 275 hours of free music across 18 stages throughout the historic French Quarter. With over 800 local musicians, every genre is represented. From traditional and contemporary jazz, to rhythm and blues, New Orleans funk, Zydeco, to brass bands, folk, opera and gospel, there is truly something for everyone. Special events within the festival include the opening parade, the World Championship Crawfish Eating Contest, Battle of the Bands, Dancing at Dusk, the International Music Colloquium, family-fun activities at Children's Headquarters, the World's Largest Jazz Brunch, and more. The 2011 French Quarter Festival is produced by French Quarter Festivals, Inc., (FQFI) the 501(c)3 nonprofit Organization. For more information on French Quarter Festival, call 504-522-5730 or visit online at www.fqfi.org.
FQF BMI STAGE SCHEDULE
SATURDAY, APRIL 9
11:00 a.m. Josh Charles / joshcharlesmusic.com
11:45 a.m. Erin Miley / myspace.com/erinmiley
12:30 p.m. Rosita / rositaziroldo.com
1:15 p.m. Jon Roniger / jonroniger.com
2:00 p.m. Jalan Crossland / jalancrossland.com
2:45 p.m. Kourtney Heart / kourtneyheart.com
3:30 p.m. Andrew Duhon / andrewduhon.com
4:15 p.m. Kristin Diable / kristindiable.squarespace.com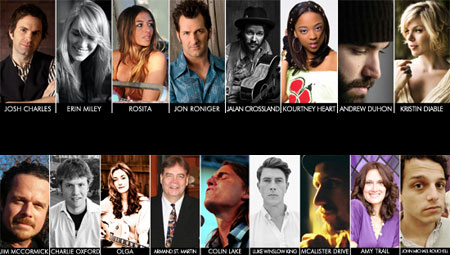 SUNDAY, APRIL 10
11:00 a.m. Jim McCormick & Charlie Oxford / myspace.com/jimmccormickmusic & myspace.com/charlieoxford
11:45 a.m. Olga / laolga.com
12:30 p.m. Armand St. Martin / myspace.com/armandstmartin
1:15 p.m. Colin Lake / colinlake.com
2:00 p.m. Luke Winslow-King / lukewinslowking.com
2:45 p.m. McAlister Drive / mcalisterdrive.com
3:30 p.m. Amy Trail / amytrail.com
4:15 p.m. John Michael Rouchell / mynameisjohnmichael" target="_blank">myspace.com/mynameisjohnmichael