BMI Composer Christopher Tin Debuts 'The Drop That Contained the Sea' at Carnegie Hall
The music of acclaimed composer and BMI affiliate Christopher Tin was celebrated by Distinguished Concerts International New York (DCINY) at New York's Carnegie Hall earlier this month. The evening brought to life a full-scale performance of Tin's award-winning work "Calling All Dawns," along with the world premiere of "The Drop That Contained the Sea." This ambitious new piece features ten movements in ten different languages, starting with Proto-Indo-European and including Bulgarian, Sanskrit, Old Norse, Ancient Greek and other explorations.
"The title comes from a Sufi concept, the same way that every drop of water contains the essence of the sea, inside every human is the essence of humanity," Tin said in a recent interview with Broadway World. The performance included multi-lingual vocal soloists, an impressively versatile chorus and a stunning conclusion that involved hundreds of singers amid the audience in the balconies. The renowned Angel City Chorale, featured on the album recording of the piece, were also featured at the Carnegie Hall performance. Additionally, BMI's own Director Film/TV Relations Anne Cecere, an accomplished Dramatic Coloratura Soprano in her own right, joined the performance as a vocalist in the world premiere.
New York Concert Review Inc. featured rave reviews about the evening. Referencing a 2013 performance of Tin's work, "The audience reacted after the final notes with the loudest and longest standing ovation I have ever heard at any concert. Mr. Tin was called to the stage and the ovation became deafening," adding about the Carnegie Hall performance, "The reaction tonight moved the bar up many decibels! It was a fitting end to a wonderful evening, and I eagerly await the next collaboration between Mr. Tin and DCINY."
The fearless experimentation of "The Drop That Contained the Sea" should come as no surprise when considering Tin's body of work: the innovative composer and two-time GRAMMY winner has worked on everything from Hollywood film scores to video games, presenting fresh takes on electronica, world music and the boundaries of orchestral music. For those who missed the Carnegie Hall performance, there will be a west coast premiere with the Angel City Chorale on June 7 in Los Angeles. For tickets click here. If that's too long of a wait, a recording of "The Drop That Contained the Sea" will be released May 8 and is available for purchase here.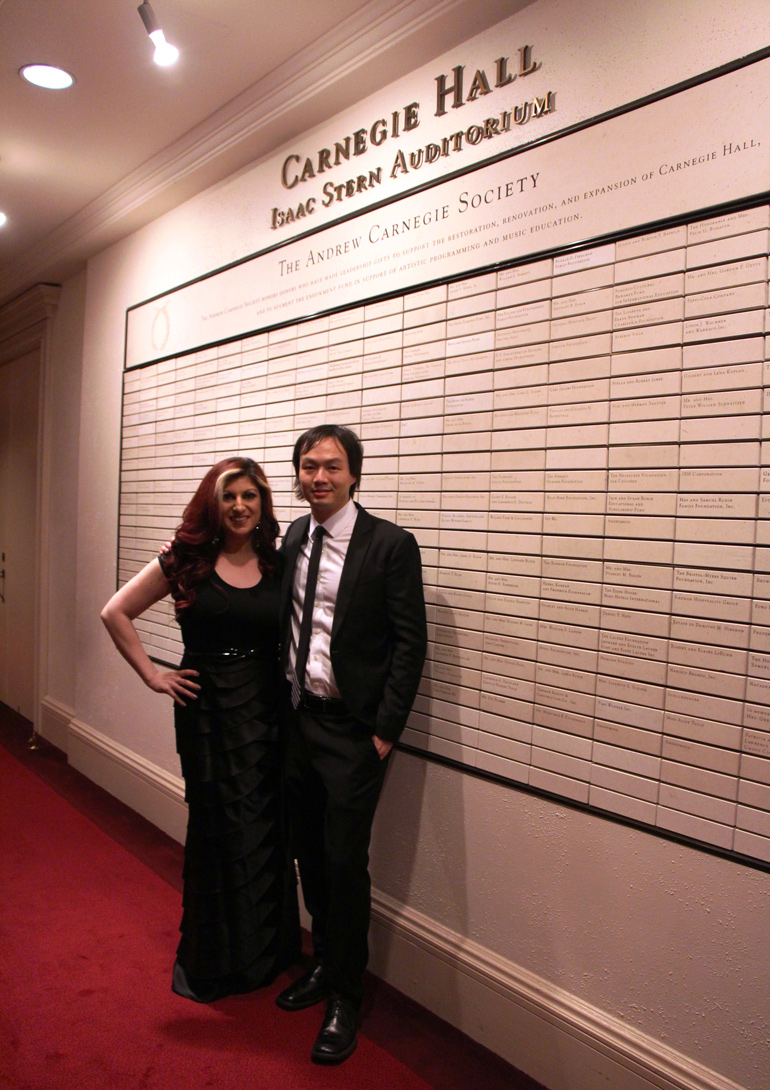 Pictured before taking the stage for the performance of "The Drop That Contained the Sea" are: BMI Director Film/TV Relations and Dramatic Coloratura Soprano Anne Cecere with BMI composer and two-time GRAMMY winner Christopher Tin