Christopher Lennertz is an Agent of Change When it Comes to Scoring ABC's 'Agent Carter'
Having scored nearly 50 feature films, numerous network television series, many of the world's biggest interactive titles, and spending weeks on the Billboard charts, BMI composer Christopher Lennertz is fast becoming one of the industry's hottest composers. Add to this his new score for ABC's Agent Carter, which stars Hayley Atwell as what Lennertz calls an "amazing female lead who was smarter and tougher than anyone else on screen," Lennertz is also covering ground when it comes to changing our perception of superheros. In addition to the score, the GRAMMY winner and Emmy-nominated scribe also co-wrote "Whatcha Gonna Do," an original song for the show that captures the heart of the character as it also catches the hearts of viewers.
Lennertz' adeptness at a multitude of genres is a key element to his success. Originally recognized in the horror world with projects such as Clive Barker's Saint Sinner, for which Cinemusic named him Best New Composer, Lennertz' knack for comedy is undeniable in films like Think Like a Man. He's also contributed his unique style to many hit family films, including Hop and Cats & Dogs: The Revenge of Kitty Galore, as well as critically acclaimed films, including the Alfred P. Sloan Award-winning Adam, Girl in Progress; and Tortilla Heaven, which garnered him the very first MTV Music Award for Best Score for an Independent Feature Film.
On the television side, Lennertz has also written the music for NBC's Revolution, while his longtime run on the series Supernatural led to a Primetime Emmy Award nomination for Outstanding Music Composition for a Series (Original Dramatic Score). He also recently collaborated with Oscar and Tony award winner Alan Menken on ABC's musical comedy Galavant, and is continuing to work with Menken on the upcoming animated film Sausage Party.
BMI caught up with Lennertz to cue up a conversation about his genre-bending work in rock, jazz, film, TV and video games, as well as his growing role as a mentor in supporting the immense value of music in our culture. Here are his thoughts.
You've said that the score for Agent Carter "lives in the world of James Bond and Mission: Impossible." Tell us what you mean by that and how it compares to other projects you've worked on.
I think, even more appropriately, it straddles the world of James Bond and Captain America. It's an amazing show and setting that I think I was very well suited for. I had been hired by Louis D'Esposito, who was not only the director of the original Agent Carter One-Shot, but also co-president of Marvel. He had heard both my music for Medal of Honor, which was set in WWII as well as my score for the From Russia With Love video game which was all classic Bond in style. So I think Carter was, in fact, a chance to fuse many of the styles I had been working in. It was also a chance to score an amazing female lead who was smarter and tougher than anyone else on screen. I was truly blessed to be able to help tell that story.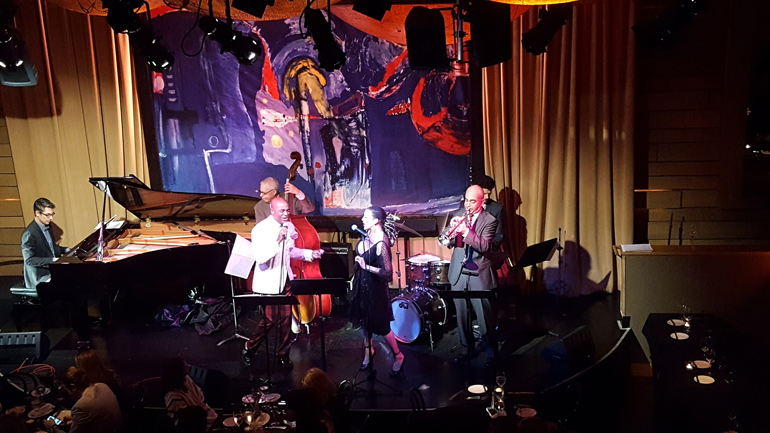 You wrote the show's original song "Whatcha Gonna Do" with David Zippel. What did each of you bring to the table and how does the song fit in with the score?
Oddly enough, David and I went to the same public high school in Pennsylvania… though not at the same time. Our parents had been friends for decades and we met years ago in LA and had always wanted to work together. He's a fantastic lyricist and he brought a charm and class to the song that was perfect for our characters. He won a Tony for City of Angels and had done two huge Disney musicals, so I knew he'd be perfect! I had been talking with producers since season one about doing a musical sequence and finally in season two, they told me they wanted to make it happen. Then we decided it needed to tell the story of Peggy's love triangle all while incorporating most of the show's lead characters in an MGM musical style dance number. We partnered with Dancing with the Stars for the choreography and it truly became a spectacle that was even bigger than I ever imagined. The song fits in perfectly with the era and the many jazzy and noir elements of the score, and, I think, really propels the story in an organic but exciting way.
You've been working with Alan Menken on several projects. What is that dynamic like and what makes the partnership successful?
Getting to work with Alan was always a dream and has been one of the greatest gifts of my life. Richard Kraft and Dawn Soler put us together for Galavant and that has now led to work for a theme park and most recently the Seth Rogen animated epic, Sausage Party. There is no one better than Alan at writing melodies that live forever and songs that tell the story and get to the heart of a film. Besides feeling as if I somehow got a full scholarship to study at the greatest musical theater academy over the past two years, I think I've also been able to bring a lot of my own personality to all of these projects. Not only do I think I've gained a better understanding of why Alan is so successful at what he does, but I think he knows what I bring to the table and trusts that my instincts are similar to his. After his years of animated musicals and my years of R-rated comedies and action scores, I think it has been really fun to play in each other's sandbox, so to speak.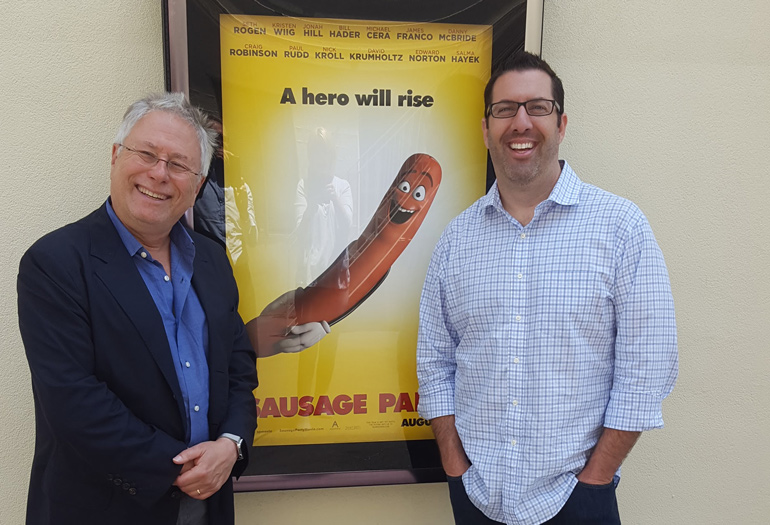 You've also collaborated with other heavy-hitters in totally different genres – among them Ozomatli, Jane's Addiction, Dave Grusin, members of Pearl Jam, Dave Matthews, and No Doubt, one of which earned you a GRAMMY. Tell us a bit about those relationships and what stands out the most to you when thinking back on them.
Coming from a background in rock and jazz, I really always felt like I had to give up the joy of collaborations when I became a working composer. It's such a solitary existence most of the time and that is definitely not my personality. Recording with orchestra and conducting became my favorite parts of the job, so as I started doing more movies with more varied ensembles, I tried to find a way to get some of that collaborative energy back, and starting with Horrible Bosses, I really saw the way it not only helped the sound, but reinvigorated me in the process. After that I started searching out collaborators that made sense with the movie, but also allowed me to work with and learn from some of my favorite artists. Some of the highlights are certainly working with Ozo on their record Street Signs, getting to work with Money Mark from the Beatsie Boys, co-writing a score with Dave Grusin, and jamming with all the amazing players from my favorite bands of all time…not to mention getting Sheila E. and Arturo Sandoval to help bring Ride Along to Miami! I've even created a musical TV show with John Ondrasik of Five For Fighting and Dawn Soler that should be in production next year.
Tell us about your music that has made the Billboard charts. Did any of it surprise you?
The biggest surprise was a song I wrote for an MTV show that ended up spending 13 weeks with an album in the top ten. At the same time, many of my video game scores were immensely popular on the iTunes classical charts sandwiched in between recordings by the LA Phil and the LSO. But it is great to see so much crossover and so many young people getting introduced to things like orchestra and jazz because of movies, TV, and video games. I really am enjoying doing more songwriting and working on both musicals and records. I'm always writing more songs and even have a stage musical in the works.
You also score video games. How is that interactivity with a game player different than writing for a film viewer?
The actual music is very similar in that we need to tell the story through in a way that the player can understand. So, action and suspense, sadness and despair…it's all the same as in linear storytelling. The difference comes in the structure. We always need to write with the knowledge that depending on the player, a piece might need to transition somewhere else, or skip certain sections to follow their personal trajectory. Because of that, we need to construct things in a way that those jumps are possible. The great thing about video games is that in most cases…the people creating the games are huge music fans and know the importance of how music fits into a game.
You're also spending time mentoring. Tell us about working on the Pete Carpenter Fellowship with the BMI Foundation and your membership on the Board of the Mr. Holland's Opus Foundation. What is it about these particular programs that inspire you?
Both of my parents were teachers. My music teacher in my high school was one of the main reasons I moved to California to become a professional musician. And I was fortune enough to have studied with so many amazing teachers along the way, not the least of which was Elmer Bernstein. Nothing is more important than education. That one person on that one day can change a child's life forever. It's so important for me to continue that work for the next generation, but it also feeds my soul. It makes me feel good and worthwhile to be a part of these things…especially Mr. Holland's Opus as I worked for Michael Kamen, its founder. I hope I can carry on a bit of his dream.
You're doing a concert this summer honoring Basil Poledouris. Tell us about your relationship and why it inspired you to do this tribute.
Basil was not only a mentor, but an inspiration, a father-figure in the business, and a true inspiration to me. He and his family took me into their world after college and changed my life. Ten years ago this summer, he conducted his last concert in Spain while in the throws of cancer. That fall, he left us. We wanted to do a tribute to him now on this anniversary in that very place. This time, his daughters Zoe and Alexis will be there performing, including a piece I wrote for him with Zoe singing words that Basil chose himself. It will be a very special week and an incredibly moving night. He was one of the most special people in my life, and I'm so glad I can help his music fill the air once again.
What level of training do you feel is necessary for aspiring composers today and does it differ from genre to genre?
I think it differs somewhat, but I don't think there's a magic formula. For some, a conservatory is the answer…for others touring with a rock band…and others, endless nights in a studio or club. At the end of the day, music is about telling stories and emotion. There are so many ways to get there, but it's really just about connecting and sharing something. Whether it's at a movie theater, on Broadway, in an arena or a coffee house, if you get to play something that came from your heart and soul and have someone smile and nod their head or just say, "yeah, I get it"…that's the magic.
Why did you join BMI and how has it helped your career?
I joined BMI because the amazing Buddy Baker introduced me to Doreen Ringer-Ross. Perhaps no one has changed my life in music as much as she has. From introductions to almost all of my mentors, showcases and events, to the most wonderful advice and encouragement…I'm so grateful. Then Ray Yee and some friends played matchmaker and introduced me to the amazing woman who would eventually become my wife and now mother to my two beautiful girls. I'm not saying that BMI does all that for everyone…but I will say that they must really get to know you pretty well to make these sorts of things a possibility. How's that for an endorsement?