2008 BMI Christian Music Awards Honor the Genre's Most Played Songs
Ed Cash Receives Song and Songwriter of the Year Honors
BMI saluted the writers and publishers of the past year's most performed songs on Christian radio and television during the annual Christian Music Awards tonight at the company's Music Row offices in Nashville. BMI named versatile hit-maker Ed Cash the 2008 Christian Songwriter of the Year, while his composition "Made to Worship" garnered Song of the Year honors. BMI Vice President Jody Williams, along with Senior Director Thomas Cain and Associate Director Beth Mason, of BMI's Writer/Publisher Relations department in Nashville, presented awards spanning five categories: Christian Rock, Contemporary Christian, Inspirational, Urban Gospel and Southern Gospel.
Prior to the presentation of awards, perennial Christian music titans Jars of Clay, rising star Aaron Shust and fiery gospel artist Isaiah Thomas set the evening's warm tone with soulful renditions of their award-winning songs.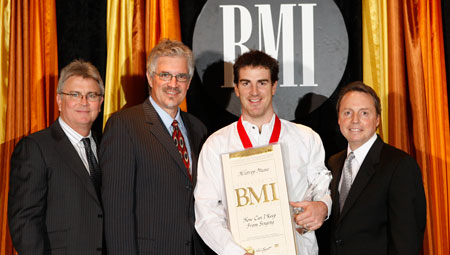 The BMI Christian Awards' big winners huddled together for a photo. Pictured are (l to r): BMI's Phil Graham, Publisher of the Year Universal Music Publishing's Dale Matthews, Songwriter of the Year Ed Cash and BMI's Jody Williams.
Prolific producer and songwriter Ed Cash earned the BMI Songwriter of the Year crown thanks to his profound compositions "Made to Worship," "Holding onto You," and "How Can I Keep from Singing." The stirring "Made to Worship" also garnered the BMI Song of the Year crystal for Cash; recorded by contemporary Christian favorite Chris Tomlin, the song was published by Alletrop Music.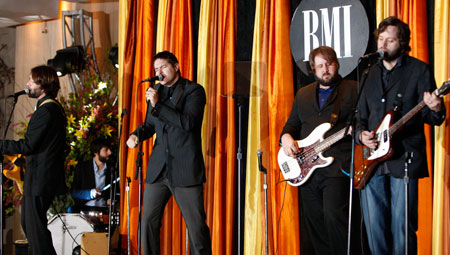 Perennial favorites Jars of Clay perform at the 2008 BMI Christian Awards.
The ceremony also feted Publisher of the Year Universal Music Publishing Group. The award is determined by the highest percentage of copyright ownership in award songs. The company's eight award-winning songs include "The Blessing of Abraham," written by esteemed producer and chorale director Donald Lawrence, "Dead Man (Carry Me)," co-written and recorded by Jars of Clay, "My Savior, My God," written and recorded by Aaron Shust, and "Imagine Me," co-penned and recorded by contemporary gospel trendsetter Kirk Franklin.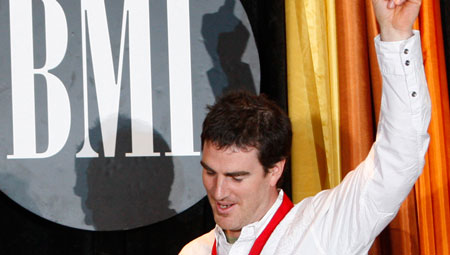 Big winner Ed Cash salutes his inspiration.
Gospel luminary Donald Lawrence and ceremony performer Aaron Shust garnered two awards each. The night's other big winners included genre-bender tobyMac; Christian rock outfit Red's Jasen Rauch and Anthony Armstong; urban gospel star Kirk Franklin; Red producer Robert Graves; Jars of Clay members Dan Haseltine, Charlie Lowell, Steve Mason and Matt Odmark; 2007 BMI Christian Songwriter of the Year Mark Hall; Sanctus Real producer Chris Stevens and Sanctus Real member Dan Gartley; premier producer, arranger and musician Jay Joyce; Kingdom Heirs member Dennis Murphy; producer, songwriter and music minister Isaiah D. Thomas; gospel heavyweight Rodney Griffin; Needtobreathe's Bo Rinehart; singer/songwriter Aaron Sprinkle; songwriter/producer Marc Byrd; gospel favorite Percy James Bady; songwriters Adam Kohout, Tery Wilkins, David Nasser, Jules "Juda" Bartholomew, Twila LaBar, Joel Lindsey, Belinda Lee Smith, Lisa Stewart Seals; and the McClurkin Project's Andrea McClurkin-Mellini and Nate McNair.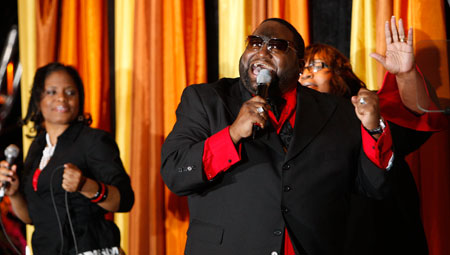 Isaiah D. Thomas brings the house down.
In addition to Universal Music Publishing Group, publishers winning multiple awards were Alletrop Music, EMI Christian Music Group (Meaux Mercy Publishing, River Oaks Music Company), Lilly Mack Music, Asheville Music Publishing, Chris White Music, Q W Publishing, Sony/ATV Songs LLC and White Spot Publishing.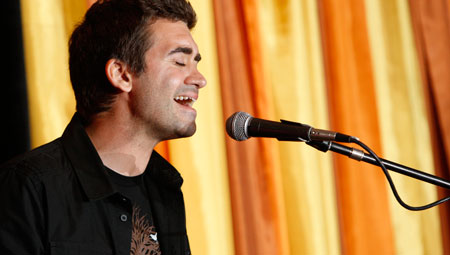 Aaron Shust delivers a charged performance.
Below is the complete list of 2008 BMI Christian Music Awards winners:
The Most Performed Songs on Christian Radio during 2007


ANYTHING BUT ORDINARY, EVERYTHING BUT TYPICAL
Adam Kohout
Tery Wilkins
Asheville Music Publishing
Chris White Music
Leah's Heart Music
The Dove Brothers
Sonlite Records/Crossroads Music Group


THE BLESSING OF ABRAHAM
Donald Lawrence
Q W Publishing
Universal Music-Z Songs
Donald Lawrence presents the Tri-City Singers
EMI Gospel


BREATHE INTO ME
Anthony Armstrong
Robert Graves
Jasen Rauch
Bridge Building Music
End of Silence Music
Logansong Music
Sony/ATV Songs LLC
Red
Essential Records


BY HIS WOUNDS
David Nasser
Meaux Mercy Publishing
Redemptive Art Music
Glory Revealed feat. Mac Powell, Mark Hall, Brian Littrell and Steven Curtis Chapman
Reunion Records


DEAD MAN (CARRY ME)
Dan Haseltine
Charlie Lowell
Steve Mason
Matt Odmark
Bridge Building Music
Pogostick Music
Jars of Clay
Essential Records


DOES ANYBODY HEAR HER
Mark Hall
Club Zoo Music, Inc.
My Refuge Music
SWECS Music
Casting Crowns
Beach Street/Reunion Records


ENCOURAGE YOURSELF
Donald Lawrence
Q W Publishing
Universal Music-Z Songs
Donald Lawrence presents the Tri-City Singers
EMI Gospel


THE FACE OF LOVE
Dan Gartley
Christopher Stevens
Gotee Music, Inc.
Regisfunk Music
River Oaks Music Company
Sanctus Real
Sparrow Records


FAITHFUL IS OUR GOD
Jules "Juda" Bartholomew
Hezekiah Walker and the Love Fellowship Crusade Choir
Verity


GIVE IT ALL AWAY
Aaron Shust
Bridge Building Music
White Spot Publishing
Aaron Shust
Brash Music


GOD'S WORD
Dennis Murphy
Asheville Music Publishing
Chris White Music
Kingdom Heirs
Sonlite Records/Crossroads Music Group


HOLDING ONTO YOU
Ed Cash
Alletrop Music
Paul Colman
Inpop Records


HOW CAN I KEEP FROM SINGING
Ed Cash
Alletrop Music
Chris Tomlin
Sparrow Records


I WILL BLESS THE LORD
Isaiah D. Thomas
Good Fellas Music Group LLC
Byron Cage
GospoCentric Records


IMAGINE ME
Kirk Franklin
Kerrion Publishing
Lilly Mack Music
Universal Music-Z Songs
Kirk Franklin
GospoCentric Records


MADE TO LOVE
Toby McKeehan
Achtober Songs
tobyMac
ForeFront Records


MADE TO WORSHIP
Ed Cash
Alletrop Music
Chris Tomlin
Sparrow Records


MY SAVIOR, MY GOD (2nd Award)
Aaron Shust
Bridge Building Music
White Spot Publishing
Aaron Shust
Brash Music


ORPHANS OF GOD
Twila LaBar
Joel Lindsey
Bridge Building Music
Upright Grand Music
Avalon
Sparrow Records


OVER AND OVER
Belinda Lee Smith
Seventh Row Music
Jeff and Sheri Easter
Word Entertainment


PAID IN FULL (THROUGH JESUS, AMEN)
Rodney Griffin
Songs of Greater Vision
Greater Vision
Daywind Records/Daywind Music Group


REAL TO ME
Jay Joyce
JoyJayce Music Publishing
Sony/ATV Songs LLC
Nichole Nordeman
Sparrow Records


SHINE ON
Bo Rinehart
Needtobreathe Music
Needtobreathe
Sparrow Records


SKY FULL OF ANGELS
Lisa Stewart Seals
Potter's Daughter Music
TaRanda Greene
Daywind Records/Daywind Music Group


STRONG TOWER
Marc Byrd
Aaron Sprinkle
Blue Raft Music
Flush on the Flop Music
Meaux Mercy Publishing
Spinning Audio Vortex, Inc.
Kutless
Tooth & Nail Records/BEC Recordings


UM GOOD
Percy James Bady
Lilly Mack Music
Smokie Norful
EMI Gospel


WE PRAISE YOU
Andrea McClurkin-Mellini
Nate McNair
Lilly Mack Music
Naymac Publishing
The McClurkin Project
GospoCentric Records