2010 BMI Christian Music Awards Honor Genre's Most-Played Songs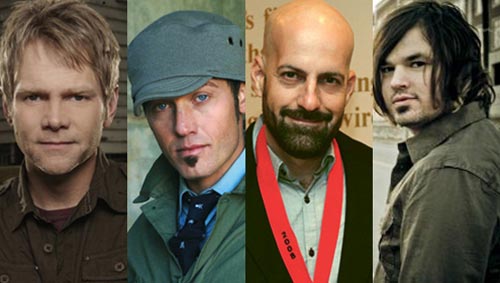 Steven Curtis Chapman, tobyMac, Chris Stevens, Jason Walker & Universal Music Publishing Win Top Honors
BMI saluted the writers and publishers of the past year's most-performed songs on Christian radio and television during the annual Christian Music Awards tonight at the company's Music Row offices in Nashville.
By contributing two songs each to the most-performed list, genre-bender tobyMac, perennial favorite Steven Curtis Chapman, top-tier producer/songwriter Chris Stevens, and promising young singer/songwriter Jason Walker shared the Songwriter of the Year title, while "Lose My Soul," recorded and co-written by TobyMac and Stevens, garnered Song of the Year honors. Universal Music Publishing Group also earned its third consecutive Publisher of the Year crown, as host Jody Williams, BMI Vice President, Writer/Publisher Relations, Nashville, along with Senior Director Thomas Cain and Director Beth Mason, of BMI's Writer/Publisher Relations Department in Nashville, presented awards spanning five categories: Christian Rock, Contemporary Christian, Inspirational, Urban Gospel and Southern Gospel.  BMI Senior Vice President, Writer/Publisher Relations Phil Graham joined his staff on stage for the presentation of the night's top honors, Song, Songwriter, and Publisher of the Year.
During the ceremony, the audience enjoyed intimate live performances of award-winning songs. The Booth Brothers delivered a stirring rendition of "What Salvation's Done for Me"; a new band called Caleb, featuring Caleb & Will Chapman, sons of Steven Curtis Chapman, offered a poignant performance of their father's hit "Cinderella"; and, as the electric conclusion, tobyMac performed his hit "Boomin'."
BMI also recognized the industry-shaping career of esteemed Christian music executive Billy Ray Hearn. Among numerous other influential endeavors, Hearn is the co-founder of genre-cornerstone Sparrow Records, which has launched and supported the careers of Christian and gospel greats, from Steven Curtis Chapman and CeCe and BeBe Winans to Switchfoot and Amy Grant.
Below is the complete list of 2010 BMI Christian Music Awards winners:
Songwriters of the Year
STEVEN CURTIS CHAPMAN
"Cinderella"
"Yours"

TOBYMAC
"Lose My Soul"
"One World"

CHRIS STEVENS
"Lose My Soul"
"One World"

JASON WALKER
"My Deliverer"
"One Life to Love"

Song of the Year
"LOSE MY SOUL"
Toby McKeehan
Chris Stevens
Achtober Songs
Regisfunk Music
Universal Music-Brentwood-Benson Songs
tobyMac featuring Kirk Franklin and Mandisa

Publisher of the Year
UNIVERSAL MUSIC PUBLISHING GROUP
"Back II Eden"
"Empty Me"
"Get Up"
"I Cast My Bread Upon the Water"
"Lose My Soul"
"One World"
"Two Hands"
"Welcome to the Family"

Special Citation of Appreciation
BILLY RAY HEARN

2010 BMI Christian Awards
Award-Winning Songs

BACK II EDEN
Donald Lawrence
Q W Publishing
Universal Music-Z Songs
Donald Lawrence and Co.

CINDERELLA
Steven Curtis Chapman
Primary Wave Brian
Sparrow Song
Steven Curtis Chapman

EMPTY ME
Chris Sligh
Bridge Building Music
Kindacrazy Music
Chris Sligh

GET UP
Eric Dawkins
E. D. Duz It Music
Irving Music
Underdog East Songs
Mary Mary

I CAST MY BREAD UPON THE WATER
Joel Hemphill
La Breeska Hemphill
Bridge Building Music
Family and Friends Music
Gold City

I WILL RISE
Matt Maher
Worship Together Music
Chris Tomlin

IN THE HANDS OF GOD
Jeff Frankenstein
Don't Chase Music
Oinchtech Music
Newsboys

JESUS MESSIAH
Ed Cash
Alletrop Music
Chris Tomlin

LOSE MY SOUL
Toby McKeehan
Chris Stevens
Achtober Songs
Regisfunk Music
Universal Music-Brentwood-Benson Songs
tobyMac feat. Kirk Franklin and Mandisa

MY DELIVERER
Jason Walker
Dayspring Music
Mandisa

MY NAME IS VICTORY
Jonathan Nelson
Justin Savage
Integrity's Praise! Music
Jules 4 U Music
Must Hear Music
Jonathan Nelson and Purpose

ONE LIFE TO LOVE
Jason Walker
Dayspring Music
33Miles

ONE WORLD
Toby McKeehan
Chris Stevens
Achtober Songs
Regisfunk Music
Universal Music-Brentwood-Benson Songs
tobyMac feat. Siti Monroe

SLOW FADE
Mark Hall
My Refuge Music
Sony/ATV Tree
Casting Crowns

SOULED OUT
Nate McNair
Naymac Publishing
Hezekiah Walker and Love Fellowship Choir

TAKE IT BACK
Derrick Starks
DStarks Music
Dorinda Clark-Cole

TODAY IS THE DAY
Lincoln Brewster
Integrity's Praise! Music
Lincoln Brewster

TWO HANDS
Dan Haseltine
Charlie Lowell
Jeremy Lutito
Steve Mason
Matt Odmark
Gabe Ruschival
Bridge Building Music
Chigostick Music
Dudie Music
Pogostick Music
Jars of Clay

WELCOME TO THE FAMILY
Jim Brady
Barry Weeks
Bridge Building Music
The Booth Brothers

WHAT SALVATION'S DONE FOR ME
Rusty Golden
Dianne Wilkinson
Christian Taylor Music
Rusty Golden Music, Inc.
The Booth Brothers

WHATEVER YOU'RE DOING (SOMETHING HEAVENLY)
Dan Gartley
Olde Irish Publishing
River Oaks Music Company
Sanctus Real

WHISPERED PRAYERS
Earl Galloway
Jeff Steele
Christian Taylor Music
OSMR Songs
Sunset Gallery Music
Karen Peck Gooch & New River

YOU CAN'T TAKE MY CROWN
Gina Vera
Christian Taylor Music
Ivan Parker

YOU FOUND ME
David Gillette
Big Daddy Weave

YOURS
Steven Curtis Chapman
Jonas Myrin
Hillsong Publishing (APRA)
Primary Wave Brian
Sparrow Song
Steven Curtis Chapman