BMI Celebrates June as African-American Music Appreciation Month
BMI Celebrates June as African-American Music Appreciation Month
In 2009, during his first year as President of the United States, Barack Obama declared that June would be African-American Music Appreciation Month, a tradition that has continued every year since. "African-Americans have always had a hand in shaping the American sound," stated the President in his most recent Proclamation. "From gospel and Motown to bebop and blues, their story is bound up in the music they made – songs of hurt and hardship, yearning and hope, and struggle for a better day. Those feelings speak to something common in all of us. With passion and creativity, African-American performers have done more than reinvent the musical styles they helped define; they have channeled their music into making change and advancing justice, from radio booths to the stage to our city streets."
As the President goes on to note in his Proclamation, that story is still unfolding today. Join us as we celebrate the incredible contributions of BMI's African-American music legends all month long - from Billie Holiday to Mariah Carey and Ray Charles to Kanye West, and many of the greats in between.
Billie Holiday
Lady Day, as she was affectionately known, was one of the first songwriters that BMI signed in 1940, along with her musical partner and saxophonist Lester Young. Together they built the foundation for what would one day become a galaxy of immensely talented jazz musicians at BMI who would define the great American art form for ages, including Charlie Parker, Thelonius Monk, Max Roach, Miles Davis, John Coltrane, Sonny Rollins, among many others. Holiday's vocal style was so unique that producer John Hammond once famously said, "she was the first girl singer I'd come across who actually sang like an improvising jazz genius." In 1958, Frank Sinatra told Ebony, "It is Billie Holiday who was, and still remains, the greatest single musical influence on me." BMI member Diana Ross famously portrayed Holiday in the 1972 film, Lady Sings The Blues, loosely based on Holiday's autobiography of the same name.
Charlie Parker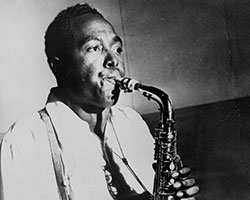 In 1939, the same year in which BMI was founded, saxophonist Charlie Parker hit on a new method of soloing while playing "Cherokee" in a New York jam session, giving birth to bebop. Bird's sound forever changed the tune of jazz and his 1940s sessions with Dizzy Gillespie and Miles Davis gave way for some of the most memorable jazz recordings of all time. Though his life was cut tragically short at 34, Parker's legacy lives on to this day. In 1984, he received the GRAMMY Lifetime Achievement Award and in 2002, the Library of Congress honored his 1945 recording "Ko-Ko" by adding it to the National Recording Registry. Parker's contributions to the art form are celebrated each year via the BMI Foundation's Charlie Parker Jazz Composition Prize, awarded to the best new work created in the BMI Jazz Composers Workshop.
Miles Davis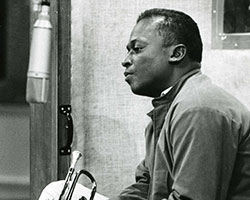 A native of Alton, Illinois, Miles Davis moved to New York City in 1944 to study at Juilliard, but dropped out once his music career took off. A member of the bebop revolution and a fan of Charlie Parker's, Davis became the trumpet player in the Charlie Parker Quintet and was one of several jazz greats who played regular jam sessions in Harlem nightclubs during the '40s. As a bandleader himself, Davis became a central figure in every important jazz movement that followed, including cool jazz, hard bop and modal jazz. In 2009, on the 50th anniversary of Davis' Kind of Blue, the U.S. House of Representatives voted unanimously on a symbolic resolution to honor the album and preserve jazz as a national treasure. According to the RIAA, Kind of Blue is the highest selling jazz album of all time, with sales of over four million.
Ray Charles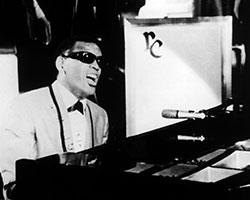 Georgia-born Ray Charles' musical genius became apparent while attending the Florida School for the Deaf and the Blind in St. Augustine, Florida. In 1952, Ahmet Ertegun signed him to Atlantic Records, and the following year, he'd deliver his first hit, "Mess Around" – the first of many. In 1955, "I Got A Woman" commanded national attention and scored him his first No. 1 R&B hit on the Billboard charts. The mixture of gospel, jazz and blues proved key to the development of rock and roll and soul music. Charles' 1960 record "Georgia On My Mind" and the follow-up "Hit The Road Jack" earned him GRAMMYs, prompting a decade in which he experimented with different sounds, including country, helping the genre cross over into the mainstream. While at ABC-Paramount Records, Charles was one of the first African-American artists to gain artistic control over his music.
Muddy Waters
Born McKinley Morganfield, Waters got his nickname from his grandmother, who raised him after his mother died shortly after giving birth to him, because he liked to play in the muddy waters of Deer Creek, Mississippi. Waters started out playing the harmonica and picked up his first guitar at age 17. He made Chicago his home in 1940 and became the father of modern Chicago blues. In 1945, he was gifted his first electric guitar by his uncle – and the rest is history. Waters' band became a proving ground for great musicians such as Little Walter Jacobs in the 1950s. When Waters recorded in the studio of brothers Paul and Leonard Chess (the men behind the seminal Chess Records label) in 1952, he created an electrifying new brand of blues. Waters' Chess Records label mates included BMI legends Chuck Berry, Bo Diddley and Etta James – all of whom formed the bedrock of urban blues, R&B and early rock and roll.
Fats Domino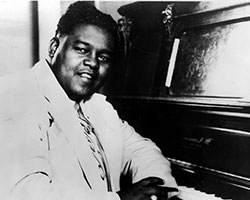 Born and raised in New Orleans, Antoine Dominique "Fats" Domino Jr. was French Creole. He rose to prominence in 1950 with the record "The Fat Man," with its rolling piano and signature "wah wah" vocalizing over the beat. Domino crossed over into the mainstream with 1955's "Ain't That A Shame," which broke the Top Ten on the Billboard Top 100 and was later covered by Pat Boone. A little known fact, according to the Rock and Roll Hall of Fame, is that Domino sold more records than any other fifties-era rocker, except Elvis Presley. In total, he had 37 Top 40 hits. At age 85, Domino continues to remain active – making musical appearances in his city from time to time, as he did in 2009 for a concert aimed at raising funds to continue the restoration of New Orleans post-Hurricane Katrina. Domino was personally affected by the hurricane, having chosen to stay at home with his family when it hit. President George W. Bush made a personal visit the following year to replace the National Medal of Arts that President Bill Clinton had given Domino and had been lost in the flood. 
Chuck Berry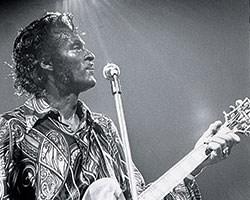 Hailing from St. Louis, Missouri, and raised in a middle class home, Berry played his first public performance while attending high school. Influenced by blues player T-Bone Walker and country artist Jimmy Rodgers, Berry joined pianist Johnnie Johnson's trio and began to fuse country music with R&B. In 1955, Berry met Muddy Waters in Chicago and was signed to his same label, Chess Records. That same year, Waters recorded "Maybellene," which reached No. 1 on Billboard's R&B chart. The guitar riffs and showmanship on songs like "Maybellene" and "Johnny B. Goode" were a major influence on subsequent rock music. Berry was among the first musicians to be inducted into the inaugural Rock and Roll Hall of Fame in 1986, for laying "the groundwork for not only a rock and roll sound but a rock and roll stance."
Little Richard
Richard Wayne Penniman, known by his stage name Little Richard, was among the artists who laid the foundation for rock and roll. Signed to Specialty Records in 1955, Richard recorded a string of instant hits, including "Tutti Frutti" – with its famous a capella intro – and "Long Tall Sally" – both of which crossed over from the R&B charts into the mainstream Billboard Top 100. Richard, whose earlier hits inspired covers by Elvis Presley and Pat Boone, went on to have 18 hit singles in less than three years in the '50s. Most notably, his shows united black and white audiences in dance during a time of racial tension in the U.S. In 2010, "Tutti Fruti" was included in the Library of Congress' National Recording Registry, stating that the "unique vocalizing over the irresistible beat announced a new era in music." At 80, Richard remains active despite his health issues and continues to receive critical acclaim. After a performance in Washington, D.C., in June 2012, Rolling Stone described him as "still full of fire, still a master showman, his voice still loaded with deep gospel and raunchy power."
Holland-Dozier-Holland
By the end of the 1950s, Berry Gordy had founded Motown in Detroit, with aspirations of taking over the American airwaves. Key to his empire were the songwriting and production talents of BMI members Eddie Holland, Lamont Dozier and Brian Holland (collectively known as Holland-Dozier-Holland), who churned out No. 1 hit singles for artists such as the Four Tops, The Supremes, Martha and the Vandellas and Marvin Gaye. Recognizing their immense contributions to popular music, BMI honored the trio as Icons at the 2003 BMI Pop Awards.
Sam Cooke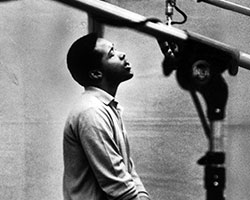 In 1961, gospel/R&B performer Sam Cooke forever changed the game by taking ownership of his career and founding his own record label, publishing imprint and management firm – paving the way for hip-hop moguls like Diddy and Jay-Z to do the same more than 30 years later. Though he died young, at 33, Cooke's accomplishments run deep – he laid the foundation for soul music by delivering music with a message. His "A Change Is Gonna Come" became a civil rights anthem in the 1960s and has been covered countless times by musical greats like Aretha Franklin. Cooke was inducted into the Songwriters Hall of Fame posthumously in 1987 and in June 2013 was once again honored, this time with the Towering Song Award, for "A Change is Gonna Come" - presented by the SHOF to the creator(s) of an individual song that has influenced our culture in a unique way throughout the years. 
Aretha Franklin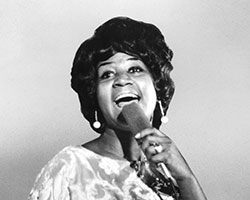 Like most legendary soul singers, Memphis-born Aretha Franklin first started singing gospel in church. By age 14, her father, a minister, was managing her. At age 18, Franklin confessed to her father that she hoped to make the transition from gospel to pop music, like her idol Sam Cooke. After signing with Atlantic Records in 1967, Franklin delivered a string of hits – starting with "I Never Loved a Man (The Way I Love You)" – her first Top Ten hit on the Billboard Hot 100 chart. "Baby I Love You," "(You Make Me Feel Like) A Natural Woman" and the feminist anthem "Respect" followed, earning her the nickname "the Queen of Soul." Franklin has won a total of 18 GRAMMYs and has sold over 75 million records worldwide. In 1987, she became the first female performer to be inducted into the Rock and Roll Hall of Fame. Her vocal virtuosity has influenced generations of singers, some of whom – Yolanda Adams, Christina Aguilera, Jennifer Hudson, Martina McBride and Florence Welch – paid tribute to her at the 2011 GRAMMY Awards. Franklin continues to perform, even as she battles health issues. 
Gamble & Huff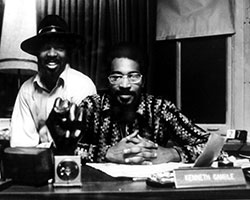 By 1971, Berry Gordy's Motown wasn't the only game in town; prolific songwriters Kenneth Gamble and Leon A. Huff launched Philadelphia International Records as a direct rival to "Hitsville: USA" – and succeeded, making Philly the capital of soul music. Their philosophy was to "take social themes and translate them for commercial recordings." Together, they wrote and produced over 170 gold and platinum records to date, including the Soul Train theme, "TSOP (The Sound of Philadelphia)," the O'Jays' "Back Stabbers," Billy Paul's "Me and Mrs. Jones" and "If You Don't Know Me By Now" by Harold Melvin and the Notes. As recently as June 2013, Gamble and Huff participated in BMI's renowned "How I Wrote That Song" panel series in Philadelphia, and spoke to a new generation of aspiring songwriters about their accomplishments and creative process.
Isaac Hayes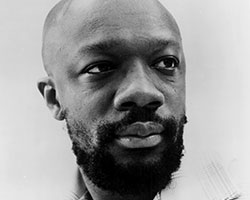 In the early '70s in Memphis, at Stax Recording Studios, a BMI songwriter by the name of Isaac Hayes was composing, arranging, producing and recording a double album as the soundtrack to the movie Shaft – which peaked at No. 1 on the Billboard Top 200 charts and spent 60 weeks on the chart. In 1972, the album's "Theme from Shaft" won the Oscar for Best Original Song, making Hayes the first African-American to win an Oscar in a non-acting category.
Al Green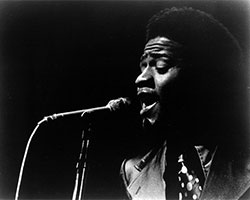 Born in Arkansas, Al Green started singing with his siblings in the band the Greene Brothers at an early age. As a teenager, Green was kicked out of his home for listening to Jackie Wilson, eventually finding his own unique voice. Green's 1972 album, Let's Stay Together, was immensely successful, with the title track reaching No. 1 on the Billboard Top 100 chart.  I'm Still in Love With You followed, cementing his place in soul music. In the mid-70s, Green turned to religion, following an incident in which his girlfriend assaulted him – by dousing a pan of boiling grits on him – before committing suicide. In 1976, Green became an ordained pastor in Memphis, where he preaches at the Full Gospel Tabernacle to this day. In 1980, Green released his first gospel album, the start of a decade in which he'd earn a total of eight Best Soul Gospel Performance GRAMMYs. In 2004, BMI honored Green with the Icon Award at the annual BMI Urban Awards. That same year, he was inducted into the Songwriters Hall of Fame and the Gospel Music Association's Gospel Music Hall of Fame. 
Diana Ross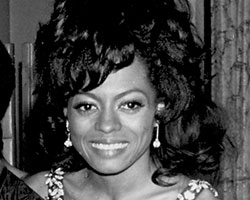 Detroit-born Diana Ross rose to fame as the frontwoman of Berry Gordy's star trio The Supremes, Motown's most successful crossover act of the 1960s. Ross later embarked on a hugely successful solo career in 1970, which has spanned more than four decades. When she left Motown in 1981 and signed with RCA, her $20 million contract was the most lucrative contract of any recording artist at the time. In total, Ross has had 70 hit singles, both as a member of The Supremes and as a solo artist. In 2012, the Recording Academy honored Ross with the GRAMMY Lifetime Achievement Award. But Ross' talents extend beyond music - in 1973, she earned an Academy Award nomination for her role as Billie Holiday in Lady Sings the Blues. Her role as Dorothy in The Wiz, alongside her former Motown labelmate Michael Jackson, is equally memorable.
Tina Turner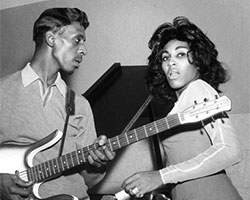 Anna Mae Bullock from Nutbush, Tennessee, is often referred to as the Queen of Rock and Roll, with estimated sales of 100 million albums. Influenced by Little Richard, Turner started her career in the 50s with Ike Turner's band, the Kings of Rhythm. In the 60s, as one half of the Ike & Tina Turner Revue, she had a string of hits, including "River Deep - Mountain High" (produced by Phil Spector). In the '70s, she became the first woman to grace the cover of Rolling Stone. Documenting the domestic abuse she suffered at home in her autobiography I, Tina, Tina divorced Ike in 1978 and turned to Buddhism, which she credits with helping her start over. Turner staged an amazing comeback in 1984 with her solo album, Private Dancer, led by the empowerment anthem, "What's Love Got to Do With It." In 1985, Turner contributed vocals on the USA for Africa song, "We Are The World" and had a role in the Mel Gibson movie, Mad Max Beyond Thunderdome. She continues to tour to this day, selling out arenas worldwide. Angela Basset famously portrayed Turner in the 1985 film, What's Love Got To Do With It.
James Brown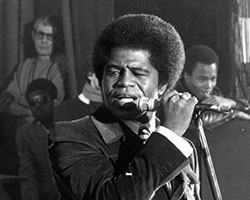 The Godfather of Soul was at the forefront of not one but two musical revolutions during the '60s and '70s: He helped turn R&B into soul and soul into funk. After getting jail time for armed robbery in the '40s, he was paroled by the singer Bobby Byrd's family and joined a 1950s R&B group with Byrd called the Avons, which later became The Famous Flames. Little Richard, whom Brown idolized, introduced the Flames to his manager, Clint Brantley, who began managing them. Their first R&B hit, "Please Please Please," was followed by "Try Me" and a string of others, which made him a mainstay on the R&B charts. But it wasn't until 1963 that the world witnessed the true power and energy of Brown as a performer, via his Live At The Apollo album. It was Brown who had the greatest influence on a young Michael Jackson's dance style. In 1965, "Papa's Got A Brand New Bag" helped Brown break into the Top 10 of the Billboard 100. The follow-up, "I Feel Good," entered at No. 3 on the pop charts and ushered in the era of greatest commercial success for Brown, during which he was equally celebrated among black and white audiences. The '70s saw Brown delve deeper into funk, influencing the development of P-Funk. The explosion of rap in the '80s had new artists sampling vintage J.B. hooks left and right. In the '90s, a series of re-issues of Brown's classic work by Polygram made his legacy more apparent than ever. BMI honored Brown at the inaugural BMI Urban Awards in Miami in 2002 with the BMI Icon Award. Diagnosed with prostate cancer in 2004, Brown fought the disease until 2006, when he suffered from pneumonia and eventually died of heart failure. Fittingly, a public viewing was held at the Apollo Theater in Harlem, followed by a private ceremony in his hometown of Augusta, Georgia.
George Clinton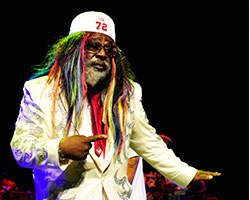 The '70s saw the advent of P-Funk, a musical genre built on BMI Icon George Clinton's experimental sounds and thunderously prominent bass lines that revolutionized the entire musical world. Fluent in a range of styles including '50s doo-wop, deep soul and psychedelic rock, Clinton helped build the foundations of today's rap and rock. His work has resurfaced in hit-making hooks for songs by contemporary hip-hop royalty, including BMI members OutKast, Snoop Dogg, Public Enemy and Busta Rhymes.
Michael Jackson
In 1976, Michael Jackson became affiliated with BMI, a partnership that spanned decades and saw the evolution of the former child star from Gary, Indiana, and Motown darling into the undisputed King of Pop, with a fan base that would transcend borders and generations. Jackson's magnum opus was Thriller, which, since its release in 1982, has sold 25 million copies, making it the highest selling album in history. With a career that spanned more than four decades and estimated cumulative album sales of 1 billion, Jackson is considered the most successful entertainer of all time by Guinness World Records. His often-imitated, never-duplicated dance moves have influenced countless entertainers after him, as evidenced by the many tributes BMI member Chris Brown has paid to his idol onstage. In pushing the boundaries of pop, Jackson redefined music videos, or as he called them, short films. For the "Thriller" video, a 13-minute-43-second masterpiece, Jackson went, like he often did, where no artist had ever gone before, merging filmmaking and music. The video, directed by John Landis, was MTV's first world-premiere event. Along with his sister, Janet Jackson (also a BMI member), Michael took pop music to unexpected heights, while delivering a message that is timeless. His charitable work was unmatched in the pop world and his musical genius cannot be overstated, despite the media's fascination with his personal life and the public scrutiny he endured. June 25, 2013 marks four years since the world lost the King of Pop – a legend gone too soon.
Public Enemy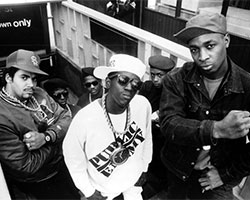 In 1988, Public Enemy's It Takes A Nation of Millions To Hold Us Back set a new standard for social commentary and production value in rap. The album's critical and commercial success set a blueprint for others to follow. Public Enemy's contributions are still recognized to this day – in 2013, they, along with BMI legends Albert King and Lou Adler, were inducted into the Rock and Roll Hall of Fame.
Babyface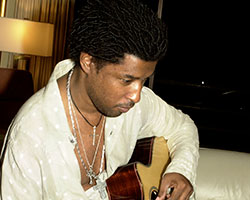 Kenneth "Babyface" Edmonds from Indianapolis, Indiana, got his nickname from Bootsy Collins, with whom he used to play funk. In the '80s, Babyface was one of the architects of new jack swing, writing and producing for acts such as Bobby Brown, Pebbles, Sheena Easton and Paula Abdul. In 1989, Babyface and his one-time The Deele bandmate Antonio L.A. Reid (also a BMI member) founded LaFace Records. The label was highly successful from the start, thanks to acts like Usher, Toni Braxton and TLC, which became one of the highest-selling female groups in history. During the '90s, Babyface cemented his place as contemporary R&B's reigning king. The list of artists who have called upon his extraordinary gifts is long and legendary, including Michael Jackson, Michael Bolton, Carole King, P!nk, Mariah Carey, Whitney Houston, Beyoncé, Diana Ross, Mary J. Blige, Kanye West, Celine Dion, Aretha Franklin, Madonna and many others. From 1995 - 1997, Babyface won three consecutive Producer of the Year Awards at the GRAMMYs. Never one to limit himself, he expanded his empire into film, producing films such as Soul Food in 1997 and executive producing the soundtracks for Waiting to Exhale and The Prince of Egypt, among others. Babyface is nowhere near done making beautiful music; he is currently working on his tenth studio album.
Mariah Carey
While at a music industry party in 1988, rising pop star Brenda K. Starr introduced Long Island, New York, native Mariah Carey to Columbia Records executive Tommy Mottola and handed him Carey's demo. Mottola soon signed Carey, deciding then and there that she would be his label's answer to Whitney Houston and Madonna at competing labels. Carey's 1990 self-titled debut went multi-platinum, spawning four consecutive No. 1 singles on the Billboard Hot 100 – a first for any artist since The Jackson 5. Her next albums under Columbia Records – Emotions (1991), Music Box (1993) and Merry Christmas (1994) – fulfilled Mottola's prophecy and made Carey the label's top-selling act. In 1993, Carey and Mottola got married, a union that lasted four years. By the time Butterfly (1997) was released, Carey had begun to expand her R&B/pop repertoire into hip-hop, with much success. In 2001, Carey suffered mental and physical exhaustion, but bounced back stronger than ever in 2005 with the help of producer Jermaine Dupri on The Emancipation of Mimi, released under her new home, Island Records. To date, she has sold more than 200 million records. Carey's five-octave voice remains unmatched in the pop world, but it's her talent as a songwriter that is often overlooked. In 2012, BMI gave Carey the Icon Award at the BMI Urban Awards. Her latest single, "Beautiful," features newcomer Miguel and is an homage to Motown-era R&B. Her thirteenth studio album will be released July 23, 2013.
Snoop Dogg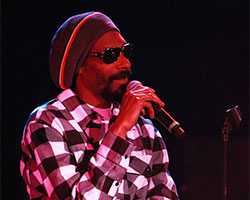 The credit goes to Dr. Dre for discovering Long Beach, California's own Calvin Broadus, Jr., better known as Snoop Dogg or Snoop Lion, his most recent alter ego. After being featured on Dre's 1992 masterpiece, The Chronic, it was Snoop's time to shine. In 1993, Snoop released his debut album, Doggystyle, which debuted at No. 1 on the Billboard Top 200 and sold almost a million copies in its first week. The album created an aesthetic for Death Row Records to run with and told a compelling narrative about life on the West Coast using a new sound called G-Funk (gangsta rap heavily influenced by 1970s P-Funk). Soon, rappers on the East Coast, including Nas and Notorious B.I.G., would seek to replicate the commercial success of The Chronic and Doggystyle on their own terms. Snoop has a smooth vocal delivery compared to other rappers, making him more palatable and memorable to the mainstream audience, despite his controversial lyrics. Snoop's commercial appeal has only grown since the '90s, with him releasing a total of 12 albums to date. In 2012, noting his desire to evolve beyond the '90s gangsta rap image he built, Snoop announced he had changed his name to Snoop Lion and that his next album would be reggae-centric. The 2013 documentary Reincarnated chronicles a life-altering trip Snoop took to Jamaica, after which he converted to Rastafarianism and recorded the album of the same name.
Yolanda Adams
Born and raised in Houston, Texas, Yolanda Adams is the most successful gospel singer of all time, having won four GRAMMY Awards, 16 Stellar Gospel Music Awards, four of the Gospel Music Association's Dove Awards, one American Music Award, seven NAACP Image Awards, one Soul Train Music Award and four BET Awards. Like her fellow BMI member Kirk Franklin, Adams has honored the traditional sounds of gospel while constantly raising the bar for the genre and for herself. Adams started out in a professional choir at 13, was recording by 15 and credits mentors like Tramaine Hawkins  and Thomas Whitfield with teaching her how to navigate the music business wisely. One of her mottos, as told to Essence.com in 2013 is, "Learn the history of what you do and always respect the ones who came before you." Having already established herself in the urban contemporary gospel arena, Adams broke out into the mainstream in 1999 with her album, Mountain High…Valley Low. In 2009, Billboard named Adams the No. 1 Gospel Artist of the Last Decade. Her voice is timeless, as proven by her memorable performance at the White House for the 2010 Celebration of Music From the Civil Rights Movement. With a degree in radio and broadcast journalism, Adams has hosted her own morning show, which is now in over 60 markets, for eight years. She continues to be a constant presence on the festival circuit while working toward her next album, due in 2014.
Kanye West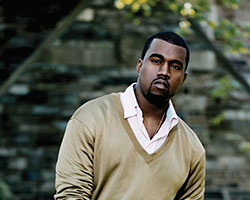 Hailing from Chicago, Kanye West rose to prominence after Jay-Z leaned heavily on his talents for his 2001 album, The Blueprint, making West – with his signature soul-sampling – the most in-demand producer in hip-hop. When West released his 2004 debut album, The College Dropout, he proved beyond a doubt he was not only a skilled producer, but a competent rapper with the ability to write imaginative, thought-provoking lyrics. His subsequent albums have only sharpened his skills, broadened his palette and cemented his place as an influencer in music, fashion and art. West's highly anticipated sixth solo album, Yeezus, which he describes as part new wave, part minimalist, will be released this month.
Will.i.am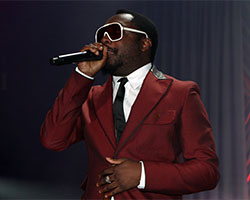 East Los Angeles' William James Adams is one of the founding members of the hugely successful group, the Black Eyed Peas (BEP). As a solo artist, he has released four albums, including 2013's #willpower, and an additional seven as a member of BEP. As a writer and producer, he has crafted chart-topping hits not only for BEP, but for pop royalty including Michael Jackson, Britney Spears, Rihanna, Usher, Justin Timberlake and most recently, Justin Bieber. While in high school, Will.i.am became immersed in rave culture. That influence is heard on BEP's most recent albums, The E.N.D. and The Beginning. Once an early '90s alternative hip-hop group, BEP evolved into a multi-cultural pop phenomenon offering a range of sounds, including hip-hop, R&B and electronic dance music. It wasn't until 2003's Elephunk that BEP reached mainstream success, and their popularity just keeps on growing with each subsequent album. To date, BEP have sold some 60 million albums. In 2011, the group performed at the Superbowl Halftime Show. As BEP frontman – and an entrepreneur in his own right – Will.i.am is in high demand among global companies seeking his insights into pop culture; Intel, Coca-Cola and Anheuser-Busch have all come to him for ideas on how to expand their brands. In January 2013, Will.i.am graced the cover of Fortune magazine, which named him "corporate America's consigliere of cool."
Nicki Minaj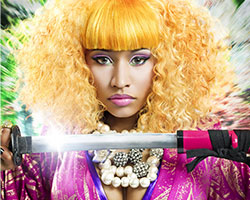 Born in Trinidad and raised in Queens, N.Y., Minaj has redefined the role of the female emcee in the 2000s. Taking a cue from her predecessor (and fellow BMI member Lil Kim), Minaj's style is confident, sexy and trendsetting – not to mention bankable. Major brands like MAC Cosmetics, Pepsi and Adidas have sought her out to act as their pop culture messenger. Minaj, 30, recently made her debut on TV as a judge on American Idol, alongside Mariah Carey, Keith Urban and Randy Jackson. Her loyal fans proudly refer to themselves as "Barbz," in tribute to her self-proclaimed Harajuku Barbie image. Never one to slow down, Minaj is soon launching her own clothing line through Kmart while working on her third studio album and starting her own record label.
Nas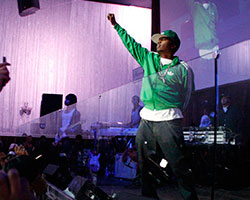 The son of jazz trumpeter Olu Dara, Nasir Jones grew up in the Queensboro housing projects of Queens, New York. A street poet from a young age, Nas' early work is a vivid depiction of the harsh realities of life in 1980s New York City. His 1994 debut album, Illmatic, was hailed an instant classic upon its release and is widely considered one of the best rap albums of all time. Since then, Nas has sold an estimated 25 million albums. Last year's Life Is Good album, his eleventh, proved why at 39, Nas continues to be on a shortlist of the never-ending "Greatest Rapper of All Time" debate.
Lil Wayne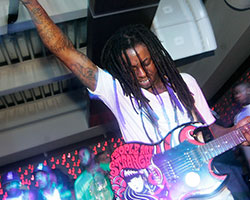 Dwayne Michael Carter, Jr. may be 30, but he's a veteran of the game, having signed with the seminal Southern rap label Cash Money Records at the tender age of 9. Hailing from New Orleans, Wayne broke through in the mid-90s as a member of the Hot Boys, alongside Juvenile, B.G. and Young Turk. Though he went solo in 1999, it wasn't until 2004, the year in which he released Tha Carter, that Wayne earned the respect of his peers and the mainstream annointed him a world-class lyricist. In 2012, Wayne made history, surpassing Elvis as the male artist with the most entries in the Billboard Hot 100 chart (109 total) - thanks mostly to his many features on other artists' songs. Wayne's latest album, I Am Not a Human Being II, was released in March 2013.
Kirk Franklin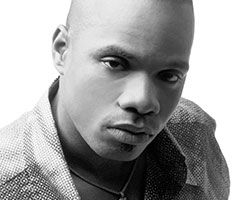 Nine-time GRAMMY Award-winner Kirk Franklin, 43, has been an unparalleled force in the world of gospel music, helping propel the genre into the mainstream, by fusing it with pop, hip-hop and R&B. In 1993, Kirk Franklin and his 17-voice choir, The Family, were signed to their first recording contract with GospoCentric. Their debut album spent 42 weeks on the Billboard Top Gospel Albums chart and was the first gospel album to sell over a million units. Since then, Franklin has gone on to sell more than 10 million albums and continues to thrive as an artist and entrepreneur. He is the host and executive producer of Sunday Best, the highest-rated gospel program in BET network history, now heading into its sixth season. Franklin is also the New York Times best-selling author of The Blueprint: A Plan for Living Above Life's Storms. In May 2013, it was announced that Sirius XM's gospel music channel, Praise, would become Kirk Franklin's Praise, a commercial-free channel executive-produced by him. And with the recent signing of The Walls Group, the first act signed to Franklin's company, Fo Yo Soul Entertainment, the gospel superstar is paving the way for the next generation of standout talent.