BMI Brings Songwriters and Businesses Together
Ronnie Dunn and Brinn Black Step Up To The Mike For Charities
BMI partnered with Commonwealth Broadcasting in presenting a special charity concert held at the SKYPAC in Bowling Green, Kentucky that featured award-winning country artist and BMI songwriter Ronnie Dunn, as well as up and coming BMI artist Brinn Black. All of the proceeds of the event benefitted 17 charities in Southern Kentucky, generating much needed revenue for charities focusing on children's safety, education and care.
Brendan James Entertains AH&LA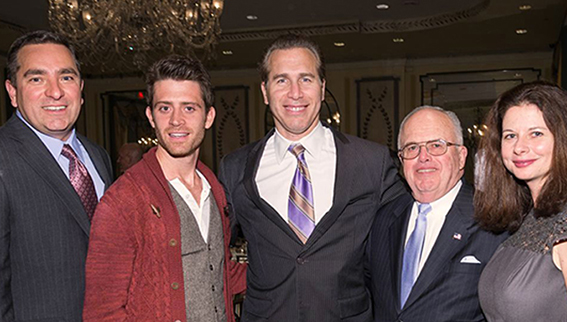 Pictured after the performance: Ronald Vlasic, CHA - AH&LA Incoming Board Chair and Kimpton Hotels & Restaurants Regional Vice President of Hotels, James, BMI's Mike Steinberg, Joseph A. McInerney, CHA – AH&LA President & CEO, and BMI's Jessica Frost. Photo: Alan Klein Photography
In what has become an annual event, BMI songwriter and artist Brendan James entertained hotel executives from across the country at the American Hotel &Lodging Association (AH&LA) CEO Dinner. The event was held in New York at The Pierre on November 9th.
Before Brendan's performance, BMI took a moment to recognize AH&LA President & CEO Joseph A. McInerney, CHA for over a decade of leadership at the AH&LA and 50 years of dedicated service to the lodging industry. THE AH&LA is currently searching for a new President & CEO, as Joe will be retiring at the beginning of next year.
BMI Songwriters Aaron Barker and George Teren Perform for CSRA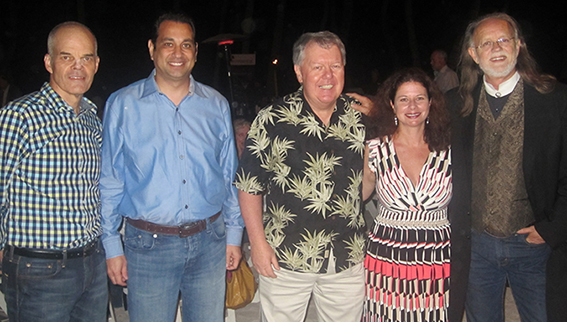 Pictured at the event: songwriter George Teren; CEO of the Arizona Restaurant Association and President of CSRA, Steve McCoid; President/CEO of the Oregon Restaurant and Lodging Association and CSRA Vice President, BMI's Jessica Frost; and songwriter Aaron Barker
BMI songwriters Aaron Barker and George Teren performed for the Council of State Restaurant Associations' annual fall conference, held November 16 at the Pier House Resort in Key West, Florida. Barker, who penned hits for George Strait ( "Love Without End, Amen" "Easy Come, Easy Go" and "I Can Still Make Cheyenne."), and Teren, a wordsmith for Tim McGraw ("Real Good Man") and Billy Ray Cyrus ("Busy Man",) performed songs they've written and shared the stories behind the creative process.
Greg Bates Entertains the National Association of RV Parks & Campgrounds (ARVC) Expo Attendees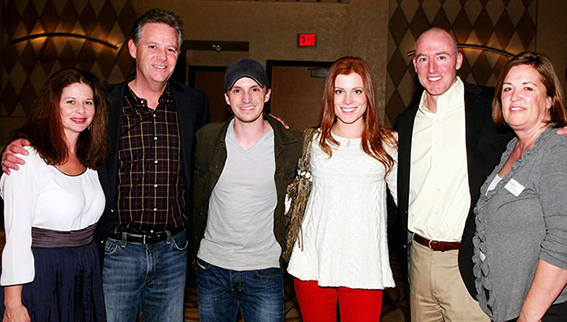 Pictured after the performance (l to r): BMI's Jessica Frost, ARVC President and CEO Paul Bambei, Bates, Shelley Skidmore, BMI's Jack Flynn, and ARVC Senior Director of Marketing Communications & Partnerships Jennifer Schwartz
BMI songwriter and Republic Nashville recording artist Greg Bates kicked off the opening reception at the National Association of RV Parks & Campgrounds Annual Expo (11/28) held at the Rio in Las Vegas. Bates performed his debut single "Did It For The Girl" which is in the Top Ten on the Billboard Country Charts. In addition to his debut single, Bates entertained the audience with "Lost In Caroline", "Brothers", "Go Time" and "Fill In The Blank", which are all currently featured on his EP. BMI's presence at this year's expo was of significant importance due to the newly negotiated agreement between BMI and ARVC.
Tim James, Phil O'Donnell and Danny Myrick Perform at KIA-FM Songwriters Festival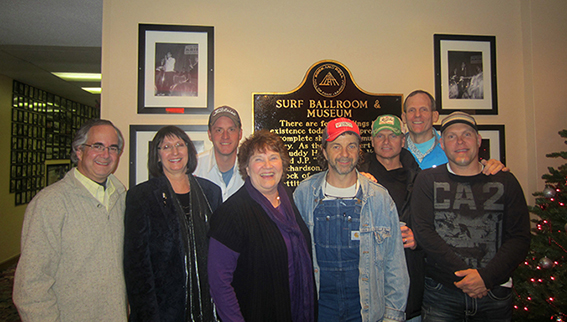 Pictured after their special show at the Surf (left to right): Three Eagles Communications President Gary Buchanan, KIA-FM Sales Manager Alice Hanley, KIA-FM Account Executive Scott Miller, Three Eagles Communications- Mason City Market Manager Dalena Barz, Phil O'Donnell, Tim James, BMI's Dan Spears and Danny Myrick.
As part of the 1st annual KIA-FM Songwriters Festival, BMI partnered with the Mason City, Iowa country station to bring three of country music's finest songwriters to perform at the historic Surf Ballroom in Clear Lake, Iowa. The venue was the site of the last performance by Buddy Holly, Richie Valens and the Big Bopper before they boarded the ill-fated flight that crashed outside Mason City, cutting short the careers of three rock legends.
Award-winning Nashville songwriters Tim James, Phil O'Donnell and Danny Myrick performed a slew of hits they had written for some of country's biggest artists including George Strait, Toby Keith, Trace Adkins and Tim McGraw.