BMI Bluegrass Beaucoup: IBMA Announces Nominees for 2008 Awards
The International Bluegrass Music Association recently revealed the nominees for the 2008 IBMA Awards, and BMI artists, songwriters and musicians dominate the elite list. New duo Dailey & Vincent underscored the strength of their phenomenal breakout year with the most nods, while mainstays including Blue Highway and Dan Tyminski reaped the benefits of artistic chances and innovation. Awards will be presented during the organization's 19th annual ceremony, slated for Thursday, October 2. Hosted by icon Del McCoury, the event will return the historic Ryman Auditorium in Nashville.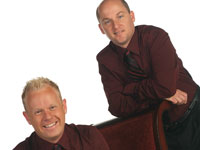 For their first trip to the IBMA Awards together, Jamie Dailey and Darrin Vincent of Dailey & Vincent amassed a jaw-dropping ten nominations, including Entertainer, Male Vocalist nod for Jamie, Vocal Group, Emerging Artist and Album of the Year. New as a duo but familiar to the world of bluegrass, Dailey honed his skills under Doyle Lawson while Vincent proved an adroit apprentice of Ricky Skaggs. Two Song of the Year nods for tunes "More Than a Name on a Wall" and "By the Mark" added to the pair's stunning nomination tally.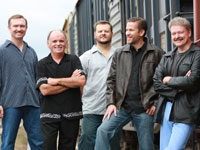 Musician powerhouse Blue Highway assumed production and key songwriting responsibilities for their latest release, Through the Window of a Train, and the resulting project emphasized the group's virtuosity and versatility. Album, Vocal Group, Instrumental Group and title track Song of the Year nods number among the band's six nominations. Members Tim Stafford and Rob Ickes earned individual nods for Guitar and Dobro Player of the Year, respectively. With nine awards lining his shelves, longtime BMI songwriter Ickes is the most awarded instrumentalist in IBMA history.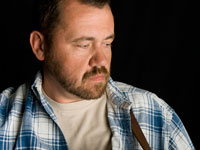 Esteemed guitarist and vocalist Dan Tyminski also garnered six nominations. Known to many as the guitarist for Alison Krauss and Union Station and the George Clooney's canorous singing voice in O Brother, Where Art Thou?, Tyminski's solo work over the past year with the Dan Tyminski Band earned a Male Vocalist of the Year nod – an award Tyminski swept for three consecutive years in 2001, 2002 and 2003. Members of the band earned a slew of individual nominations as well, including Barry Bales for Bass, Adam Steffey for Mandolin and Ron Stewart with dual nominations for Banjo and Fiddle Player of the Year.
Venerable BMI bluegrass favorites Rhonda Vincent & the Rage, Doyle Lawson & Quicksilver, The Grascals and The Del McCoury Band all obtained four nominations each, while first-time nominees Grasstowne joined elite company by also garnering four nods. A striking balance of recognition between the genre's pioneers and most promising torchbearers emerged, as International Bluegrass Music Hall of Fame members Earl Scruggs and J.D. Crowe all secured nominations, and rising stars Michael Cleveland & Flamekeeper and The Infamous Stringdusters scored multiple mentions. Critically acclaimed new group The Steeldrivers also earned their first nomination.
As the 2008 recipient of the genre's highest honor, BMI songwriter Bill Clifton will take his place in the International Bluegrass Music Hall of Fame. Clifton's profound legacy rests proudly upon the creation of a strong European bluegrass fanbase and a songwriter catalog that includes "Mary Dear," "Little White Washed Chimney," "Walking In My Sleep," "Going Back To Dixie," "Blue Ridge Mountain Blues" and "Are You Alone."
All 2008 BMI IBMA Nominees

ENTERTAINER OF THE YEAR
Dailey & Vincent
The Grascals
Doyle Lawson & Quicksilver
The Del McCoury Band
Rhonda Vincent & The Rage

VOCAL GROUP OF THE YEAR
Blue Highway
Dailey & Vincent
The Grascals
The Isaacs
Doyle Lawson & Quicksilver

INSTRUMENTAL GROUP OF THE YEAR
Blue Highway
Michael Cleveland & Flamekeeper
The Infamous Stringdusters
The Dan Tyminski Band

MALE VOCALIST OF THE YEAR
Jamie Dailey
Russell Moore
Dan Tyminski

FEMALE VOCALIST OF THE YEAR
Dale Ann Bradley
Alison Krauss
Claire Lynch
Rhonda Vincent
Sonya Isaacs

ALBUM OF THE YEAR
(album, artist, producer(s), label)

Dailey & Vincent
Dailey & Vincent
Produced by Jamie Dailey & Darrin Vincent, Rounder Records

Lovin' Pretty Women
Produced by Ronnie Bowman, Rebel Records

The SteelDrivers
The SteelDrivers
Co-produced by The SteelDrivers, Rounder Records

Through The Window Of A Train
Blue Highway
Produced by Blue Highway, Rounder Records

SONG OF THE YEAR
(song, artist, songwriter(s))

"By The Mark"
Recorded by Dailey & Vincent
Co-written by David Rawlings & Gillian Welch

"Drinkin' Dark Whiskey"
Recorded by The SteelDrivers
Co-written by Mike Henderson

"More Than A Name On A Wall"
Recorded by Dailey & Vincent
Co-written by Jimmy Fortune & John Rimel

"Through The Window Of A Train"
Recorded by Blue Highway
Co-written by Tim Stafford & Steve Gulley

GOSPEL RECORDED PERFORMANCE OF THE YEAR
(song or album, artist(s), producer(s), label)

"Be Still Moses"
Produced by Ronnie Bowman, Rebel Records

"By The Mark"
Recorded by Dailey & Vincent
Produced by Jamie Dailey & Darrin Vincent, Rounder Records

Help Is On The Way
Recorded by Doyle Lawson & Quicksilver
Produced by Doyle Lawson, Horizon Records

INSTRUMENTAL ALBUM OF THE YEAR
(album, artist(s), producer(s), label)

Sound of the Slide Guitar
Recorded and produced by Andy Hall, Sugar Hill Records

The Past Is Present
Recorded and produced by Jason Barie, Pinecastle Records

When At Last
Recorded and produced by Russ Barenberg, Compass Records

RECORDED EVENT OF THE YEAR
(album, featured artists, producer(s), label)

Christmas Grass, Vol. 3
Featuring Larry Sparks, Russell Moore and Charlie Daniels
Produced by Greg Cole & Chuck Rhodes; KOCH Records

Everett Lilly & Everybody and Their Brother
Featuring Marty Stuart, Rhonda Vincent, Billy Walker, Ronnie McCoury, Rob McCoury, David Ball, Larry Stephenson, Joe Spivey, Eddie Stubbs, Jason Carter, Dickey Lee, Freddy Weller, Andy May, Darrin Vincent, Clay Rigdon and Bill Wolfenbarger
Co-produced by Bill Wolfenbarger; Swift River Music

Standard Songs for Average People
John Prine & Mac Wiseman
Co-produced by John Prine & David Ferguson; Oh Boy Records

We Are Family
Jeff & Sheri Easter & The Easter Brothers
Produced by Jeff & Sheri Easter; Daywind Records

EMERGING ARTIST OF THE YEAR
Cadillac Sky
Dailey & Vincent
Grasstowne
The SteelDrivers

INSTRUMENTAL PERFORMERS OF THE YEAR

BANJO PLAYER OF THE YEAR
J.D. Crowe
Jim Mills
Earl Scruggs
Ron Stewart

BASS PLAYER OF THE YEAR
Missy Raines
Darrin Vincent
Marshall Wilborn

FIDDLE PLAYER OF THE YEAR
Hunter Berry
Jason Carter
Michael Cleveland
Stuart Duncan
Ron Stewart

DOBRO PLAYER OF THE YEAR
Mike Auldridge
Jerry Douglas
Rob Ickes
Randy Kohrs

GUITAR PLAYER OF THE YEAR
Tony Rice
Tim Stafford
Josh Williams

MANDOLIN PLAYER OF THE YEAR
Sam Bush
Doyle Lawson
Ronnie McCoury
Adam Steffey

BLUEGRASS BROADCASTER OF THE YEAR
Terry Herd; Into the Blue, Bluegrass Radio Network

BEST GRAPHIC DESIGN FOR RECORDED PROJECT
(designer, album, artist, label)

Smay Vision Graphic Design
The Stanley Brothers: The Definitive Collection (1947-1966)
The Stanley Brothers, Time Life

BEST LINER NOTES FOR RECORDED PROJECT
(writer, album, artist, label)

Frank & Marty Godbey
Bluegrass Holiday
J.D. Crowe, Rebel Records

Gary Reid
The Stanley Brothers: The Definitive Collection (1947-1966)
The Stanley Brothers, Time Life