BMI Presents at the Bluebird Café Hosts Girls Night
The May 23 event featured performances by Lola Kirke, Lanie Gardner, and HunterGirl
BMI welcomed the ladies to the stage at the Bluebird Café on Tuesday night, with performances by Lola Kirke, Lanie Gardner, and HunterGirl.
Kirke, raised in New York City, was a talented actress starring in films including Amazon's Mozart in the Jungle, Mistress Americana, and Gone Girl. Recently, the actress turned singer has focused her energy on writing and playing country music, something that has always been a hobby of hers. Last night, she performed tracks off her self-titled EP, including "Broken Families," "Pink Sky," and "Hey Neighbor."
Lanie Gardner went from covering "Dreams" by Fleetwood Mac to becoming an overnight sensation in the rock and country music scene. Currently managed by Jonas Group Entertainment, she has had the opportunity to work with David Guetta and the Jonas Brothers. She was recently seen in select cities on the Jonas Brothers' Remember This tour. Singing tunes "Faithful," "Better Luck Next Guy," and "Six Feet Deep," she made sure to leave her imprint on the Bluebird Café.
Named Luke Bryan's "favorite female country voice," HunterGirl brought her country roots to the Nashville joint. A Tennessee native, HunterGirl has grown up as a local singer/songwriter performing in famed venues including Tootsies and the Listening Room. She has also shared the stage with country stars like Lainey Wilson and Kane Brown. She sang "Lonely Outta You," "Clock Works," and "Fine Wine."
BMI Presents at the Bluebird Cafe, hosted by BMI's Shannon Sanders, is a showcase featuring a diverse group of emerging singer/songwriters local to Nashville. The next showcase will be on July 25.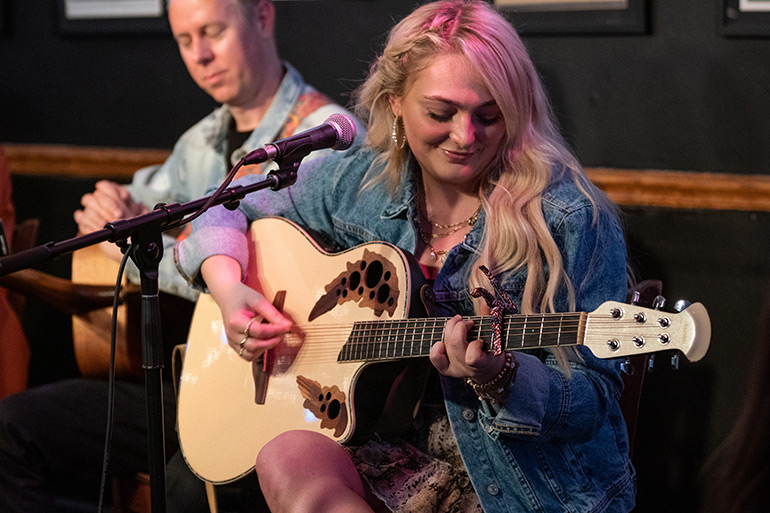 HunterGirl gives a beautiful performance at the Bluebird Café. Photo: Steve Lowry for BMI.