BMI Mourns the Loss of Gaynel Hodge
BMI is saddened to learn that longtime affiliate Gaynel Hodge passed away in Amsterdam on June 2 at the age of 83. An accomplished singer, songwriter, pianist and musical director, Hodge is invariably most renowned for co-writing the multi-platinum hit and doo-wop classic "Earth Angel," released by The Penguins in 1954.
A proficient pianist and professional musician by the age of 13, Hodge immersed himself in doo-wop, R&B and jazz, writing original songs and becoming a regular session musician in his native Los Angeles by age 15. Soon after penning "Earth Angel," Hodge formed The Platters with his brother Alex Hodge.
From there, Hodge went on to collaborate with a wide array of artists including Lou Rawls, Aretha Franklin, Stevie Wonder, Johnny "Guitar Watson," Dr. John, Dick Dale, Duane Eddy and many others.
Affiliated with BMI since the 1950s, Hodge won BMI Pop (1955), R&B (1954, 1969) and Million-Air Awards for "Earth Angel." The beloved song was also famously featured in the film Back to the Future and was one of the 50 recordings chosen by the Library of Congress, in 2005, to be added to the National Recording Registry, citing its cultural, historical and aesthetic significance.
Gaynel Hodge will be missed by his friends and fans at BMI.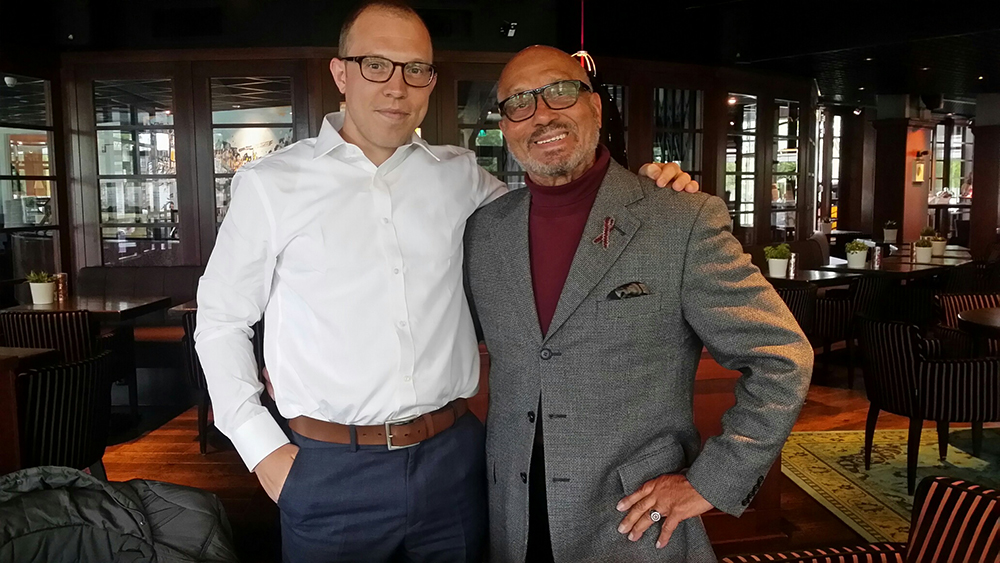 BMI's Jon Miller with Gaynel Hodge