BMI Honors John Fogerty at the 73rd Annual BMI/NAB Dinner in Las Vegas
BMI honored legendary singer/songwriter John Fogerty at the 73rd Annual BMI/NAB Dinner held last night at Wynn Las Vegas. The rock and roll legend received the BMI Board of Directors Award celebrating the impact he's made on contemporary music over his illustrious career spanning more than five decades.
Caroline Beasley, Chairperson, BMI Board of Directors and CEO, Beasley Media Group, and Mike O'Neill, President & CEO, BMI, presented the award to Fogerty, with O'Neill stating to the room filled with top industry executives that the night's honoree defined "what it means to be a living legend." He went on to say that Fogerty was a "groundbreaking singer, songwriter and guitarist responsible for some of the best known, most beloved and distinctive rock songs of the 20th century."
Following a retrospective of his many career highlights, Fogerty surprised the audience by joining his sons, Tyler and Shane, on stage for an incredible performance of three of his timeless classics, "Have You Ever Seen the Rain," "Fortunate Son" and "Proud Mary." Upon receiving the honor, Fogerty thanked BMI and the broadcast industry for their support throughout his distinguished career. During his remarks Fogerty showed the audience a notebook he bought in 1967 to help him get more organized with his songwriting. The very first line in that book was a phrase which came to him at the time, and he wrote down "Proud Mary." Eight months later he used those same words in a song he was writing, and the rest was history.
As a solo artist and a founding member and leader of Creedence Clearwater Revival, Fogerty has sold over 100 million records worldwide with enduring hits such as "Proud Mary," "Susie Q," "Fortunate Son," "Born on the Bayou," "Bad Moon Rising" and "Have You Ever Seen the Rain," which has more than one billion streams on Spotify, among countless others. He's received many accolades and awards over the years for his musical works, including a GRAMMY, he's been inducted into the Rock and Roll Hall of Fame and the Songwriters Hall of Fame, and he is the only musician to be inducted into the Baseball Hall of Fame for his song, "Centerfield." Fogerty was also named a BMI Icon in 2010 and has received 15 Million-Air certificates, recognizing his songs surpassing over one million radio plays, which collectively have over 63 million broadcast performances.
The annual BMI/NAB dinner is hosted by BMI's Board of Directors and recognizes the mutually supportive partnership between the songwriting community and the broadcast industry. Past recipients of the BMI honor include Paul Anka, Graham Nash, Willie Nelson, Dolly Parton, Mike Post, Carlos Santana, Paul Simon, Carrie Underwood and John Williams, among others.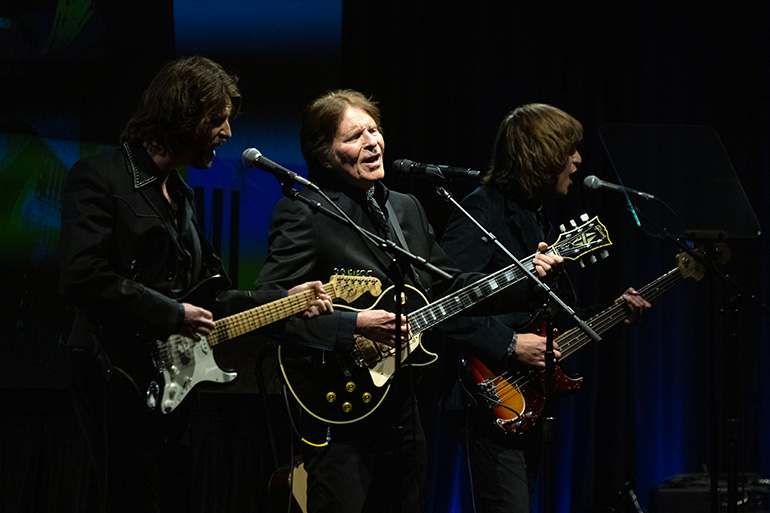 John Fogerty (center) performing with his sons, Tyler Fogerty (L) and Shane Fogerty (R) at the 73rd Annual BMI/NAB Dinner at Wynn Las Vegas on April 18, 2023. Photo Credit- Lester Cohen for BMI.