BMI Composers Celebrate Women Warriors Who Have Changed the World
Even the concert's name, Women Warriors: The Voices of Change, evokes powerful inspirational imagery. Now, this groundbreaking live-action event promises to take that emotion to the next level by celebrating some of the world's most compelling women at 8PM on September 20, at New York City's Alice Tully Hall. Performed by Orchestra Moderne NYC, the special evening will feature the music of renowned Hollywood female film composers, all paying homage to the women who have inspired them to carry their own musical torches. This 80-minute interactive symphonic experience will include historical visuals of activists from past to present day, uniquely presenting 800 years of women fighting for human rights and equality.
The creator of this event is conductor and producer Amy Andersson, who teams with fellow BMI composers Miriam Cutler, Mandy Hoffman, Penka Kouneva, Starr Parodi, and Lolita Ritmanis, along with composers Anne-Kathrin Dern, Sharon Farber and violinist Nathalie Bonin, who will also be performing. Together, they will share an unprecedented 17 world-premiering works to inspire hope and courage for women and girls around the world.
Special guest artists will include Afghan rapper/songwriter Sonita Alizadeh and 15-year-old BMI singer/songwriter Isolde Fair, with Iranian human rights activist and author Masih Alinejad as the honored guest speaker.
As this is such an incredible endeavor on the part of some of BMI's leading female composers, we needed to hear how they got involved. We asked Amy Andersson, Miriam Cutler, Lolita Ritmanis, Starr Parodi, Isolde Fair, Mandy Hoffman and Penka Kouneva to give us their take on creating such a meaningful program of music.
But first, here's the concert trailer and link to tickets at Lincoln Center. Don't miss it if you're in New York that night!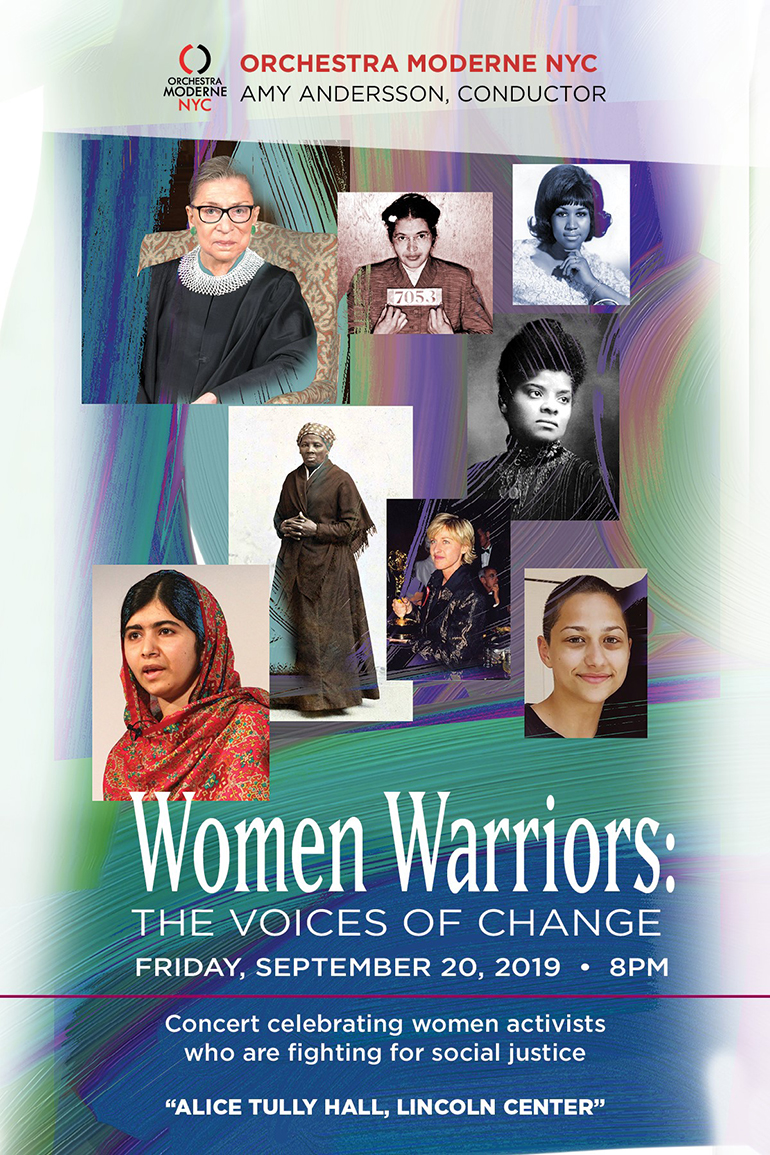 Women Warriors: The Voices of Change honors the strength and heroism of global activists fighting for social justice, human and civil rights, environmental causes, minority rights, gender equality and for the right of every girl to have access to education. Which of the heroes of these themes most inspired your musical work and why?
Amy Andersson: Fannie Lou Hamer was an African American women's rights and voting rights activist. When she tried to register to vote in Mississippi in 1962, she was arrested and brutally beaten by police and told that women of color could not vote in Mississippi. This was after women were granted the constitutional right to vote in 1919! Fannie Lou testified on live national television, naming her accusers. I became obsessed with her life story and watched her testimony repeatedly on YouTube. I was struck by her dignity, pride, strength and incredible courage. It was October 2017, and the Me Too movement had just begun. I felt Ms. Hamer's testimony was as relevant as ever.
I put Fannie Lou Hamer's photo on my computer desktop and looked at her beautiful, strong face every day for inspiration. It was then that I promised her that she would never be forgotten. I promised her I would make history come alive again so that her voice could lead and teach us. Thus, the vision of Women Warriors: The Voices of Change was born. I began searching for women throughout history who had displayed courage, used their voices for change and who had largely been forgotten from the history books. My research led me back to the 13th century where I discovered women who were advocating for the educational rights of girls. I followed the lineage of 800 years of feminist history and created a documentary that highlights the lives of these remarkable women.
I've discovered women who are fighting climate change, honor killings, child marriage, and for the full civil and human rights of women and girls. I even read about an Afghan rapper/singer/songwriter who was up for sale as a child bride at 10 years and 16 years of age. Luckily, she escaped Iran and is now a college educated woman living in the U.S. Her name is Sonita Alizadeh and she will be singing her "Daughters for Sale" with Orchestra Moderne NYC. She is a tremendous inspiration for me.
Miriam Cutler: It's impossible for me to pick one activist from this group.  We owe so much to each and every one of them. To all who came before us who fought long and hard for human and animal rights, environmental justice and protection of our planet's environments.  And to all those who continue to dedicate themselves to these causes. Rather, we must follow their example and jump into the fight of our lives for the survival of life on this planet. I have tried to dedicate my energy and talents to enlightening and promoting these causes through my work in documentary films and outreach campaigns. I am always inspired by the stories these filmmakers share. But the time has come for all of us to be activists if we care about preserving life as we know it.
Lolita Ritmanis: The three works entrusted to me truly span a wide range of topics, but as a global answer to what inspired me most, I would have to say the concept of never giving up. Women throughout history have stepped out into the light, sharing their brilliance, only to be time and time again marginalized and even silenced. The recurring theme is the persistence and resiliency of these women, and through their resilience paving the way for future generations of women.
Starr Parodi: The woman activist that I most identify with that is being featured in the concert is Rosa Parks. I had the amazing opportunity to meet and have dinner with Rosa Parks many years ago through a dear friend and what I most took away from that meeting is the fact that small but deliberate actions can achieve big change in the world. Each one of us every day has an opportunity to change the world for the better. What also struck me about Ms. Parks was the feeling of humble strength that she exuded. Although this didn't directly influence my piece for this concert, it constantly influences my life and art in general.
Isolde Fair: Malala is one of the biggest and most inspiring personalities I have come across when working on writing a powerful song. She gives me a theme of hope and bravery that I always look forward to writing about when I feel there is a necessity to call out a situation that seems unjust.
Mandy Hoffman: Well, they all inspire me, every day! But I paired up with Sonita Alizadeh to create an orchestral arrangement for her song "Daughters for Sale," which is a rap song about child brides. Sonita escaped this fate in Afghanistan, became an activist, and is now about to start college here in NY state. It was not the first child bride project to come to me this year, and I sadly learned that child brides exist in every region and culture in the world, including right here in the U.S. I myself have a daughter, and I can't imagine having to sell her for some sort of dowry. It's absolutely heartbreaking that this is still going on today, in this modern era. Sonita's bravery to not only find a way to escape this fate but to turn around and call it out is so inspiring.
Penka Kouneva: It has been a tremendous honor to work with Maestra Amy Andersson on this project. I was deeply inspired by the history of many great women upon whom the civilization has depended for its progress. The most inspiring stories for me were access to education, environmentalism, the fight against sexual violence, and the international scope of the event.
How did you get involved in the project?
AA: I never set out to create a silent documentary, as this is something I have never done. I am an orchestra conductor. But each time I thought I would not be able do it, I felt I must keep my promise to Fannie Lou Hamer. She led me, guided me and I felt her spirit as I worked tirelessly for two years alone at my kitchen table.
I then assembled a team of the best female film composers I knew and together we set Women Warriors: The Voices of Change to music. BMI composers Lolita Ritmanis, Penka Kouneva, Nathalie Bonin, Sharon Farber, Miriam Cutler, Mandy Hoffman and Starr Parodi are my dream team. With the talents of these brilliant women, I was able to keep and fulfill my promise. Women Warriors: The Voices of Change reignites the spirits of these historical women and shines a light on the current work of contemporary activists in a symphonic live to picture setting.
MC: When I was invited to be part of the Women Warriors, Voices of Change concert, my response was an enthusiastic OF COURSE!! The event is a natural extension of my long career in documentary work as a film composer. I discovered many years ago that scoring docs was a natural and powerful way for me to combine my passion for making music with my deep desire to contribute in a positive way. My original portal into activism was through feminism… I was in college when the 2nd wave was on the rise and being part of that community experience has made me who I am today. Amy probably became aware of my feminist perspective through my work with THE ALLIANCE FOR WOMEN FILM COMPOSERS which strives for gender parity in our profession.
LR: In 2017, Amy Andersson programmed my symphonic work "Overture to Light" with her Orchestra Moderne at Carnegie Hall for a concert centered on the theme of immigrants. It was a thrill to be in attendance. My Overture was well received, and shortly thereafter Amy and I began discussions about the next project. The idea behind the Women Warriors concert evolved over time, but I feel very fortunate to have had the opportunity to collaborate with Amy from the first moments when she shared her ideas with me.
SP: My piece, "The Joy of the Waters," was performed at the Women Who Score Concert in 2016, and music director Amy Andersson, of the Orchestra Moderne NYC was at the performance. When she heard my piece, she told me that she knew she wanted to use it in concert for one of her orchestra's performances one day. In her upcoming concert, Women Warriors: Voices of Change, there is a chapter celebrating marriage equality and Amy contacted me with the idea that the celebratory and uplifting tone of "The Joy of the Waters" would be perfect to score this section of the concert.  After seeing and hearing what she had in mind, I rearranged and re-orchestrated my piece to both compliment the picture and the orchestra.
IF: I got involved through my mom who introduced me to Amy Andersson at an event we were both at. Amy heard a new song I had written called "Rise" and felt like it would be a powerful statement to be heard over her film of Emma Gonzalez and the Parkland students, especially coming from somebody my age.
MH: I met Amy Andersson at one of her conducting seminars, and I was so smitten with her and her passion for music. She ended up coaching me a bit for my piece for the Future is Female concert at the Wiltern in 2018, and we ended up becoming friends. She mentioned her concert to me, bouncing ideas and discussing her plans, and I was so enamored with it all. Eventually she invited me to do an arrangement for Sonita's song and I jumped at the chance.
Originally, I was going to do a simple string arrangement to go under Sonita's produced electronic song, but as I started working, I realized how great it would sound to use the full orchestra. So, I worked with her song producer and got the parts to the song, and I started translating all these electronic instruments to the orchestra. It was very challenging, but really fun work. I can't wait to see Sonita perform with the power of 71 instruments backing her up!
PK: Amy invited me to participate as a composer about a year ago. I was thrilled to score the stories and documentaries that she assigned to me – the AIDS crisis, Standing Rock, Me Too movement, the Middle East peace builders, and the closing chapter.
What do you hope the takeaway for the audience will be?
AA: There is no question in my mind that the audience will be inspired, brought to tears and motivated to be the change they want to see in the world.  Women and girls will definitely go away from the concert knowing that "Women Hold Up Half the Sky," to quote a Chinese proverb.
MC: I hope the audience feels inspired by learning about individuals who made a huge difference. Anyone who's paying attention these days feels overwhelmed by all the challenges we are facing globally. Inspiration can keep hope alive so that at some point we'll come together to finally set about the work of survival.
LR: The music represented in this concert is as diverse as the women represented on screen. There is a great deal of light in this concert, along with the darkness. It is important to me that audience members feel inspired to celebrate our champions of today, and through that positive charge help to dismantle any remaining obstacles standing in the way of gender equality and gender parity.
SP: I hope the audience will feel inspired and their hearts will be full and satisfied by the celebration of the lives and work of these amazing women activists, and I hope that musical themes and impressions of the performances will create a lasting memory to all in attendance.
IF: I want the audience to feel inspired and to experience the energy coming off from the stage. I want them to feel like they can relate to what I'm saying about the truth and reality of the situations I sing about in my songs.
MH: I hope that the audience is entertained by the music and performers and inspired by the heroines that we are celebrating. I hope they all realize that women can do fearless acts, write and perform complicated music, and that we gain strength in supporting each other. I hope we inspire folks, regardless of age or gender, to go out and reach for things that seem too high to grasp.
PK: I hope that the audience will be profoundly transformed, elated and moved by this concert, which revitalizes the grand orchestral tradition and makes it resonate with our times. I hope we get many young people who have never before attended an orchestral concert, and I hope they are inspired by the power of live symphonic music. First and foremost, I hope people are moved to take action on the pressing issues of ours times – man-made climate change, violence against women, lack of education for girls. I hope people feel empowered to make a difference in their communities.
What's next for you?
AA: I am already dreaming up my next project! It will, of course, involve female composers. My state registered 501(c)3 Music Resonates, Inc. has a mission to support female and minority composers in socially relevant concerts with Orchestra Modern NYC. So, stay tuned!
MC: I recently completed scores for Flannery (O'Connor), Not Carol (a window into postpartum psychosis), am in production for Dilemma of Desire, and the upcoming The Human Trial. In late September I will be traveling to Uganda with American Film Showcase to do a film scoring workshop with women filmmakers and local musicians. And of course, I'm very much looking forward to celebrating my Primetime Emmy Nominations for Love, Gilda and RGB with my filmmakers. I'm super excited for the new OUTSTANDING MUSIC IN A DOCUMENTARY category and honored to be nominated in the inaugural award.
LR: On November 8th, 2019, I will be travelling to Riga, Latvia to attend the premiere of feature film Blizzard of Souls. With approximately 80 minutes of my original music, the score features a 60-piece orchestra (including members of the Lavia National Symphony), plus a 48-voice choir (the renowned State Choir Latvia).The feature film Blizzard of Souls is the most anticipated film in Latvia in the 100 years since the end of WWI and has been made in honor of the 10+ European countries, also celebrating the 100 years since the end of the first World War. It is the largest budget in the history of Baltic cinema trusted by government.
On another note, I am also thrilled that the Warner Bros. series Young Justice has been picked up for a 4th season. Co-scoring this series with my partners Michael McCuistion and Kristopher Carter, we could not be more thrilled that it continues to be one of the top streamed series, according to Business Insider.
SP: I'm currently working on a new neo-classical album featuring piano and orchestra, and just released a reimagined acoustic neo-soul cover of Prince's masterpiece "When Doves Cry" with singer Louis Price (former lead vocalist of the Temptations). 
IF: I have recently been working on an EP, collaborating with a few of my friends from in and out of school, and have really been dedicating a lot of time for practicing the violin. I'm just letting projects flow as they come my way.
MH: I am currently about to start composing music for a new series and a feature length documentary. I love writing music for the concert stage, and I hope to have more opportunities in the near future.
PK: I'm scoring the primetime TV show Pandora (CW), on which BMI composer Joe Kraemer brought me on as co-composer, and I'm looking for the next scoring opportunities.