Big & Rich 'Lost in this Moment' of First No. 1
Music Row came out in full force to congratulate the singing, songwriting super-duo Big & Rich on Wednesday on their very first, multiple week, number one single, "Lost In This Moment," penned by John Rich, Keith Anderson, and Rodney Clawson. Big & Rich were blown away by all the support and acknowledged how they could not have gotten to this place without everyone's help, especially Keith Anderson and Rodney Clawson for helping pen a love song that is "such an incredible song for us to sing every night."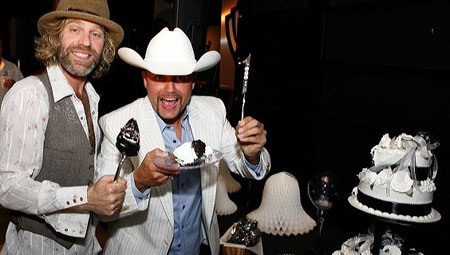 Pictured are (l to r): Big Kenny and John Rich cutting into their #1 wedding cake.
Big Kenny said, "Thank you everyone. There are a lot of people here who have put good hard work, time, and energy into John Rich's and my career-the career of Big & Rich." John Rich added, "The first time Kenny and I really performed together in front of people was at MuzikMafia on Tuesday night at the Pub Of Love, and we want to thank the MuzikMafia for that. Thanks to radio for coming on board and giving us this number one, and thanks to Gator Michaels and all the regionals that have burnt the tires off their cars to take us to these stations. And honestly, thanks to Bill Bennett for letting us scream at him a few times and not throwing us out of here."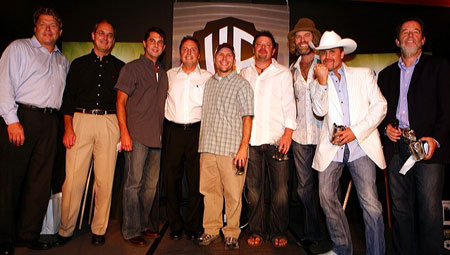 Pictured are (l to r): BMI's David Preston, Warner Chappell's Dale Bobo, Extreme Music Publishing's Michael Martin, BMI's Jody Williams, Extreme Music Publishing's Jason Hauser, songwriter Rodney Clawson, Big Kenny Alphin and John Rich, with Warner Brother Records' Bill Bennett.
Photos courtesy of Warner Brothers Records