AMA Announces Nominees for 2008 Honors & Awards
BMI played happy host to the Americana Music Association Honors & Awards nominees' announcement party Wednesday, June 11 in Nashville. Guests including Jason Ringenberg and Warner Hodges of Jason and the Scorchers fame, Fats Kaplin, Justin Townes Earle, legendary A&R executive Mary Martin, Mike Farris, Chuck Mead, Webb Wilder and so many more mingled in BMI's main lobby. After opening remarks by BMI's Jody Williams and the AMA Executive Director Jed Hilly, Honorable Mayor Karl Dean of Nashville praised Americana artists for their dedication and cultural impact, saying, "They write and sing what they know and believe."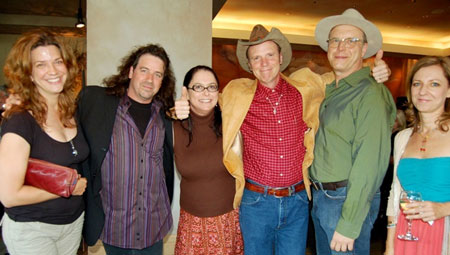 Pictured are (l to r): Publicist Kim Fowler, Jason & the Scorchers' Warner Hodges, AMA's Danna Strong, Jason & the Scorchers' Jason Ringenberg, Webb Wilder and BMI's Kay Clary.
Roots music royalty Abigail Washburn and Béla Fleck read the list of award candidates, whose names were met with enthusiastic whoops and applause.
Longtime BMI songwriter James McMurtry garnered a slew of nominations, including Artist, Album and Song of the Year. McMurtry's barbed wit and astute songwriting have resonated with listeners all over the world.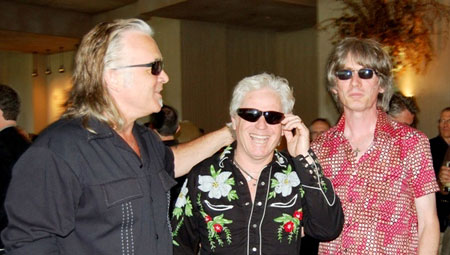 Pictured are (l to r): Hal Ketchum, Billy Block and Fats Kaplin.
Perennial BMI favorite Alison Krauss also received multiple nominations for her work with legend Robert Plant. In addition to a spot on the Duo/Group of the Year list, their collaborative effort Raising Sand earned Album of the Year, and their rendition of the Everly Brothers' "Gone, Gone, Gone" secured a Song of the Year nod.
New/Emerging Artist of the Year nominees included a wealth of auspicious BMI singer/songwriters. Neo-soul, gospel conduit Mike Farris, gravely troubadour Ryan Bingham and the virtuosic bluegrass-dipped SteelDrivers all received well-deserved nods.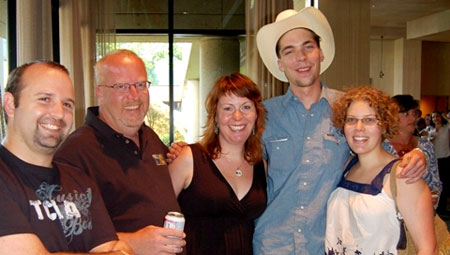 Pictured are (l to r): Third Coast Artist Agency's Clint Wiley and Steve Hoiberg, Thirty Tigers' Traci Thomas, Justin Townes Earle and Bonnie Whitmore.
Recognition also went to preeminent mandolin player and roots/bluegrass innovator Sam Bush in the Instrumentalist of the Year field; esteemed singer/songwriter Tiff Merritt, who received a Song of the Year nod for "Broken"; and triple-threat Kane Welch Kaplin, in the Duo/Group of the Year field.
The winners will be announced September 18 at the historic Ryman Auditorium during the 7th Annual Americana Music Association's Honors and Awards Show. Hosted by Jim Lauderdale and featuring a band led by Buddy Miller, the Honors & Awards ceremony will also recognize iconic troubadour John Hiatt with the Lifetime Achievement Award in Songwriting and Jason and the Scorchers with a Lifetime Achievement Award in Performance. Additional honorees and performers will be announced in the coming months.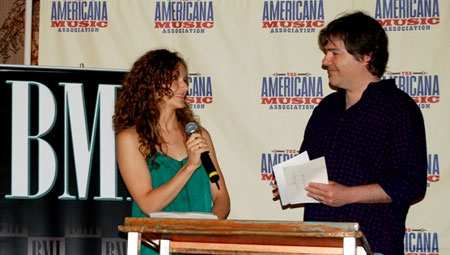 Abigail Washburn (left) and Béla Fleck (right) announce the nominees.
Slated for Wednesday, September 17 through Saturday, September 20, the 9th Annual Americana Festival and Conference will offer daily seminars, panels and networking opportunities at the Nashville Convention Center. Each evening brings more than 80 stacked Americana showcases to key venues throughout Nashville. Approximately 2,000 industry executives, artists and fans are expected this year.
For more information on tickets, becoming a member of the Americana Music Association and more, please visit www.americanamusic.org.
About the Americana Music Association
The Americana Music Association is a professional trade organization whose mission is to provide a forum for the advocacy of Americana music and to promote public awareness of the genre to support the creative and economic viability of professionals in this field. Dedicated to building and promoting the Americana genre and the individuals who participate in that industry, the Americana Music Association works closely with artists, labels, radio stations, retailers, print media, festivals, agents, publishers and more to help organize and build the infrastructure necessary for the Americana genre to achieve success both creatively and financially.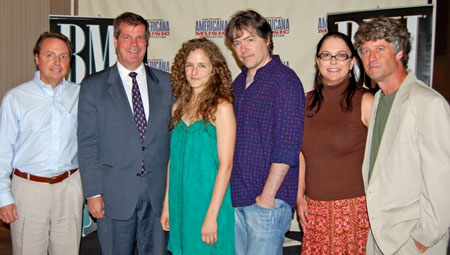 Pictured are (l to r): BMI's Jody Williams, Honorable Mayor Karl Dean, Abigail Washburn and Béla Fleck, with the AMA's Danna Strong and Jed Hilly.
2008 BMI Americana Music Association Honors & Awards Nominees
ALBUM OF THE YEAR
Alison Krauss & Robert Plant
Raising Sand
James McMurtry
Just Us Kids
ARTIST OF THE YEAR
James McMurtry
INSTUMENTALIST OF THE YEAR
Sam Bush
NEW EMERGING ARTIST OF THE YEAR
Mike Farris
Ryan Bingham
The Steeldrivers
SONG OF THE YEAR
"Broken"
Tift Merritt
"Cheney's Toy"
James McMurtry
"Gone Gone Gone"
Alison Krauss & Robert Plant
DUO/GROUP OF THE YEAR
Alison Krauss & Robert Plant
Drive By Truckers
Kane Welch Kaplin