Allen Reynolds Receives Leadership Music Dale Franklin Award
BMI songwriter and producer Allen Reynolds recently received the Leadership Music Dale Franklin Award during the organization's annual gala August 23 in Nashville. The prestigious honor recognizes "music trailblazers who exemplify the highest quality of leadership and leading by example."
Reynolds certainly fits the bill. He cut his teeth with fellow giant Dickey Lee, and his mentor was the incomparable Cowboy Jack Clement. From his early work with Don Williams, Crystal Gayle, Kathy Mattea, Hal Ketchum and Emmylou Harris to his record-setting collaborations with Garth Brooks, he has displayed a knack for discovering and developing new talent, all of whom surpassed expectations, achieving career longevity and artistic relevance. Reynolds produced all of Brooks' country albums, and together, the pair amassed sales of 128 million—more than any other solo artist in history. He has earned 7 BMI Awards comprising Pop and Country categories, while his co-written "Ready for the Times to Get Better" has generated more than 1 million performances and "Five O' Clock World," which he also co-wrote, has earned more than 4 million performances. Reynolds also enjoyed success as a studio owner and publisher, guided by his ear for excellence.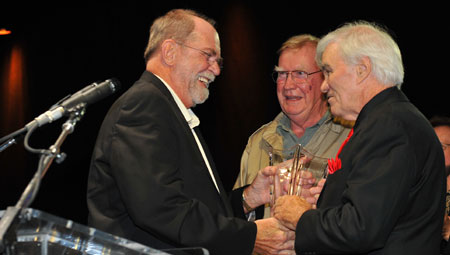 Jim Rooney (center) and Dickey Lee (right) present the Leadership Music Dale Franklin Award to friend Allen Reynolds on Sunday, August 23 in Nashville. (Photo by Steve Lowry)
Garth Brooks and former label chief Jim Foglesong were also honored.
Kathy Mattea and songwriter Bob McDill guided the all-star tribute to Reynolds, which featured performances from Hal Ketchum ("Five O'Clock World"), Cowboy Jack Clement ("Dreamin' My Dreams") and Crystal Gayle ("Ready for the Times to Get Better"). Dickey Lee and producer Jim Rooney presented the award to Reynolds, who expressed his gratitude to the more than 700 Music Row executives in the audience.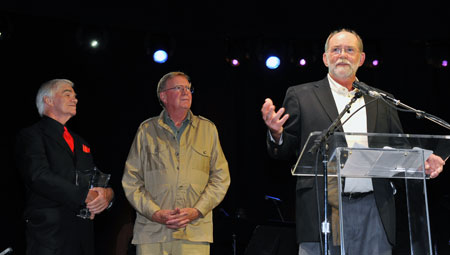 As Dickey Lee and Jim Rooney proudly listen, Allen Reynolds thanks the crowd of Nashville music industry executives gathered to watch him receive the prestigious Leadership Music Dale Franklin Award on Sunday, August 23 in Nashville. (Photo by Steve Lowry)
"It's beyond amazing what has grown up here [Nashville] over the years, and it's all grown up around a bunch of music makers," Reynolds said. "At the very foundation of it all are the songwriters, and Nashville can lay claim to some of the biggest and best in the entire American songbook. The slogan of the NSAI is 'It all begins with a song.' Well of course, what could be more obvious? You can have a wonderful performer, but without great songs you'll struggle to make a timeless recording. So I'm grateful tonight to all the songwriters whose work has blessed my life. You made everything else possible. You deserve respect, and you deserve to be paid honestly for your work. You are the bedrock of the music business. Truly great musical careers are built on great songs. If we want to keep, even grow our audience, we can never afford to be lazy or careless or corrupt or greedy in the process of selecting songs. From my heart, thank you to the songwriters."
Reynolds concluded with his characteristically sincere humility, explaining, "It's a little surprising to find that I'm being honored for leadership. I never tried to do that. All I ever did was try to take care of the music, live up to the standards of my musical heroes and give to others the same consideration I have received."
About Leadership Music
Leadership Music is an educational non-profit 501(c)(3) organization whose mission is to nurture a knowledgeable, issue-oriented community of music industry professionals through an annual educational program and events. This is accomplished through the identification and exploration of topical issues in an annual series of off-the-record educational seminars (the Program), and continued alumni nurturing and education. Over the past 20 years, Leadership Music has graduated more than 740 music industry-related executives.  www.leadershipmusic.org