16 Unforgettable Performances on BMI's Lollapalooza Stage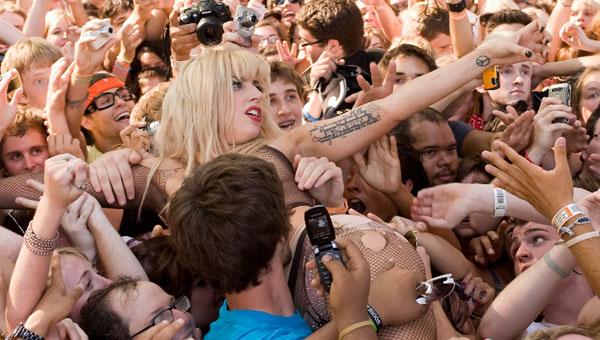 The BMI 2010 Lollapalooza stage offered an explosive three-day lineup of performances by 16 must-see, hear-it-first acts. Held August 6-8 at Grant Park's Hutchinson Field in Chicago, BMI stage performances kicked off at 11:15 a.m. each day, setting the pace and ultimately, hosting the most memorable moment at the mammoth music festival: During a blazing performance by Semi Precious Weapons, surprise guest and past BMI/Lollapalooza stage performer Lady Gaga jumped on (and thrillingly off) stage.
Watch Lady Gaga take over the BMI Lollapalooza stage.
With Lake Michigan as the bucolic backdrop, the BMI stage emitted disco-dunked sounds, acoustic balladry, and pop-rock rhapsodies from a slew of singer/songwriting acts. Performers on the BMI/Lollapalooza stage included British ingénue Neon Hitch, megaphone toting My Dear Disco, and mellifluous crooner Dan Black.