15th Annual John Lennon Scholarship Winners Announced
The winners of the BMI Foundation's 15th Annual John Lennon Scholarships, a program that recognizes the best and brightest young songwriters between the ages of 17 and 24, were announced on November 13, 2012 by Samantha Cox, Director of the competition. Lisa Occhino, a Connecticut native and Berklee College of Music student, won first place and a $10,000 scholarship for her song, "You Will Never Understand."
Hailey Gardiner was awarded the $5,000 second-place award for her song "One Man Show." Two Berklee College of Music students tied for third place and received $2,500 each. April Bender won for her song, "Make Believe," and Nick Goldston for his song, "Taste the Wind."
The 2012 judges included Warner Chappell Music Publishing VP Lee Dannay, Wind-up Entertainment Chief Creative Officer Gregg Wattenberg, Producer Benny Blanco, Imagem Music President Richard Stumpf, and SONGS Music Publishing President and Head of A&R Ron Perry.
Thousands of students representing schools from every state participated.
Established by Yoko Ono in 1997, in conjunction with the BMI Foundation, the John Lennon Scholarships have been made possible through generous donations from Ono with matching funds from Gibson Musical Instruments. More than $300,000 has been awarded over the last 13 years to students from select colleges, universities and music schools, and from national submissions from the National Association of Music Education/MENC chapters.
The BMI Foundation, Inc. is a not-for-profit corporation founded in 1985 to support the creation, performance, and study of music through awards, scholarships, commissions and grants. Tax-deductible donations to the Foundation come primarily from songwriters, composers and publishers, BMI employees and members of the public with a special interest in music.
Lisa Occhino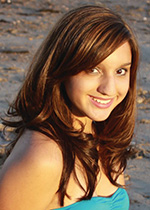 Lisa Occhino is an award-winning pianist, songwriter, singer, and music entrepreneur who enjoys writing in pop, rock, R&B, and alternative genres. A Songwriting and Composition Scholarship recipient, she is currently an honors student majoring in Music Business/Management at the prestigious Berklee College of Music in Boston. Lisa has performed live on television and radio, as well as at concerts, music venues, private and corporate functions, and non-profit events. In 2010, she was among less than 1% of songwriters under age 18 (according to Singer/Songwriter Sessions Founder, Larry Oakes) invited to showcase her originals at Manhattan's oldest and most famous rock club, The Bitter End, where countless music legends have launched their careers.
Lisa's music ranges from playful songs to ballads evoking feelings of inspiration, encouragement, and coping. She has broadened her musical interests to include guitar, harmonica, ukulele, synthesizers, Hammond organ, marimba, and xylophone. On her first EP, Discovery, she performed all of the lead vocals, harmonies, and piano, and donated 20% of every purchase of a hard copy to benefit the Stamford Young Artists Philharmonic Outreach music program. In April 2011, one of the songs from her EP, "The Pain Behind Your Eyes," was featured in a compilation entitled Love Conquers All: Music for Japan with over 40 fellow Berklee songwriters who donated 100% of the albums' proceeds to Save the Children's disaster relief for Japan.
Lisa is a member of Broadcast Music, Inc. (BMI), the Music and Entertainment Industry Student Association (MEISA), GRAMMY U, the New York Songwriters Collective, and several organizations at Berklee including the A&R/Artist Development Group (Marketing & PR Director/Founding Member), the Marketing Club (Vice President 4/11-1/12, Project Manager 1/12-4/12), and the Songwriters' Club. As Editor-in-Chief of The Berklee Groove (www.berkleegroove.com), the online student voice of Berklee College of Music, she has interviewed legendary artists and bands such as Dream Theater, The Spin Doctors, Dropkick Murphys, Less Than Jake, and Tommy Lee (of Motley Crue), as well as Sara Bareilles, Karmin, Joshua Radin, Eric Hutchinson, Grace Potter, Dashboard Confessional, Jack's Mannequin, Allen Stone, Jason Reeves, Andy Grammer, and many more. She has participated in dozens of clinics and workshops, from Manhattan to Boston, with music industry leaders and GRAMMY-winning artists in business, management, publishing, marketing, social media, songwriting, and production. Lisa plans on releasing new music in the near future and is simultaneously building a collaboration and networking website for songwriters.
Hailey Gardiner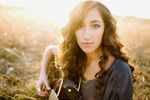 For singer/songwriter Hailey Gardiner, music runs generations deep in her family. As a member of Gardiner Sisters, a sister trio from North Carolina, songwriting emerged as her natural contribution to the group and she has since written and recorded her unique, infectious pop music alongside her sisters.
Filled with catchy hooks and relatable lyrics, Hailey's songs tell stories woven from her own personal experiences. Her "raw and soulful" voice speaks through her music, allowing her honest lyrics to feel as if they were from the pages of a diary.
Hailey has garnered an ever growing worldwide following on YouTube, showcasing videos of original songs and covers. She is currently performing with Gardiner Sisters and earning a degree from Brigham Young University Hawaii.
April Bender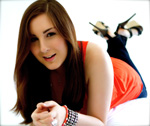 April Bender has been writing songs and performing all her life. Growing up in Basking Ridge, NJ, she was able to jump into the NYC music scene at an early age, performing in venues such as CBGB, The Bitter End and Madison Square Garden by the age of 16. She continued making a name for herself as a writer and performer, and recorded her first EP at the age of 19, entitled Stay A Little Longer. While studying at Berklee College of Music, she became involved with the Songwriting department and won various contests, a Songwriting Achievement Award, and was given opportunities to play for industry professionals such as Mike Reid, Paula Cole, Greg Becker, Eric Beall and others. April recently graduated from Berklee and has relocated to NYC to pursue her songwriting career. She is currently focused on writing for other artists, but hopes to continue releasing her own material in the future.
Nick Goldston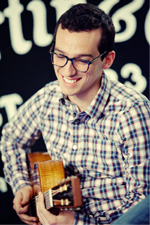 Nick Goldston spent the first six years of his life in Northern Italy, and the following twelve on Long Island, New York. Nick began writing music at the age of eight, and producing it in Logic at twelve. He continued to play music throughout high school in every ensemble his high school offered.
While at Berklee College of Music, Nick won various songwriting competitions, and was selected for master classes with top writers like Claude Kelly and John Mayer. He also arranged and conducted for some of Berklee's concerts, including the graduation commencement concert. On top of his scholarship in 2007, he received an additional songwriting scholarship in 2010, both of which he retained through his stay at the school. During his time in Boston, Nick collaborated with faculty as a writer and producer to place music in a major motion picture as well as a nationally airing commercial. Nick graduated from Berklee College of Music Magna Cum Laude with a double major in Songwriting and Music Business, as well as a minor in Acoustics and Electronics.
At twenty-two, Nick focuses on writing and producing Pop music for other artists and performing his own music is more of a side project. He currently resides in Los Angeles.