March 13, 2019
BMI Panel @ SXSW
BMI's "Claim & License Music on Social Media" at the Austin Convention Center, Room 11AB (500 E. Cesar Chavez St.), at 3:30 PM. Official SXSW Event / SXSW badge required!
In 2019, many platforms have now obtained the proper licenses to play and share music, but that was only the first step. Now, the question is: Where is the money going and how are the creators and artists getting paid? With multiple copyright owners, writers, labels and publishers involved, the answer isn't simple.
Moderated by Lynne Margolis (Freelance Journalist), join panelists David Levin (BMI's VP of Digital Licensing), Bob Bruderman (Kobalt Music Publishing's SVP Global Digital Partnerships) and Jesse Atwell (Associate Partner, Triple 8 Management), as they explore this topic.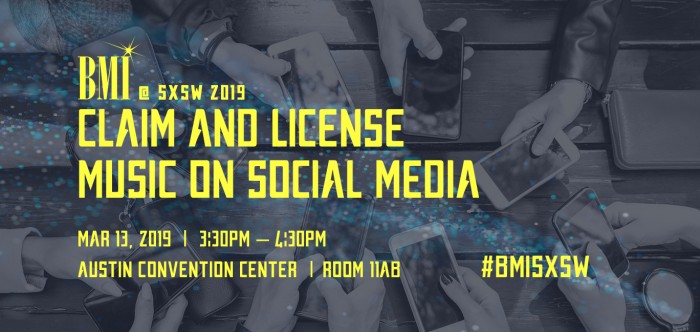 See more information on BMI happenings at SXSW.
Click here to visit the official SXSW2019 website.
Subscribe to BMI's The Weekly
Each week, Learn, Listen, Watch, Discover and Share with BMI! From must-see videos, to creative inspiration and dynamic playlists we're excited about, BMI's The Weekly is dedicated to delivering specially curated content designed for music creators and music fans alike!