November 15, 2016
Jason Blume Songwriters Workshop: Nashville
BMI remains dedicated to educating the creative community through its popular Songwriters' Workshop Series in Nashville, under the continued tutelage of hit songwriter and best-selling author Jason Blume. This month's topic is Secrets to GREAT Demos w/Special Guest & Song Critiques.
You may register online beginning October 19th at 3:00 PM. 50 participants will be admitted online on a first-come, first-served basis, until all seats are filled.
*Check in begins after 12:00 pm the day of the event in the BMI lobby (10 Music Square East, Nashville, TN). All participants MUST check in by 12:20pm at the latest, or your spot will be given away to those on the waiting list. There is no exception; the Workshop starts promptly at 12:30 and doors will be closed at that time. This Workshop is FREE!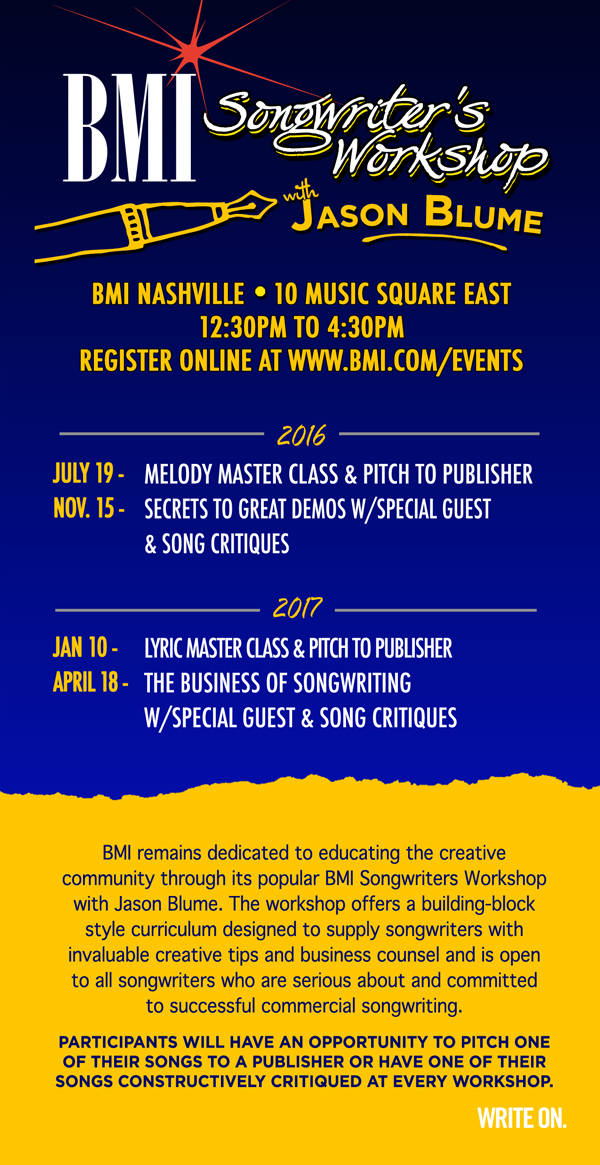 Subscribe to BMI's The Weekly
Each week, Learn, Listen, Watch, Discover and Share with BMI! From must-see videos, to creative inspiration and dynamic playlists we're excited about, BMI's The Weekly is dedicated to delivering specially curated content designed for music creators and music fans alike!