January 26, 2012
Grammy Winners & Nominees to Discuss Songwriting at BMI's 'How I Wrote That Song'
Save the Date: Feb. 11 at Key Club in Los Angeles
WHO: Grammy-winning hip-hop icon Rev Run, multiple Grammy nominee/producer/artist and official voice of South Florida DJ Khaled, and Grammy-winning songwriter/producer RedOne are confirmed as panelists at BMI's "How I Wrote That Song" 2012; more hit makers will be announced soon.
WHAT: BMI's "How I Wrote That Song" panel discussion is an annual pre-Grammy weekend event that celebrates Grammy winners and nominees, and also serves as a platform for panelists to discuss the process of writing, producing and performing hit songs. The panel has historically featured an array of music's top-tier talent. Previous "How I Wrote That Song" participants have included will.i.am, T-Pain, NAS, Colbie Caillat, Common, T-Pain, Keri Hilson, Zac Brown, Seal, Cee Lo Green, super producers Chad Hugo (N.E.R.D., The Neptunes) and Sebastian Krys, hit-penning gurus Kara DioGuardi, Bonnie McKee, Claude Kelly and BC Jean, and more.
The conversation will be moderated by Catherine Brewton, BMI Vice President, Writer/Publisher Relations.
BMI's "How I Wrote That Song" is open to members of the public, ages 18 years old and up. Tickets are $15 in advance, $20 day-of the panel. Tickets can be purchased at http://www.keyclub.com/.
WHERE: The Key Club (9039 West Sunset Boulevard, West Hollywood, CA 90069). Public parking is located across the street. Media van parking will be held with prior clearance and notice.
WHEN: Saturday, February 11. Doors open at 10:30 a.m., panel discussion will be held from 12:00 p.m. – 2:00 p.m.; media check-in is at 10:30 a.m.
About the panelists:
Rev Run
Rev Run is one of the most iconic figures in music. The front man of seminal hip-hop group Run-D.M.C., Rev has sold tens of millions of records worldwide and is widely credited for ushering rap music into mainstream culture. An inductee of the Rock & Roll Hall of Fame, Run-D.M.C. was named the greatest hip-hop artist of all-time by both MTV and VH1. Run remains a dynamic figure in entertainment today. His hit MTV show, Run's House, aired for six seasons and became one of the most widely viewed shows on cable television. Recently, Run has become a highly sought-after deejay and public speaker. Run's daily inspirational words of wisdom are followed by nearly 3,000,000 people on Twitter and have established him as a thought leader in the world of social media.
http://twitter.com/#!/RevRunWisdom
DJ Khaled
DJ Khaled is the deejay for one of Miami's most notable radio stations, 99 Jamz. Paired up with K-Foxx, DJ Khaled currently has the #1 rated radio show in South Florida. Over a decade on the radio has inspired Khaled to develop his own sound of music. The versatile deejay has produced tracks for artists such as Trick Daddy, Pitbull, Young Jeezy, and his Terror Squad brother Fat Joe. In February 2008, Khaled launched his new label, We The Best Music, under Def Jam Records. Later that year, Khaled was appointed President of Def Jam South. Under his watch, we have seen albums released from Rick Ross, Young Jeezy, Ludacris, Ace Hood and Triple C's. Khaled is currently signed to Young Money Cash Money as an artist.
www.djkhaled.org
RedOne
Multiple Grammy-winning RedOne has become one of the most successful and sought after producers and songwriters in the world. He has earned more than 35 international hit singles in the past three years, including 18 No. 1s. RedOne won a Grammy in 2010 for "Poker Face" with Lady Gaga off of The Fame album, which RedOne produced. He also co-wrote seven of the album's tracks, including five back-to-back hit singles. RedOne garnered Grammy gold again in 2011 for his production on Lady Gaga's The Fame Monster. He's up for yet another Grammy this year for Lady Gaga's Born This Way, which features several tracks he also produced. Named BMI Songwriter of the Year in 2010, RedOne was also Billboard's Producer of Year and #1 Songwriter. In addition to Gaga, RedOne has collaborated with Enrique Iglesias ("I Like It," featuring Pitbull, and "Dirty Dancer"), Usher ("More"), Midnight Red ("One Club at a Time"), Pitbull ("Rain Over Me," featuring Marc Anthony) and Jennifer Lopez, with whom RedOne crafted the career-surging single "On the Floor" and led as Executive Producer on her album Love?
www.redoneprod.com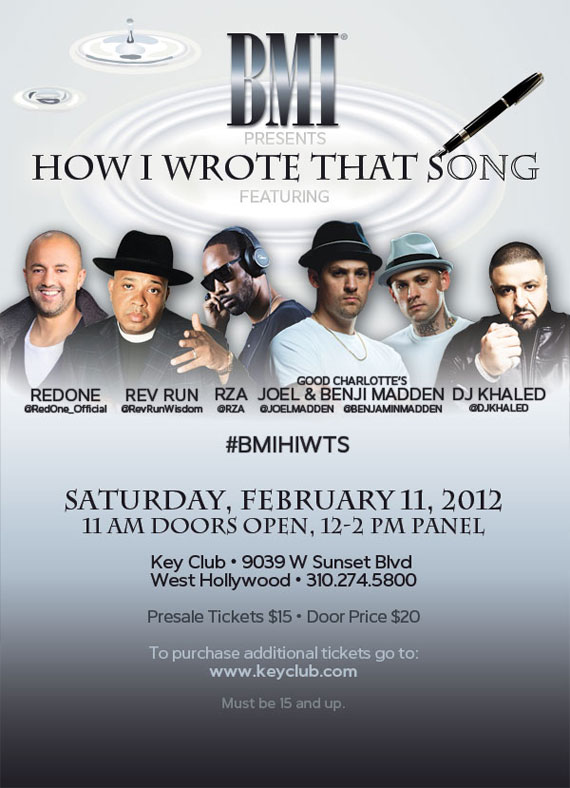 PRESS CREDENTIALS: Cleared press will be allowed in venue media room for interviews. There will be no red-carpet outside; it will be indoors. We will try to accommodate live shots for television with advance notice. One-on-one interview requests must be given in advance. Still photographers on assignment will be permitted to shoot panel and performances.
Contact:
Marlene Meraz, BMI
310-289-6325; .(JavaScript must be enabled to view this email address)
310-500-7177 cell
About BMI
Broadcast Music, Inc.® (BMI®), a global leader in rights management, is an American performing rights organization that represents more than 500,000 songwriters, composers and music publishers in all genres of music and more than 7.5 million musical works. BMI has represented the most popular and beloved music from around the world for more than 70 years. The company provides licenses for businesses that perform music, and distributes the fees it generates as royalties to the musical creators and copyright owners it represents. Find out more at http://www.bmi.com, follow @BMI on Twitter and stay connected through Facebook.