Zac Brown Band, Living the Music
It's a small yet telling detail: the contrast between what the Zac Brown Band considers routine downtime behavior on the road and what they see a lot of their mainstream country peers doing—or, rather, not doing. "You know," begins Brown, "it's kind of weird because it's normal to us to wanna get on the bus and play music for four or five hours after a show. And then hanging out with a lot of other acts, they don't even keep a guitar on their bus at all. I might go visit with them and sit on their bus and be like, 'You guys got a guitar?' And they're like 'Why? Do you need one?' I mean, that's happened a lot."
One guesses things like that don't happen so often on the bus of indefatigable septuagenarian Willie Nelson. Offers Brown, "I wanna be like Willie Nelson. I wanna play until my hands lock up and I can't go on anymore. I mean, obviously Willie's still killing. He's a better guitar player now than he's ever been. His playing is still amazing. But he's given his entire life to making music."
All this should say something about the ethic by which Brown, a Georgia-born, singing, songwriting, classical guitar-playing frontman, and his feel-good, hot-picking country-pop band live and work. Whipping the guitar out for a post-concert musical marathon is simply what you do when you're a bona fide band and you write your own material. "It's not just a job," Brown emphasizes. "We live the music. We write about what's real to us; we're always trying to capture it; we're always trying to get better."
That Brown's five band members aren't hired guns makes all the difference in the world. "You could hire the best players to sit in," he says, "but that feel that you get from everybody being locked in it together, you can't fabricate that. That's a unique thing to having a real band of people that live with each other and travel with each other and play with each other all the time."
If ever there was any question about how far a group of musicians given to jamming on the bus and the stage could go in contemporary country music—after all, country vocal groups tend to be more popular than instrumental ones—the band's first single, "Chicken Fried," supplied a pretty convincing answer. The affectionately down-home anthem from The Foundation topped the Billboard country chart. And the album's next four singles—including the sunny, calypso-soft rock number "Toes"—drove the point home: three were #1s. A band like this could, indeed, rule the radio format. The industry also seems to have been successfully wooed: the band picked up four 2011 Grammy nominations.
Brown wrote all but one of those #1s—and a good many on the band's new album, You Get What You Give—with his good friend Wyatt Durrette. As productive as their collaborative partnership has been, they formed and developed it worlds away from any professional songwriting community or publishing deal. Durrette—whose family's in the restaurant business—was managing a little place called the Dixie Tavern, where he booked Brown to perform solo.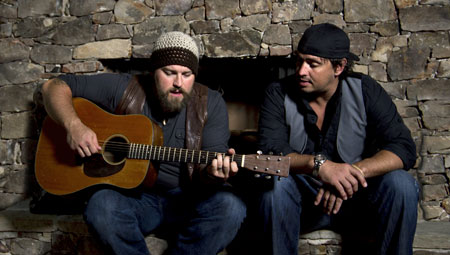 Zac Brown and Wyatt Durrette (Photo by Alex Martinez)
"I guess it was the second time he played that I was working," recalls Durrette, "I went up to him and told him that I wrote and would love to get together. Zac's of course like, 'Yeah, let's do it.' The following Sunday we got together…and we finished four songs in one night. We knew that we had something. That was about the time, at least for me—[music] was always his end-all, be-all—but once I met him it kind of was like, 'Wow, maybe we have a shot at making a living at this.'"
Durrette doesn't sing or play with the band. (Brown likes to joke that he's "been trying to teach him a G chord on the guitar for twelve years.") But anytime they're on the road, he's out there with them. The two of them, plus band members like guitarist Coy Bowles and bassist John Driskell Hopkins and singer-songwriters signed to Brown's Southern Ground label like Levi Lowrey and Nic Cowan, do a whole lot of songwriting, as Durrette puts it, "in the family." He explains quite sensibly, "The more we're around each other, the more we write."
The organic arrangement sounds a little different for a band at their level. And what they do live sounds a little different for a band in their genre. During last November's CMA Awards show, the Zac Brown Band didn't play one of their hits. They tore into a cover of "The Devil Went Down to Georgia," showcasing the instrumental prowess of every band member in the process. Brown says even though the song choice wasn't their idea, nobody had to twist their arms to go along with it: "People that have our CD, they have our original music and they have our other things. But giving them a little taste of our show and a little taste of our fire that we put into our musicianship, you know, I think it was a good call."
Then there's this not so insignificant fact: the Zac Brown Band is one of the only current country acts who've been invited to play Bonnaroo more than once (Bonnaroo being the sprawling, eclectic music festival that each year draws hordes of latter-day hippies and hipsters to a farm in Tennessee).
Country music has the huge audience it does these days because it's accessible to people from all over—not just those literally from the country—and because a good bit of it can crossover to fans of classic arena rock. The Zac Brown Band have their own way of reaching everybody. The 14 songs on You Get What You Give are a congenial blend of singer-songwriter pop, soft rock, reggae and southern rock flavors, crisp jamming and burnished Crosby, Stills and Nash-inspired harmonies alongside good-humored country.
"Anybody that loves music, there's songs on this CD that they'll love," Brown promises. "There's some that they may not love as much as other ones, because that may not be their style of music that they like. But there's enough on this CD for anybody to like it, if they give it a chance."
Jewly Hight is a freelance writer based in Nashville. She has contributed to Nashville Public Radio, American Songwriter, Relix, The Nashville Scene, and other publications.