YMF Honors Richard and Elizabeth Sherman
The Young Musicians Foundations (YMF) honored BMI songwriter Richard M. Sherman (Chitty Chitty Bang Bang, Mary Poppins, The Jungle Book) and his wife Elizabeth Sherman with their prestigious Magic Baton award at the organization's 54th Annual Gala Benefit, which also honored composer Tom Hormel. Past Magic Baton award recipient and fellow BMI composer John Williams presented the award to the Shermans. Both Mr. Williams and Mr. Sherman are past BMI Richard Kirk Award winners, a prestigious honor that recognizes outstanding career achievement in the world of film and television composition. Mr. Sherman performed some of his songs from Chitty Chitty Bang Bang and Mary Poppins with actor Dick Van Dyke, who also served as emcee of the evening's events. BMI sponsors the BMI Composer-In-Residence program with the YMF. Through the BMI Composer-In-Residence partnership, musicians also have the opportunity to work with top film composers such as David Newman and John Ottman.

Founded in 1955, Young Musicians Foundation (YMF) is devoted to preserving classical music heritage by providing performance opportunities, financial assistance and community outreach programming that contributes to the personal, academic and artistic development of youth from all socio-economic and ethnic backgrounds. In addition to keeping classical music alive, YMF is committed to the belief that music unifies a community and is a universal language vital to the development of all audiences, including young listeners. Through its two branches, Artist Development & Assistance and Education & Community Outreach, YMF is able to provide support and recognition to young artists of all ages and abilities around the world.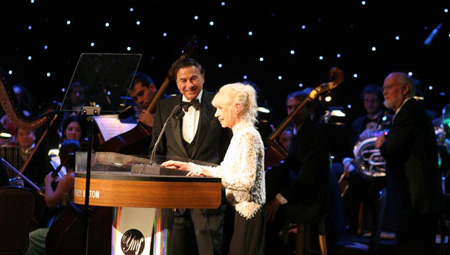 Pictured with their new award are (l-r): Richard and Elizabeth Sherman.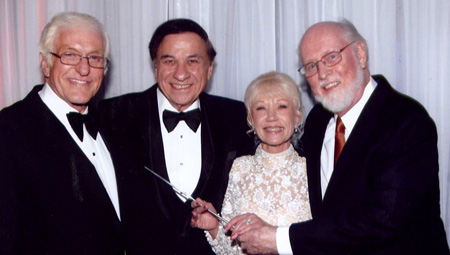 Dick Van Dyke, Richard M. Sherman, Elizabeth Sherman, and John Williams.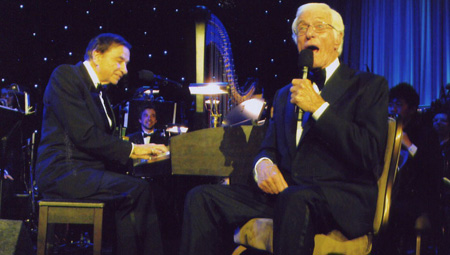 Richard M. Sherman (left) and Dick Van Dyke (right) perform together.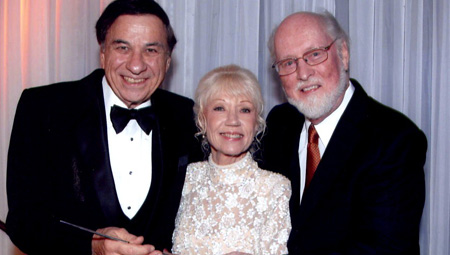 Pictured are (l-r): Richard M. Sherman, Elizabeth Sherman, and John Williams.