Winehouse Takes Top Songwriting Honor at Ivor Novello Awards
PRS songwriter/artists represented by BMI in the U.S. had a strong showing at the 2007 Ivor Novello Awards, handed out May 23 in London by the British Academy of Composers & Songwriters in association with the Performing Right Society (PRS). The Ivors honor British songwriters and composers and their contributions to the music industry
Amy Winehouse won Best Contemporary Song for "Rehab," following up on her 2007 Brit Award for Best British Female Vocalist. She previously won an Ivor for her debut single, "Stronger Than Me," while her debut album, Frank, was nominated for the prestigious Mercury Prize.
American band The Scissor Sisters showed their immense popularity in England by winning the PRS Most Performed Work award for "I Don't Feel Like Dancin'," co-written by Scott Hoffman, Jason Sellards and Sir Elton John.
"A Moment Like This," written by John Reid and Jorgen Eloffson and performed by Leona Lewis, won Best Selling UK Single, while five-piece band The Feeling won Songwriters of the Year.
The Lifetime Achievement Award went to Peter Gabriel, whose efforts as a vocalist, video artist, songwriter and social activist have won him worldwide fame and critical approval over the course of several decades.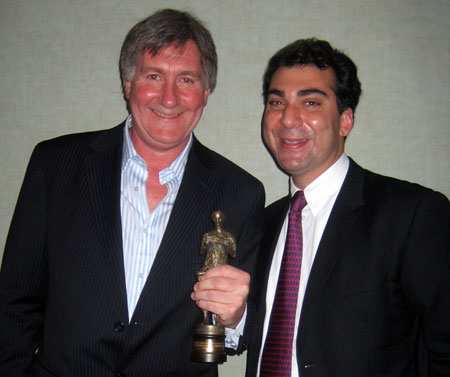 George Fenton (l), winner of the Academy Fellowship, is pictured after the Ivor Novello Awards presentation with BMI's Brandon Bakshi.
The Academy Fellowship was awarded to film-television-theatre composer George Fenton. His film work ranges widely, from Groundhog Day to Ghandi, while his TV work includes the critically praised series The Jewel in the Crown.