U.K.'s Clearlake Making Waves on This Side of the Pond
Domino Records recording artists Clearlake headlined the last BMI and Club Fandango gig of 2006 at the Borderline in London. The showcase was also supported by BBC 6 Music.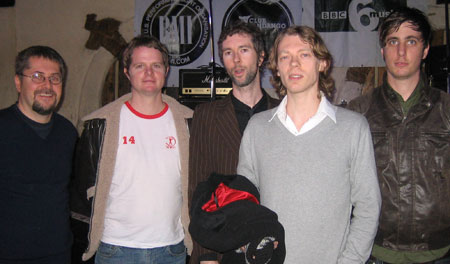 Pictured after the show are BMI London's Nick Robinson with Clearlake band members Jim Briffett, David Woodward, Jason Pegg and Toby May.
The Brighton, England-based quartet has already acquired something of a cult status in the U.K. and a growing fan base in the U.S. with its own version of folk-inspired indie rock. Clearlake spent most of last year touring Europe in support of their third release, Amber, and recording tracks for their fourth album.