Tim Maurice Named BMI Film Scoring Scholarship Recipient
Composer Tim Maurice was named the 2009 BMI Film Scoring Scholarship recipient during the annual BMI Day at Berklee College of Music. Maurice, a film scoring major, received the scholarship at a presentation at Berklee by BMI composer David Newman, in whose name this year's scholarship is given.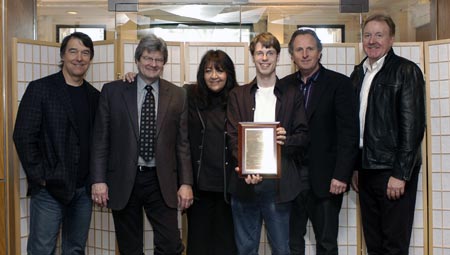 Pictured are film composer David Newman; Berklee Film Scoring Department Chair Dan Carlin; BMI Vice President, Film/TV Relations Doreen Ringer Ross; 2009 BMI Film Scoring Scholarship recipient Tim Maurice; Berklee President Roger Brown; and Director of Berklee Center in Los Angeles Peter Gordon.
The BMI Film Scoring Scholarship is a yearly tuition scholarship awarded on the basis of compositional maturity and talent, as well as financial need. Each year, the scholarship is given in the name of a noted BMI composer. Newman, this year's honored composer, taught a master class on film scoring as part of the ceremony.
Tim Maurice, a native of Oxford, Maine, began studying classical piano at age 6. While in 8th grade, Maurice began taking piano lessons at Bates College with Natasha Chances, who studied with Alfred Cortot at L'ecole de Musique Normale, in Paris. In high school, he gave several classical performances at Bates prior to attending the college. Maurice transferred to Berklee in 2007 to major in film scoring. That year, he entered in Berklee's 3rd Annual Film Scoring contest and placed as a finalist. He has since composed music for independent films, worked on the music preparation team for Captain Drake, a film produced by NBC, and scored the first two pilot episodes of the webisode series Oldbury Hill. In early 2008, his piece "Lights of Laramie" was used in performances of The Laramie Project at Boston Center of the Arts.
David Newman is a celebrated Academy Award-nominated film composer whose work includes Anastasia, Ice Age, The War of the Roses, Brave Little Toaster, Throw Mama from the Train, Hoffa, The Nutty Professor, The Spirit, and the soundtracks to dozens of additional popular films from the past few decades. Newman's musical credits predate his compositions. An alumnus of the University of Southern California, he first became an accomplished violinist and conductor, and he has conducted the Los Angeles Philharmonic on several occasions. His work on the violin is also heard on the soundtrack to Close Encounters of the Third Kind. He is part of a Hollywood film music/scoring dynasty that includes his father Alfred, Uncle Lionel, Brother Thomas, and cousins Joey and Randy.
The recipient of 12 BMI Film Music Awards, Newman served as music director for the Sundance Institute for four years. In 2007, he was elected president of the Film Music Society.
"This scholarship continues our mission of supporting young and emerging composers at the college level," stated BMI's Doreen Ringer Ross. "We support Berklee's commitment to excellence in music and film scoring and their determination to further the growth of talented, trained, and educated composers."