Theodora Zavin Scholarship Awarded To Christopher Castro
The BMI Foundation has named Christopher Castro the recipient of the 4th Annual Theodora Zavin Memorial Scholarship. The award, given for outstanding achievement in composition, is presented annually to a graduating senior at LaGuardia High School of Music and Art & Performing Arts in New York City. Castro received a $2,000 scholarship to further his musical education. The scholarship was established through the generosity of family and friends to honor the memory of Theodora (Thea) Zavin, Founding President of the BMI Foundation.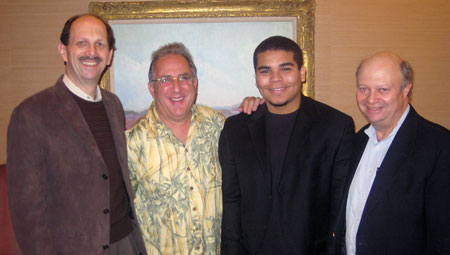 Joshua Zavin, BMI Foundation LaGuardia High School Composer-in-Residence James Pugliese, Christopher Castro, and Jonathan Zavin.
Christopher Castro is a composer and a double bassist and a member of the 2008 LaGuardia High School graduating class. He has studied bass with Homer Mensch, Linda McKnight and Judy Sugarman, and currently works with Albert Laszlo at The Juilliard School. His composition teachers include Jim Pugliese and James Bassi. Castro has written an "Essay for Orchestra" (premiered by the LaGuardia High School Symphony Orchestra) and a string quartet entitled "Nothing," premiered by members of the St. Lukes' Orchestra. His other works include a movement for Oboe ansd Orchestra, a Concerto for Double Bass with Trumpet, Percussion, and Strings, and a movement for String Quintet (2 violins, viola, cello, double bass); he is currently at work on a film score for the film company Robot Hand Films.
The BMI Foundation, Inc. is a not-for-profit corporation founded in 1985 to support the creation, performance and study of music through awards, scholarships, commissions and grants. Tax-deductible donations to the Foundation come primarily from songwriters, composers and publishers, BMI employees, and members of the public with a special interest in music. Because both the Foundation staff and the distinguished members of the advisory panel serve without compensation, over 95% of all donations and income are used for charitable grants.