The Movie-Goers Guide to Composer Brian Tyler
If there's such a thing as a rock star composer, Brian Tyler is certainly it. Tyler has scored some of the biggest box office hits of all time and gained legions of fans – some of whom will see him play at London's Royal Festival Hall with the Philharmonia Orchestra in May.
A native of Orange County, California, Tyler was bred on Marvel comics, sci-fi flicks and music. He played piano before taking up guitar, drums, bass, cello and several other instruments—a few of which he taught himself. After studying history and philosophy at UCLA and Harvard, Tyler came back to L.A., taking gigs and scoring while refusing to rely on the rep of his grandfather (art director Walter H. Tyler, who won an Oscar in 1949). He got his big break with Frailty, in 2001. By 2006, he'd scored Fast and Furious: Tokyo Drift, which hit No. 1 on the iTunes soundtrack charts.
Now, many more films (and multiple awards) later, the man behind box office phenoms including Avengers: Age of Ultron, Iron Man 3 and Furious 7, as well as dozens of TV and video game scores, is one of most in-demand composers working. To boot, he moonlights as Madsonik, his EDM alter ego whose song "Shell Shocked" with Wiz Khalifa and Kill the Noise from the Teenage Mutant Ninja Turtles soundtrack went gold. BMI caught up with the very busy music maker ahead of his May show, "Brian Tyler Live: Film Music for Stars, Cars & Superheroes."
What are you most looking forward to about performing at the Philharmonia Orchestra at Royal Festival Hall in London?
I am so thrilled to be conducting a long form concert of my music in front of an audience with such an amazing symphony and choir, especially in a beautiful venue like the Royal Festival Hall. Imagining how the music will sound performed live in a large concert hall is an exciting prospect for many reasons, one being that the customary place for my music is in the movie theater along with dialogue and sound effects! Plus it is exciting to bring this music live to an audience. The concert will tell a story itself, a journey through characters, emotion, drama, and excitement.
How are you preparing for the experience? What are some of the things you're working on to translate your work to a live audience?
This preparation has been both challenging and great fun. I am pouring through my previous scores to select highlights from my projects which entails about 80 films, TV series, and video games. It is a colossal amount of music to go through but I am enjoying strolling down memory lane. I am including music from my early career such as Children of Dune and Star Trek: Enterprise all the way through my recent films such as Avengers: Age of Ultron and the Fast and the Furious franchise. I will also be including Now You See Me 2, which releases this summer in the U.S. on June 10. The scores cover a wide range of styles such as sci-fi, action, drama, romance, world music, jazz, rock, and electronic music. Translating so many different kinds of music to the stage has been a challenge. The orchestral and choral music translates very directly from the original scores whereas world music and electronic/orchestral hybrid styles require me to do entirely new arrangements. Certain scores have rarely been performed or heard such as my full Marvel Studio suite. Far Cry 3 will feature drums and a violin solo whereas the melancholy piece "Into Eternity" from Thor: The Dark World will feature an amazing guest vocalist on stage. I am also creating many new suites of my music from Children of Dune, Constantine, Teenage Mutant Ninja Turtles, Iron Man 3, Call of Duty, Truth, The Expendables, and many more.
Particularly with Fast and Furious, people recognize the music as if it were a pop song. Is that intentional?
It really depends on the score. Some of my scores like Fast and Furious have a production angle that includes hip-hop, future bass, house, trap, industrial, and drum and bass music so naturally that connects with contemporary music. I love that. But I also love composing jazz scores like Last Call or the chamber music of Truth. That is part of why I am so excited about this concert, to capture the variety that is film music.
Many composers see their music as another character in the story. What do you think is the role of your work in film and TV – to be front and center or a quiet complement and why?
I feel that the music should strive to enhance the film in both structure and emotion, to clarify story and to enhance the experience. This all needs to be done to move the film even closer to the director's vision. That is often being a character that drives the drama of the story from an objective perspective. Sometimes the music is from the perspective of the viewer, sometimes it is meant to capture of the spirit of the film and provides the exegesis of the story. That is why I am such a believer in leitmotifs and themes. I feel it is the best way to connect music to the story.
How essential are classic composers to your process (versus contemporary music)?
Well I am a huge admirer of classical composers including contemporary classical composers. I have learned so much from so many incredible composers such as Bartok, Stravinksy, Debussy, Rachmaninov, and Chopin as well as their modern analogs such as Penderecki, Corigiliano, Adams, Basinski, Cage, and Reich. But personally I am also so musically inspired by modern artists influencing me due to having a completely different approach to music such as: Radiohead, Other Lives, Kill the Noise, Depeche Mode, M83, NIN, Public Enemy, The Smiths, Tool, Bowie, and countless others.   And certainly film composers such as Williams, Goldsmith, North, Jarre, Vangelis, Horner, Zimmer, Silvestri, Elfman, Newman, Newton Howard, and Herrmann have been an incredible influence! I am always learning. 
Tell us about your alter ego, Madsonik. How was he born, how's he different from Tyler? How's the process of creating that work different than scoring?
Madsonik is a way for me to create music that is outside film music, without borders or limitations sometimes imposed by films. It is an amalgam of electronic music (everything from trap to future bass) to post-rock and metal. Madsonik was born when I was working with Kill the Noise and Wiz Khalifa on the song "Shell Shocked" which was the theme song for Teenage Mutant Ninja Turtles. We incorporated my main theme that I composed for the film but Kill the Noise and I took it in a whole different direction, a hip-hop / trap vibe. Then Wiz Khalifa, Ty Dolla Sign, and Juicy J all laid down raps on the song. At that point, I needed a musical identity to distinguish myself from Brian Tyler the composer since I was on this film. "Madsonik" was born - a name that simply means "crazy sound." And since then, that first single has been certified as a gold record which took me by great surprise. Now I am working with many artists such as Boombox Cartel on a remix, Lola Marsh for my song "Drift and Fall Again" which is the theme of the upcoming film Criminal, I made the song "Spitfire Riddim" with Kill the Noise released on OWSLA records, and I have been doing a number of live shows. Like with scoring, my angle on electronic music is very deliberately cinematic!
What do you wish you'd known about scoring earlier in your career?
What the hours would be like! I learned that quickly, honestly, haha. I wouldn't want to let me know anything before learning it the hard way, which is always the best way!
What would people be surprised to know about you?
That I studied history and philosophy during my years at UCLA and Harvard instead of music. I never thought it was a realistic dream to become a professional musician so I decided to study subjects that are, well, probably even less practical! But I am so glad that I am doing what I am doing in my career. I am a musician to my core. And I have been so fortunate in my career which has opened up the possibility to be involved with humanist, secular, and progressive organizations promoting human rights, equal rights, and education. 
What else what you like to do that you haven't already? What's next for you?
I want to do so much. Life is too short. I want to write a book, I want to tour, I want to travel and learn about music that I don't even know exists yet. I want to score different kinds of films, write different kinds of music. I will hopefully keep doing this to the very end! Upcoming for me in the near future is the film Criminal starring Kevin Costner and Ryan Reynolds, the film Now You See Me 2 starring Daniel Radcliffe, Mark Ruffalo, and Morgan Freeman as well as some very interesting films for 2017 that I wish I could talk about already! I just scored my first documentary Under the Gun about gun control. I am really excited about two Madsonik releases - one being the Boombox Cartel remix of "Spitfire Riddim" and the song "Drift and Fall Again" featuring Lola Marsh which is being released in April along with an awesome music video by director Aris Stoulil. Kill the Noise is also doing a really insane remix of the song which will release at the same time.
Tell us about your relationship with BMI. Why did you join and how has it changed or helped your career?
BMI got me started on the right path so early on. I had NO idea how publishing or performance royalties worked. I am so grateful that BMI has stood up for all of us composers that write music in any form and make sure that they are compensated in a fair way; especially since I started my career during the rise of piracy. I feel like I am in such great hands at BMI and that the music will live on much in a way that would be impossible without their great efforts.
Just In: Photo Highlights From Tyler's Concert at the Royal Festival Hall in London!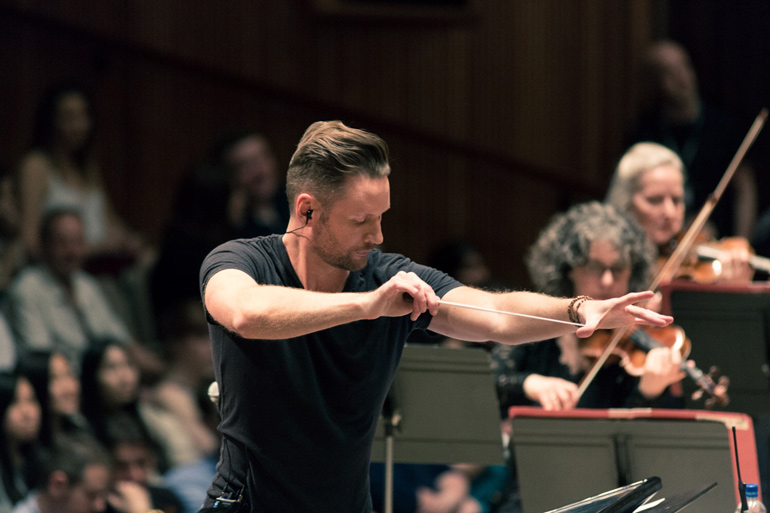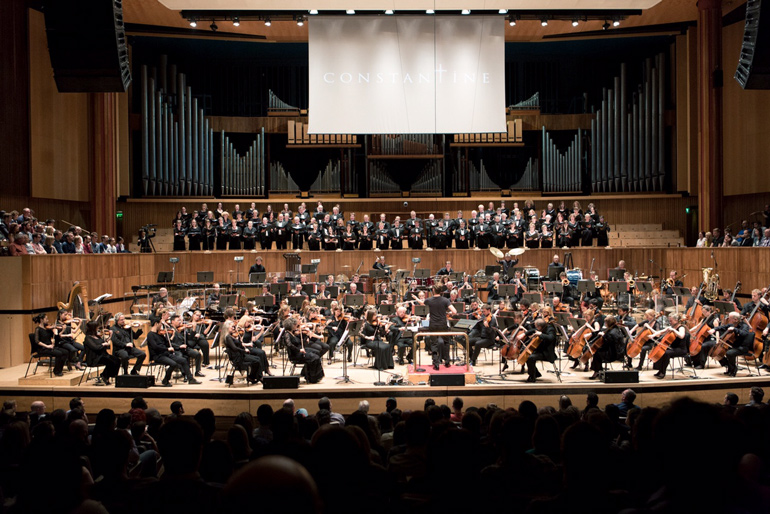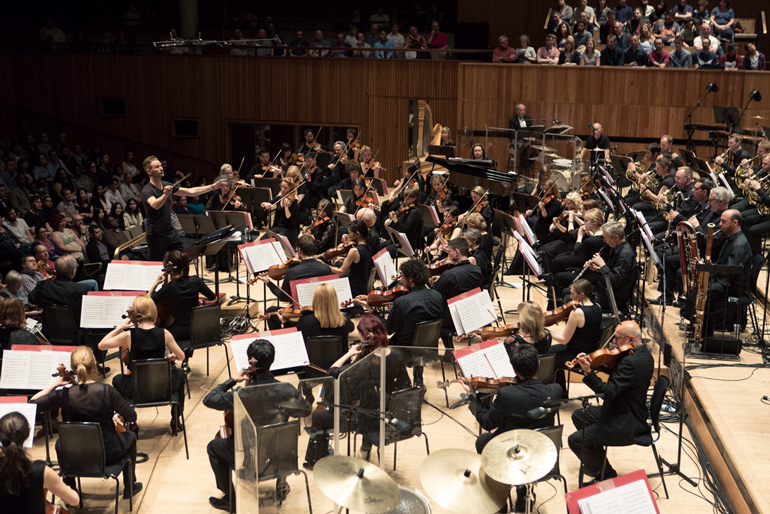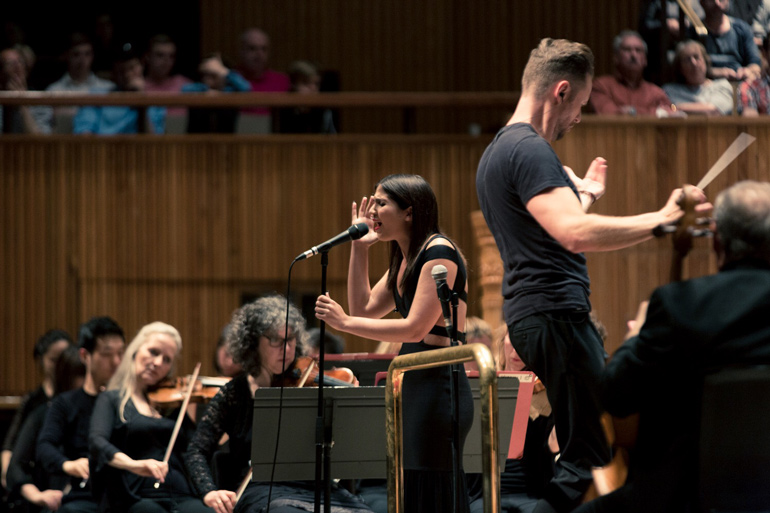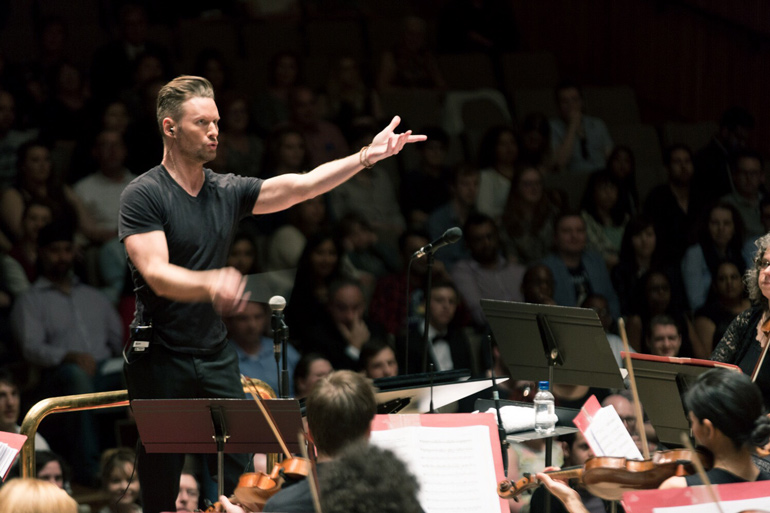 London photos: Benjamin Ealovega