Texas Songwriters Spotlighted at BMI
BMI played the happy host of a Texas invasion Wednesday night in the intimacy of its Writer/Publisher lobby. Troubadours Bruce Robison (Tim McGraw's "Angry All the Time"), Bill Carter (Stevie Ray Vaughan's "Crossfire"), Monte Warden (George Strait's "Desperately") and Sunny Sweeney ("Heartbreaker's Hall of Fame") swapped songs and stories before an enlightened crowd that included Guy Clark, David Ball, Webb Wilder, Adam Hood, Jimmy Barrett, Luke Laird, Trent Summar, Heather Little, Garth Fundis and Walt Wilkins.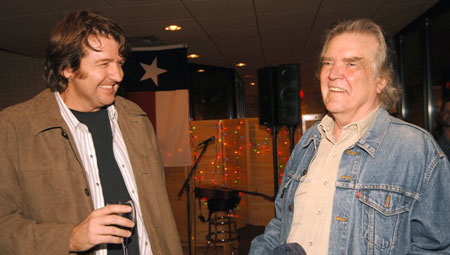 Bruce Robison (left) chats with legend Guy Clark (right).
BMI also presented a Million-Air certificate to Carter's "Crossfire" co-writer and Double Trouble member Reese Wynans, celebrating more than one million performances of the tune.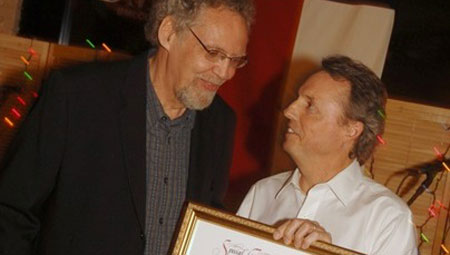 BMI's Jody Williams (right) presents "Crossfire" co-writer and Double Trouble member Reese Wynans (left) with a Million-Air certificate.
Singer/songwriter Bill Carter kicked off the performances.
Austinite Monte Warden performs his composition "Desperately," a hit for George Strait. Warden co-wrote the tune with fellow performer Bruce Robison.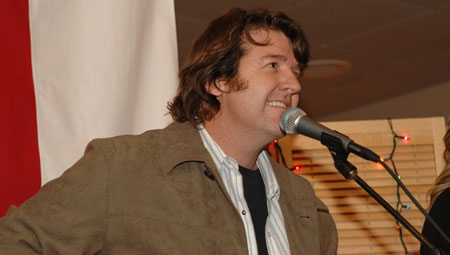 Bruce Robison performed familiar hits along with songs from his newest album
Eleven Stories
and 2007 EP
It Came From San Antonio
.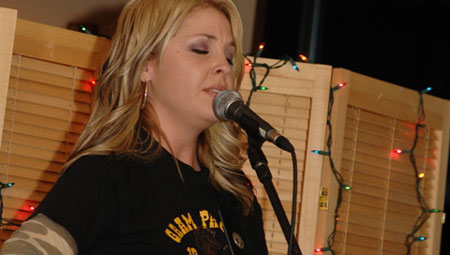 Sunny Sweeney introduces her distinct honky tonk to the audience.
Bill Carter belts out another tune.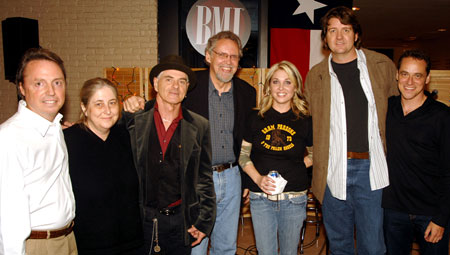 Pictured are (l to r): BMI's Jody Williams, "Crossfire" co-writers Ruth Ellsworth Carter, Bill Carter and Reese Wynans, Sunny Sweeney, Bruce Robison and Monte Warden.
Photos by Eric England