Special Guest John Oates Strums at "Songwriters Circle"
BMI joined The New York Songwriters Circle on March 3 to present "Nashville Night," with special guest John Oates at The Bitter End. Oates, along with a diverse line-up of songwriters including Kylie Sackley, Jeff Cohen and Hugh Prestwood, performed acoustic interpretations of their songs to a standing-room-only crowd.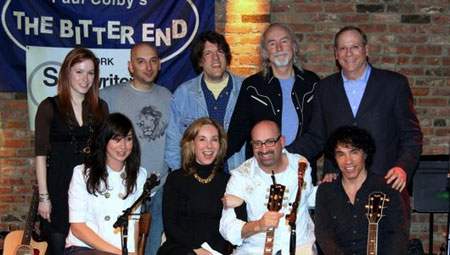 Shown are (l-r): (Seated) Kylie Sackley, Tina Shafer (creator/owner of Songwriter's Circle), Jeff Cohen, John Oates. (Standing) Rickie Trudeau, Shai Navon (Songwriter's Circle), guest , Hugh Prestwood, and BMI's Charlie Feldman.
Oates, one-half of the chart-topping pop duo Daryl Hall & John Oates, performed hook-laden new songs, showcasing his songwriting prowess; Sackley, scribe of Top Five singles for Leann Rimes ("Nothin' 'Bout Love Makes Sense") and Faith Hill ("Sunshine and Summertime"), wowed the audience with her sentimental tunes and Australian flare; Cohen, creator of radio and television hits heard on Dawson's Creek and Party of Five, delivered a witty performance stacked with anecdotes; and Prestwood, a Nashville Songwriters Hall of Famer, performed a rousing interpretation of "Ghost In This House," a song he penned for Shenandoah.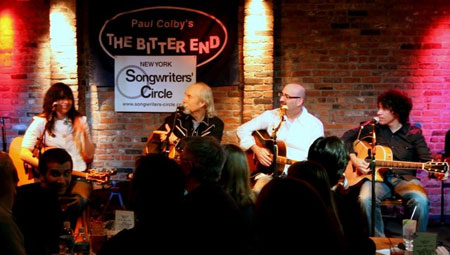 Shown performing are (l-r): Kylie Sackley, Hugh Prestwood, Jeff Cohen, and John Oates.
For 18 years, The New York Songwriters Circle has been the premiere spot in NYC to feature the best up-and-coming as well as many legendary songwriters in an intimate and cozy atmosphere.