Sought-After Composer Ignites Sparks
LOS ANGELES, October 14, 2008 – Globally renowned mixtape master, DJ, radio host, producer and BMI songwriter Clinton Sparks paid the BMI Los Angeles office a visit on October 6 to meet with the urban team to discuss the many projects he's working on.
Clinton Sparks has been occupied recently doing work on Beyonce's forthcoming release with "Forever To Bleed," as well as production for Ludacris's upcoming release, with tracks such as "Call Up The Homies" (featuring The Game and Willy Northpole) and "Mindfreak" (featuring Criss Angel). In addition, Sparks contributed to four tracks on Colby O'Donisis' current release including the single "Don't Turn Back." In 2007, he produced and co-wrote "Sorry, Blame It On Me" for Akon and in the spring, he joined The Daily 10 on E! Entertainment television as the resident music expert, reviewing new releases and interviewing the world's top music stars.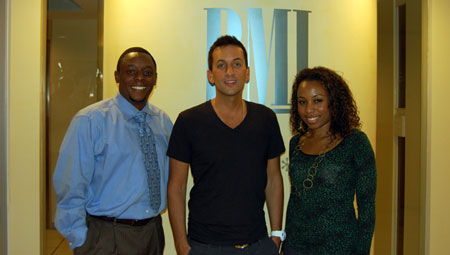 Shown at the BMI Los Angeles office (l-r): BMI's Malik Levy, Clinton Sparks and BMI's Nicole Plantin