Songwriter Jeffrey Steele Feted A Million Times Over
Irrepressible songwriter Jeffrey Steele was the humble man of the hour during a recent gathering at signature Nashville eatery the Palm. BMI threw the in-demand hit maker a party honoring not only his Rascal Flatts' chart-topper "My Wish," but the seven million performances of Steele-penned hits including "Gone," "These Days" and "Speed" as well.
In addition to the customary No. 1 cups and Million-Air certificates, Jeffrey received a BMI Takamine guitar, which immediately looked right at home in his capable hands.
Jeffrey Steele (right) and guitarist Pat Buchanan (left) chatted over drinks.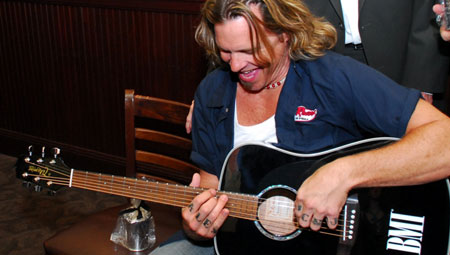 The new guitar was a hit.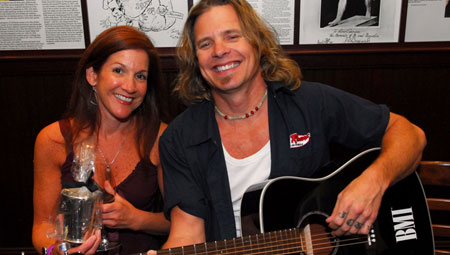 Jeffrey's wife Stephanie (left) showed off another No. 1 cup, while Jeffrey (right) grinned over the Takamine.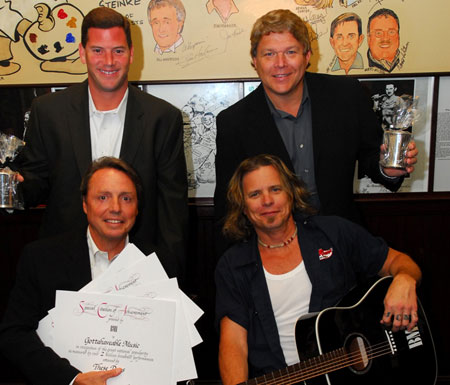 Pictured at the Palm are (l to r): BMI's Mark Mason and David Preston, with BMI's Jody Williams and Jeffrey Steele, seated.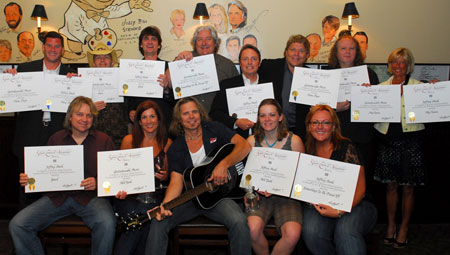 Pictured showing off Jeffrey's new Million-Air certificates are (l to r): BMI's Mark Mason, Jeffrey Steele Band members Steve Cirkvencic, Pat Buchanan and Greg Morrow, BMI's Jody Williams & David Preston and Karen Williams, with Jeffrey Steele Band member Tom Hambridge, Stephanie & Jeffrey Steele, Rock On Promotion's Sara Wood and Robin Rhodes, seated.
Photos by Steve Lowry